Thinking Of Staying The Night In Mawlynnong? Read On
Sometime deep into the night, rain fell noisily on the metal roof of my room in Mawlynnong. It took me a while to wrap my head around the sudden pitter-patter, as not too long ago, I had tried to capture a sky full of stars, through my camera.
I peeped outside my window and I noticed that the leaves were glistening with confirmation.
I pulled the blanket right up to my chin, wrapping the edges tightly around myself. The breath seemed to be filling my lungs after passing through an icicle called my 'nose'. I had half the temptation to touch the tip of my nose to feel how cold it was, but the thought of taking my hand out of the blanket nipped it in the bud.
I lifted my head a bit from the pillow to peep out how hard the rain was. It was little more than a drizzle (the metal roof was amplifying the effect), but the view was still very clear. As if everything was being viewed in HD (High Definition), as opposed to Instagram-ish (hazy, with some tone or the other, depending on the season) view back home.
I checked my phone for the time.
3:10am.
The rain stopped after ten minutes. After pulling the blanket tighter, I turned to face away from the window to sleep some more.
Just when I was hitting the sweet spot in the timeline of my shuteye, a 120-decible, soul-splitting, right-next-to-my-ear-kind-of 'cock-a-doodle-doo' stunned me awake.
Silence.
I could hear my heart thumping madly. This time, my brain was too stunned and awake to go back to sleep easily. I checked the time again. 3:35am.
Unbelievable! Who gets up at 3:35am?
Rolling my eyes, I tried to lull myself back to sleep; hoping it to be one odd happenstance for that night.
My mistake.
Approximately, five minutes later, a whole village full of roosters decided to hold a crowing fest. Simultaneously.
These things don't wake you up, they just don't let you sleep. You will understand the difference between these two phrases, as I did.
The 'cock-concert' didn't seem to be ending any time soon, thereby forcing me out of the bed at an unearthly hour. It was 4:15 am, and I had never been up this early; not in the last decade, at least. I could not decide whether I was furious, or stunned. Or both.
Strolling out of my room, I decided to experience the day-break on the horizon. Most of the north-eastern states follow the Bagan (बागान) Time Zone, which is an hour ahead of the rest of the country, and two hours ahead of the western border, Rann of Kutch. The sun rises early in this part of the country and sets early too. At 5:00pm, it is dark.
After enjoying the crisp morning breeze, I came back to the room and decided to get ready. Phillip, my friend from the village, had offered to take me for a guided walk around Mawlynnong at 6:00 am. I was ready much before that.
To while away the time, I took a stroll around the place I was putting up. Roosters, cats, dogs, and ducks crossed my path merrily. Amongst them was a camaraderie and acceptance that is no longer seen in human beings.
Almost every house had its premises adorned with a huge rock, that had a pit in it existing naturally. Later, Phillip told me that it is a specialty that is found only in Mawlynnong. In fact, the village derives its name from the combination of these two words:
'Maw' means rock/stone.
'lynnong' means pit/crater.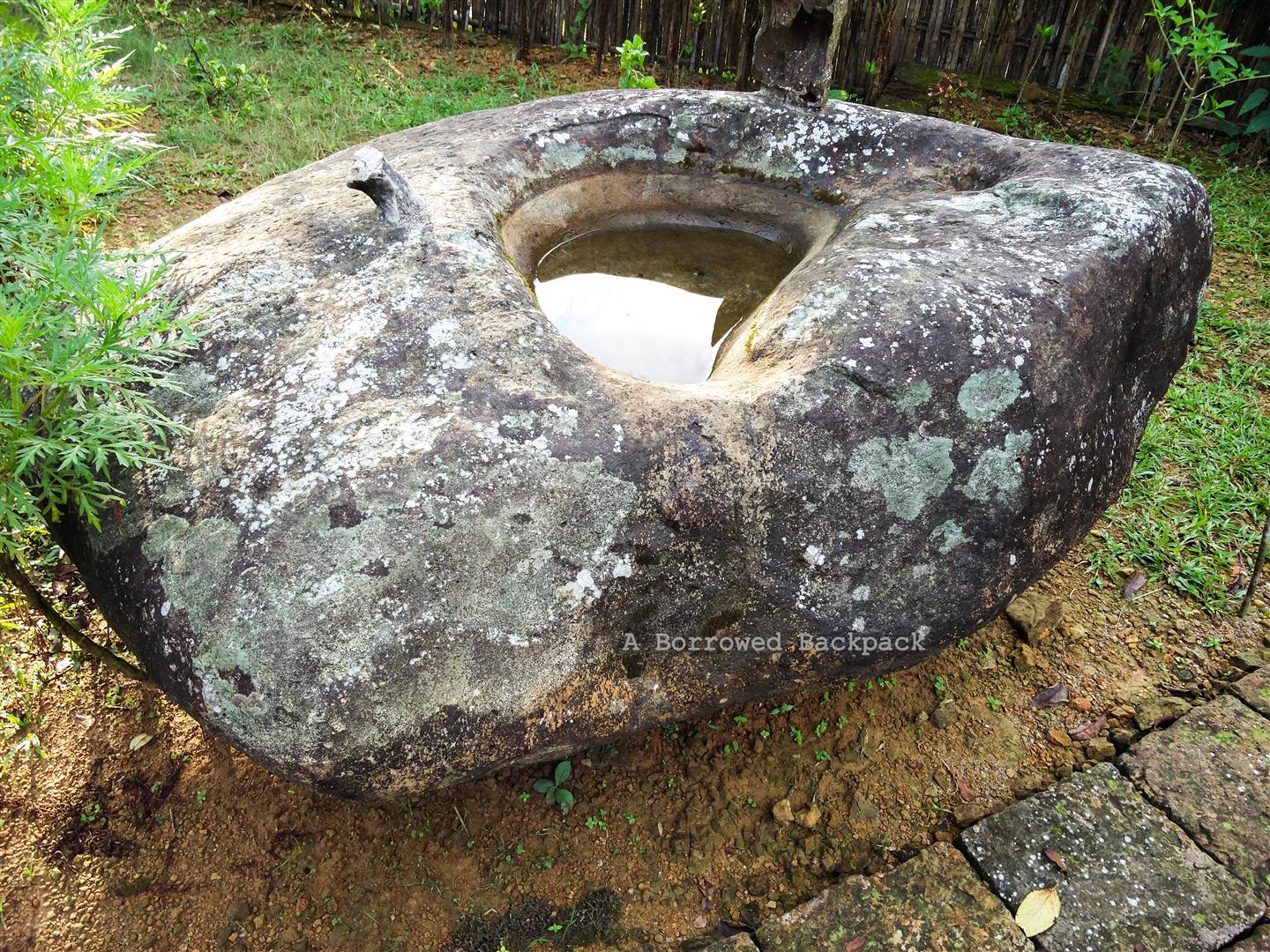 Mawlynnong has aptly been said to be 'God's own garden.'
My Morning Walk In Mawlynnong
At 6:00am sharp, Phillip showed up, and we walked towards the village church and the football field.
Just as we passed the football field, we saw a group of kids hurrying towards it.
"No school?"
"They will go to school after a round of football."
These guys have their priorities sorted.
This clearly isn't the typical village that constitutes the basic DNA of India. It is that kind of village that we should have more of, and ought to have been the foundation of our nation. It was very different from my experience in Nongriat, the valley village at a distance of approximately 90 kilometers, where I had spent my two nights before coming to Mawlynnong.
The Balancing Rock
We decided that we would visit the balancing-rock, first. On the way, we passed one of the two churches that the village has. 100% of the population in Mawlynnong is Christian, I am told. "Missionaries have made a tremendous contribution towards education, healthcare, and holistic well-being of the village, as well as the life of individual folks," he shares.
[I hope that RSS, Shiv Sena, and every other political and religious, Hindutva-leaning fanatic (or for that matter, any politically obsessed, power-hungry soul) is reading this.]
"How did the cleanest-village honor happen; did someone hold a campaign so that Mawlynnong could get recognition?" I asked.
"No. This is how we have been living for decades. Our parents and ancestors have repeatedly stressed on benefits of cleanliness. It only got recognized in 2003." (I wanted to tell him that my parents too have repeatedly stressed on the same, but I doubt I can even make it to the list of the cleanest houses in the locality. I am sure this habit calls for a set of skills/specializations which is different from sitting on the couch for the whole day. "We have a community-service day, monthly (sometimes twice a month), where we all get together to clean the village. Throughout our childhood, we have seen our elders take great efforts to keep every bit of the village clean; this is how we have learned," Philip shares. There! The power of influence.
On the days that are not "community service days", the village has designated cleaners, horticulturists, and gardeners taking care of its upkeep. All through my stay at the village, not once did I come across even a single string of web (back home, I can feel myself tearing through strings of webs while stepping out from our driveway every morning; it takes them just 12 hours to make those!).
We walked on the narrow, winding road, leading towards the balancing rock. The road meanders its way into seemingly wildly growing shoots of some kind. "It is broom-stick; that is what we grow here", says Phillip, pointing at these shoots. I am glad he told me this, for I had conveniently assumed it to be bamboo, and that is what I would have written in this blog-post.
After fifteen minutes of walking leisurely, we found ourselves outside the premise that houses 'the balancing rock'. The family that owned it has handed it over to the village authority for maintenance, upkeep, and managing the income. A nominal fee is charged for the entry. The earnings go towards paying for the guard's salary, keeping the place clean, and maintenance work like trimming the grass around the area, ensuring a smooth drain channel, and keeping the place litter-free.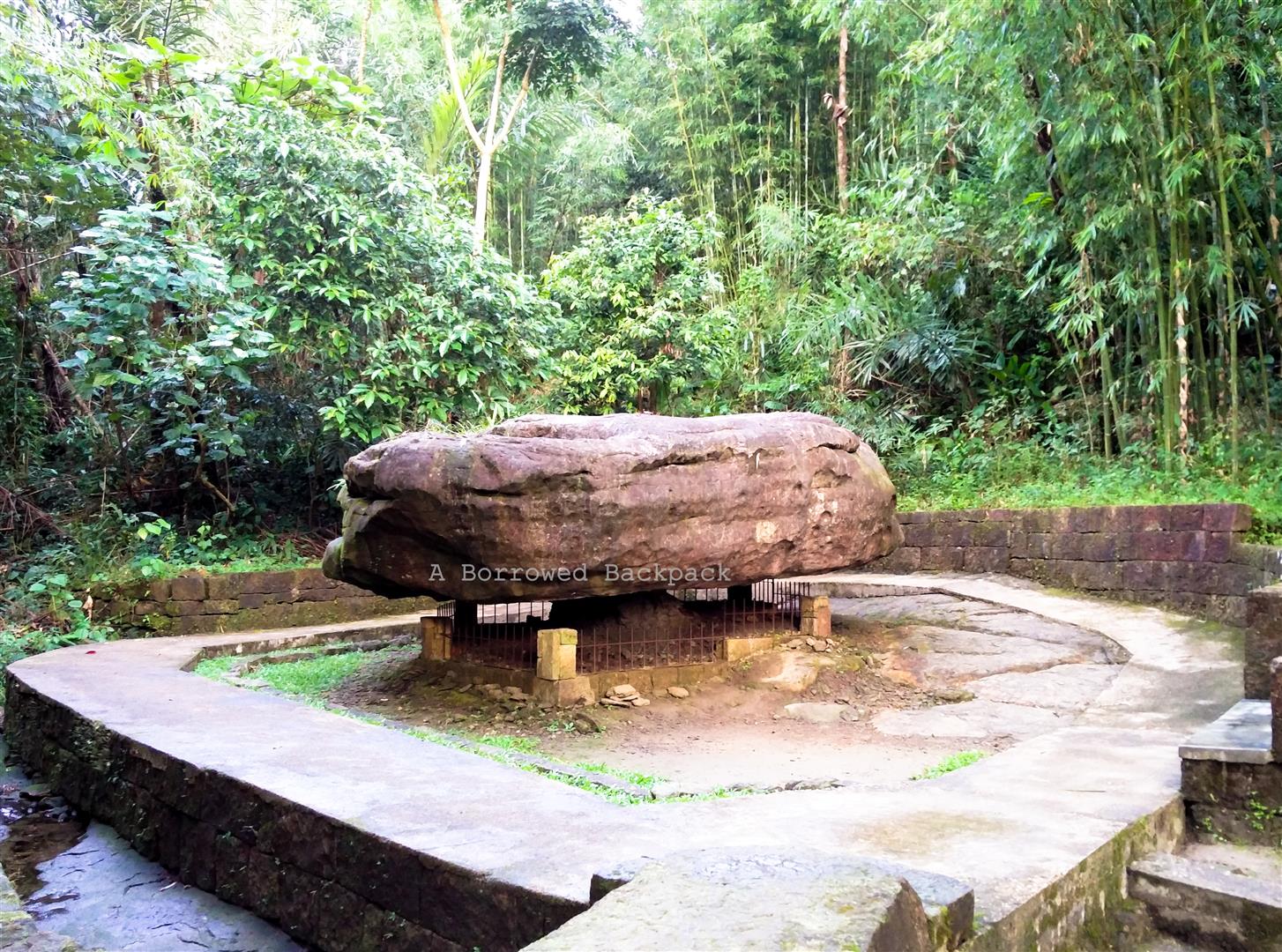 On more than one occasion, I heard Philip say "…so the village authorities decided…". It surprised me how one entire village of 400 people arrive at a consensus, when back home, my roommate and I can't seem to agree amicably whether we want to sleep with the air-conditioner switched on or off!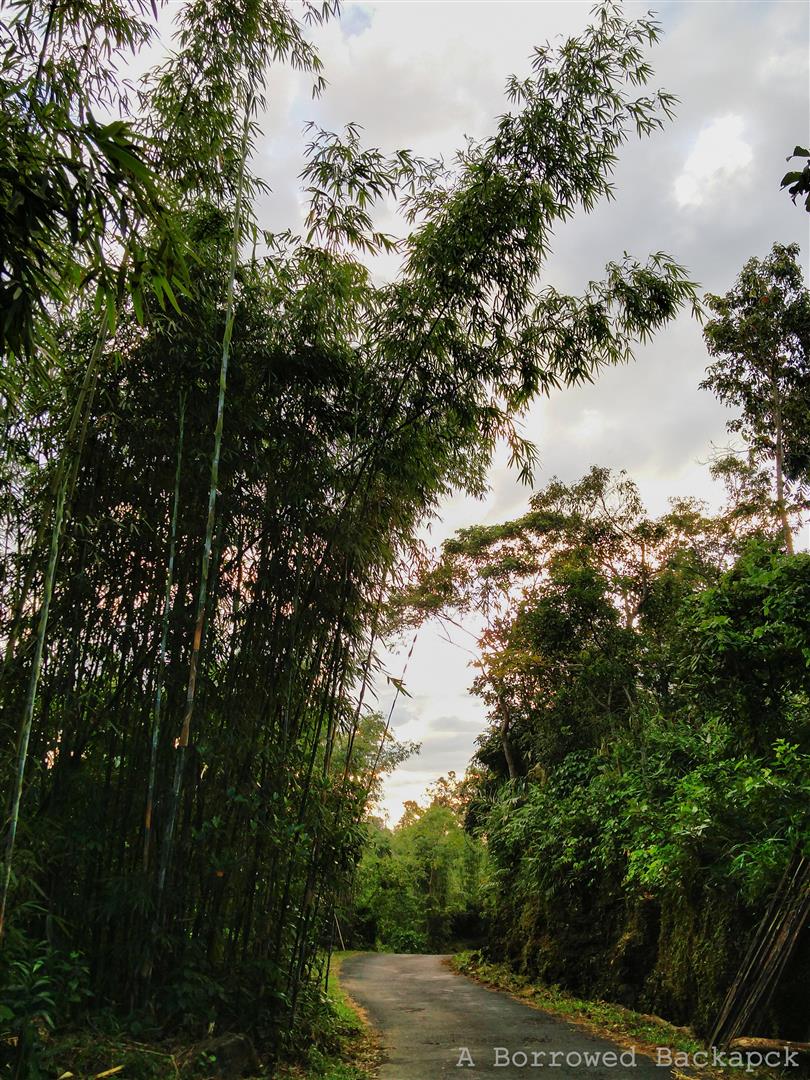 On our way back, we crossed the now-deserted football field once more. The children had left for home to get ready for school. The school is till standard 5th, after which the students go to Shillong to study further.
A queue of three chicks (the winged variety), led by a hen, tottered haughtily ahead of us. The trees were laden with fruits. It is a village that is surreal in inexplicable ways. It is an experience that needs to be lived.
Philip dropped me home and left. (The evening before, he offered to walk me back to my place, and I replied in my most urban, Miss Know-It-All tone, "I'll manage. Thanks!" Twenty minutes later, I was back at the place where I had left Philip, explaining my plight to him. I had failed to locate my homestay not once, twice, but thrice!) But believe me, this village is a beautiful place to get lost in!
Aah! The Nostalgia…
Just as I was about to enter my homestay, I heard a school bell go. Suddenly, children from all around rushed to what I earlier assumed to be someone's home, right next door to our homestay. I had heard this kind of bell after ages. Probably, the last time was when I was in school myself. I walked up to it to see where it was placed, because the entire village could hear it easily.
This 'old school' thing was tied to a tree right outside the school and brought back many fond memories in just a single instant.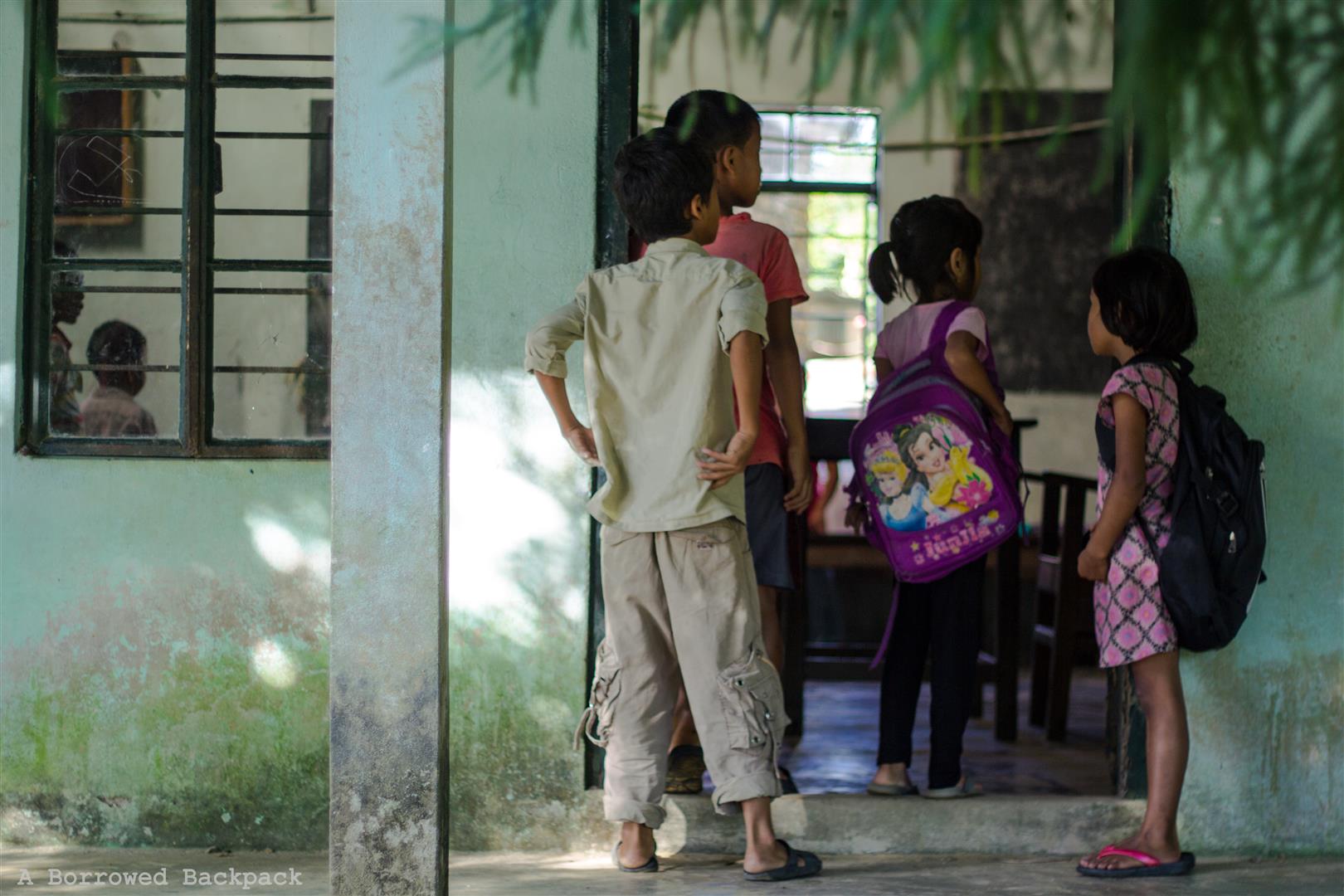 So did the late-comers outside the classroom:

**********************************************************
A #Sustainable Life
#Sustainability has many footprints, for it is a beautiful path in itself. Mawlynnong is one of the villages that practice sustainable living, and one of the acute challenges of 'living gently' is the ever-confronting question: 'what to do with the non-biodegradable waste material'?
This is how Mawlynnong does it:
Anything that can be recycled, is recycled. Discarded containers become planters, honey (cultivated in the village) is packaged in used water bottles that are left behind by tourists, discarded tyre-tubes become containers to grow plants in and most of the kitchen waste goes into making compost for farming.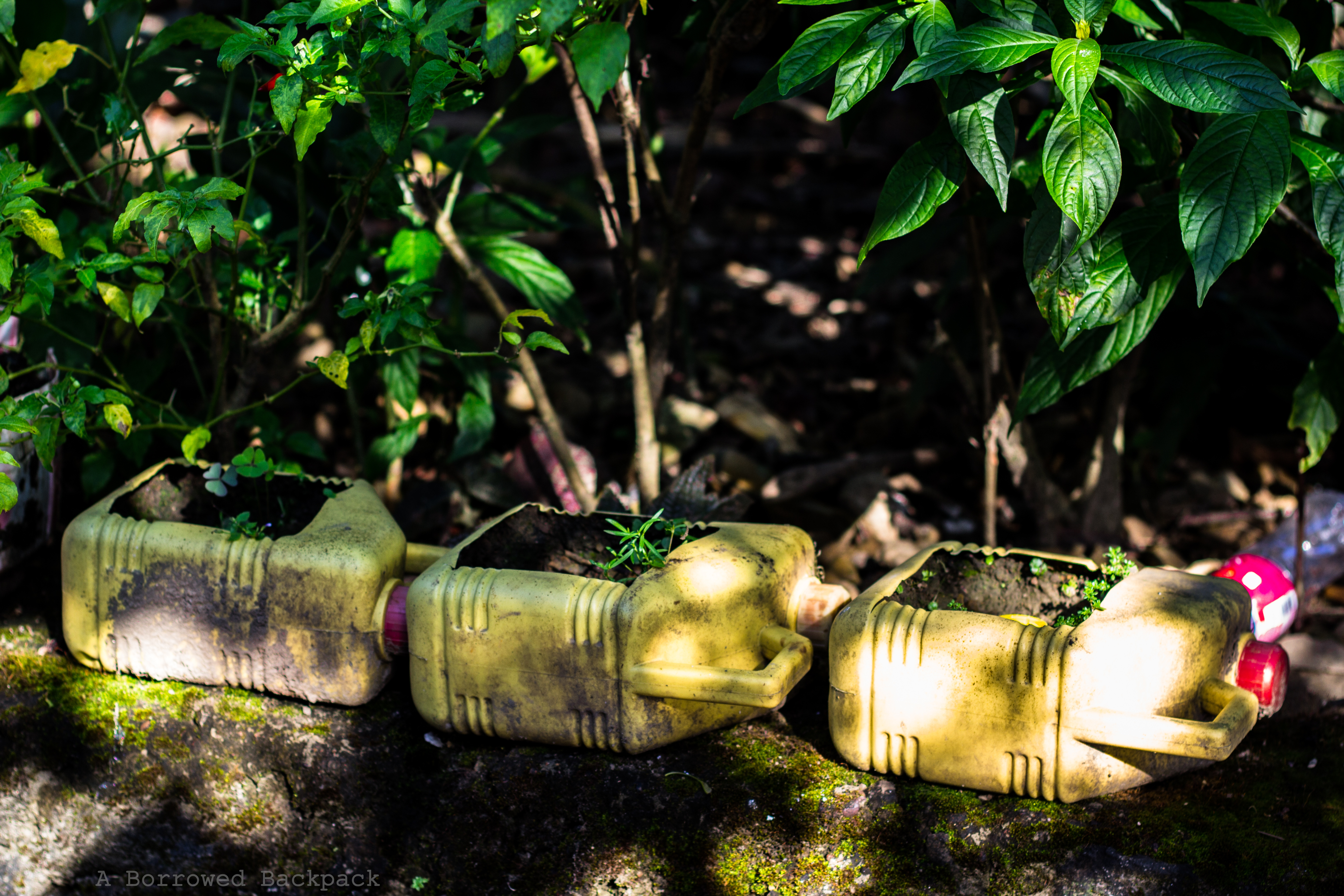 As a part of conscious living, Mawlynnong uses bamboo extensively. Hence, it is used to create dust bins, staircases, tree-houses, doors, outdoor furniture etc. Most of the things made out of bamboo, have to be replaced every year, after the monsoon season.
The land of clouds (that is what the word Meghalaya means) witnesses heavy showers, thereby washing everything thing down. Despite the whole exercise costing this village effort and money to rebuild everything, year after year, this is how the village chooses to stay close to Nature. It is easy to make everything for once and for all in metal with its ever-lasting alloys, "but the process of rebuilding generates employment and keeps the village self-dependent".
It is time we picked up a leaf or two from Mawlynnong's books.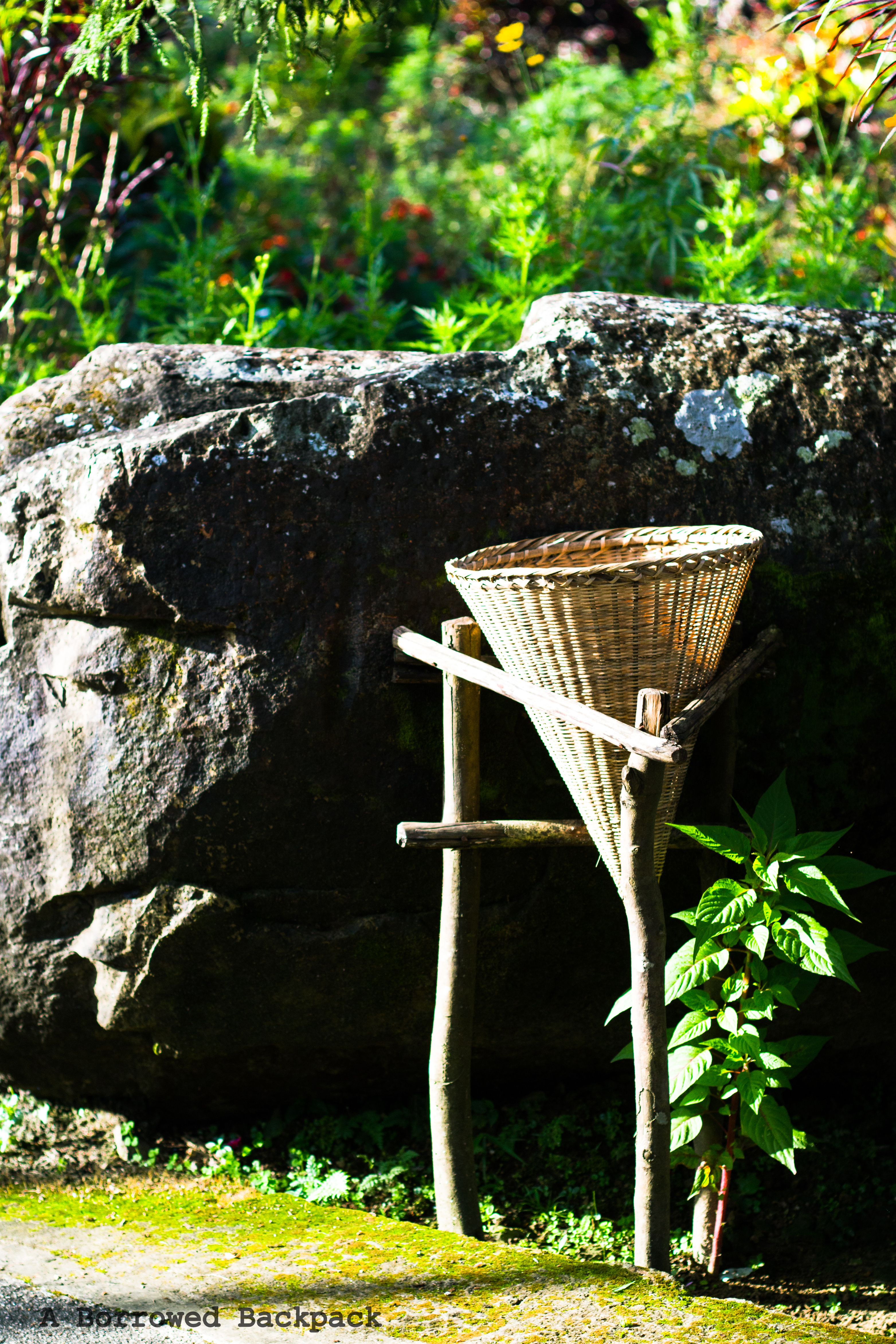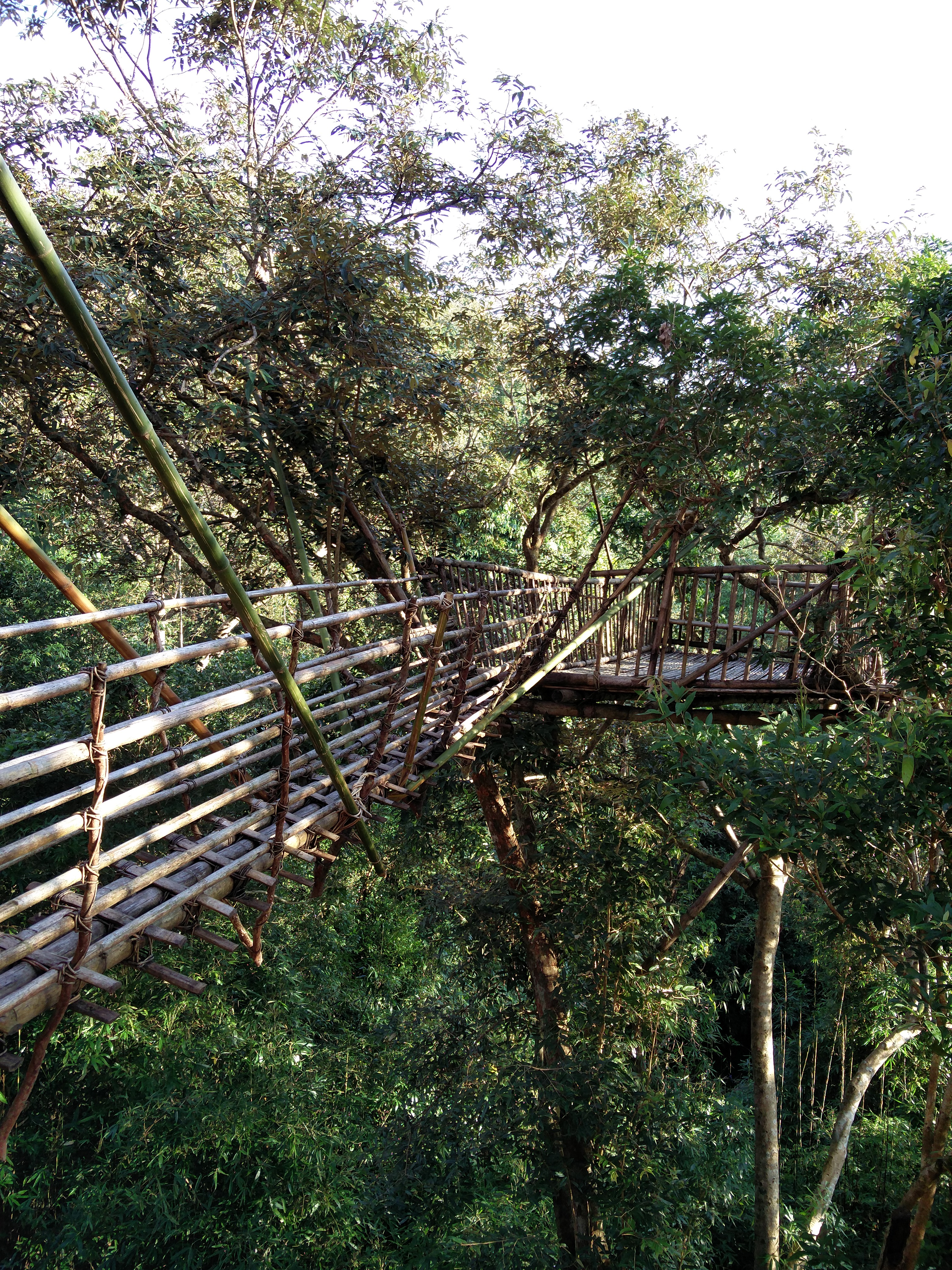 The roads are lit with solar streetlights at night. Implementing solar power for homes seems to be the next on the list. In this aspect, this village beats metro towns hollow; the roads are well-lit, and clean, with seating options after every few steps.
The village, however, struggles with what to do with plastics like packets of chips, various eatables, etc. Currently, the villagers burn the waste. If you are a sustainability expert and would like to share the know-how of a better way out, the village more than welcomes you. Please feel free to write to me, so that I can put you in touch with the right people.
---
What to eat in Mawlynnong?
Apart from Khasi cuisine, basic vegetarian fare is available easily in restaurants in Mawlynnong. In Meghalaya, most people are non-vegetarians, and they love their pork.

Traveller Tip for Vegetarians: Mention your preference specifically, at the beginning itself. I remember, in Sohra, my two dorm-mates and I stepped out for dinner. One was from the Netherlands. The other one was from Morocco, and was a vegetarian. And we, by mistake, ordered (and consumed) an innocent-sounding dish, called 'aaloo-chop' ( potato-based dish, filled with 'something' was explained to us). We did not bother to figure out what that something was, as we were famished.
Turned out, it was pork. The Moroccon dorm-mate of mine was not only shell-shocked but confused too, as apparently, it is blasphemous to eat pork as per his religion.
Relatively, Mawlynnong seems to be entertaining tourists quite regularly. After being on road for more than two weeks, I had given up hopes of finding dal-rice before hitting Delhi. Imagine my surprise (and happiness) when my homestay in Mawlynnong served me the same for dinner!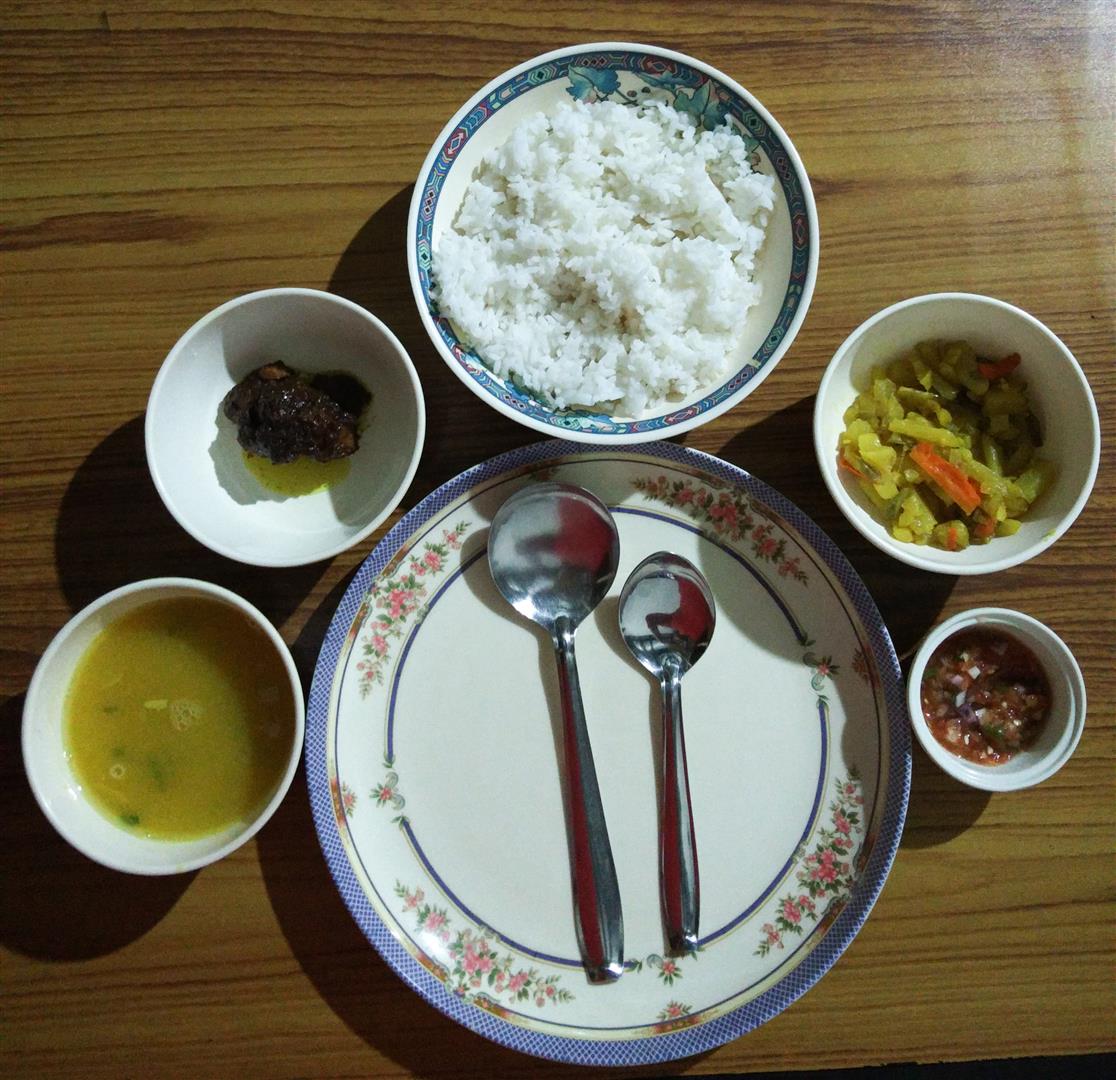 Do try the Khasi thali, if you come across one. And the traditional Khasi chicken too.
The village has several mini-restaurants. Most of the homestays have a dining area, but you can always hop across the fence to check out other people's places. These informal set-ups claim some bit of the road at places. The set-up consists of a couple of tables and chairs, with the name of the place handwritten in English, and a family-kitchen that doubles up as a commercial kitchen.
As you have your evening meal, you will be a part of children's groups informally (well, almost) out to play. I went around the village clicking pictures and this little girl followed and nudged me. Smiling wide, she indicated that I take her picture. I did, and wordlessly she pulled my hand (and camera) down to check the display. Once satisfied with what she saw, she smiled even wider and ran back to her friends.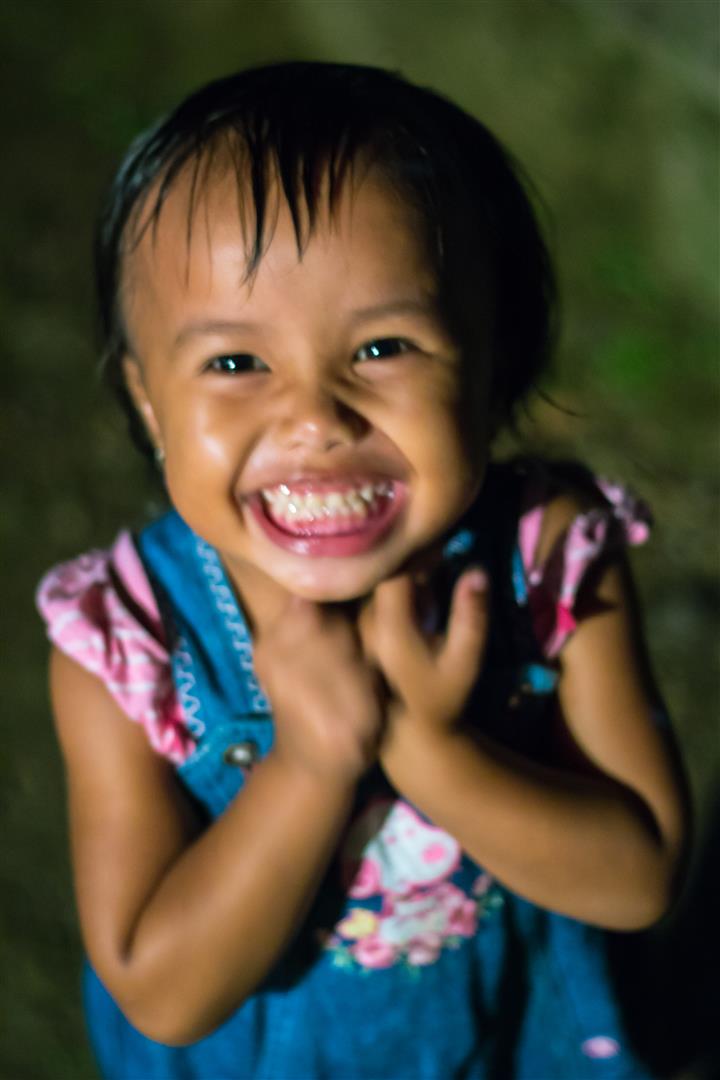 I could not tell her that owing to low ambient lights, I had to keep my shutter speed low, which gave a hazy picture.
---
About The Khasi Tribe Of Meghalaya

While much has already been written about the Khasi tribe which is a matrilineal society, there is definitely more to Khasi people than these perpetually-betel-nut-chewing women being the inheritors and breadwinners. Or, men moving in with the girl's family after marriage.
(Wiki: In a matrilineal descent system, an individual is considered to belong to the same descent group as her or his mother. This matrilineal descent pattern is in contrast to the more common pattern of patrilineal descent in which a family name is usually derived from the father's lineage,)
You can read more about Mawlynnong here.
A family that was staying in my homestay, was traveling with a local driver. Post-dinner, while chit-chatting with him, I casually mentioned the societal norm of matrimony. He told me that most of the men leave for the cities/towns for better prospects, post-marriage. The spouse, at times, stays back, and the man makes frequent visits to the in-law's place, or at times, the woman too travels with the man (the latter is the same as patrilineal societies in the modern context). Quite informative!
If one has to learn how to keep their house clean, (no matter how-so-ever small) then one should go to Khasi women. EVERYthing in the kitchen of the family I stayed with, g-l-e-a-m-e-d! Here is a pathetic image trying to convey the same: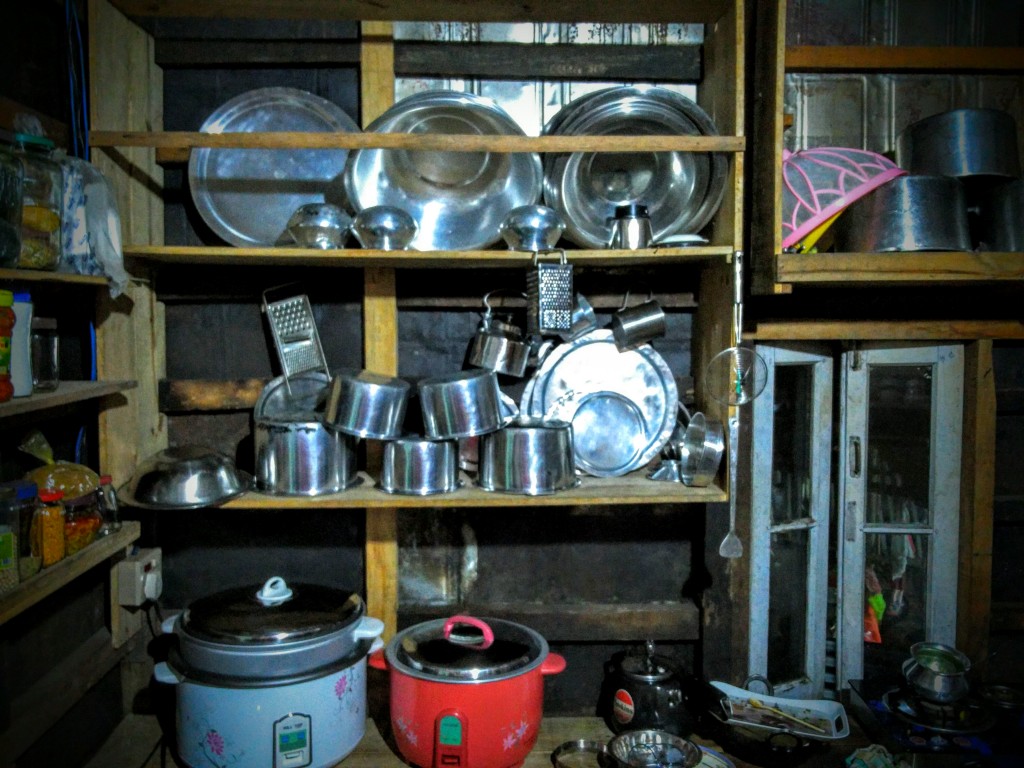 **********************************************************
The Phone Network in Mawlynnong
Please note: Even before I could set foot in the village, my phone beeped, and I received the following messages from the network operator/s, on my two phones (one has Airtel, and the other has Vodafone).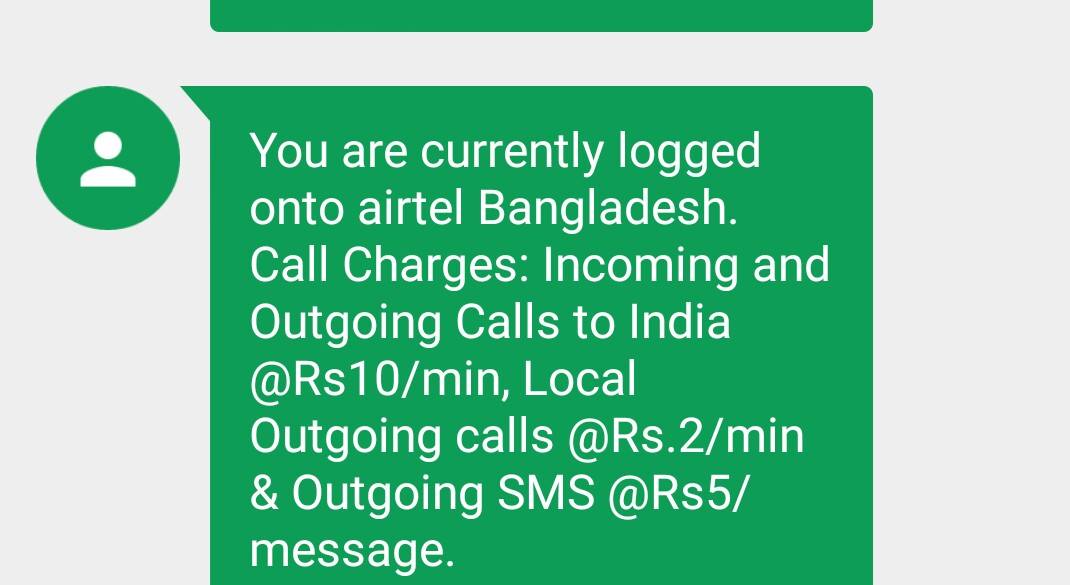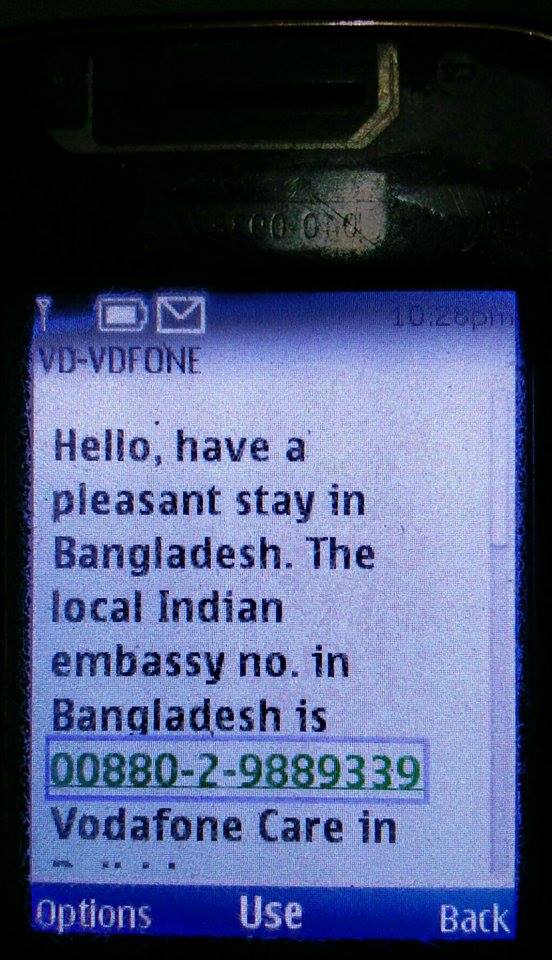 Horrified, I checked with the local people.
"Only Aircel works here", they smiled. Both my phones were on international roaming and were being charged accordingly for the entire duration of the stay. (This was in 2015. I am sure the situation has improved now.)
Why was the network catching Bangladesh; how far is it? In case, you are wondering, here is an image that should explain a bit about the aerial distance.
The sparse water body, beyond the greenery, is Bangladesh.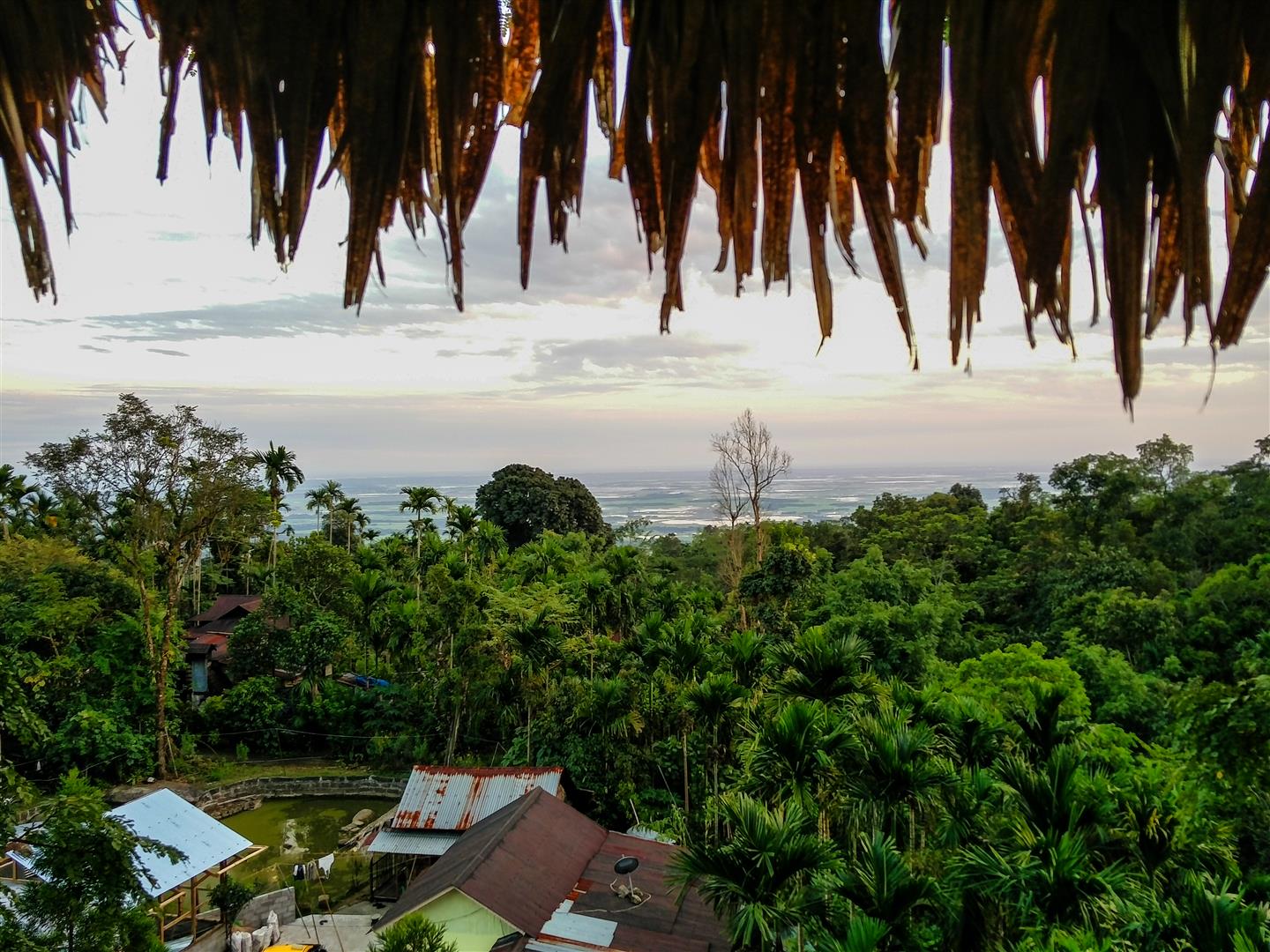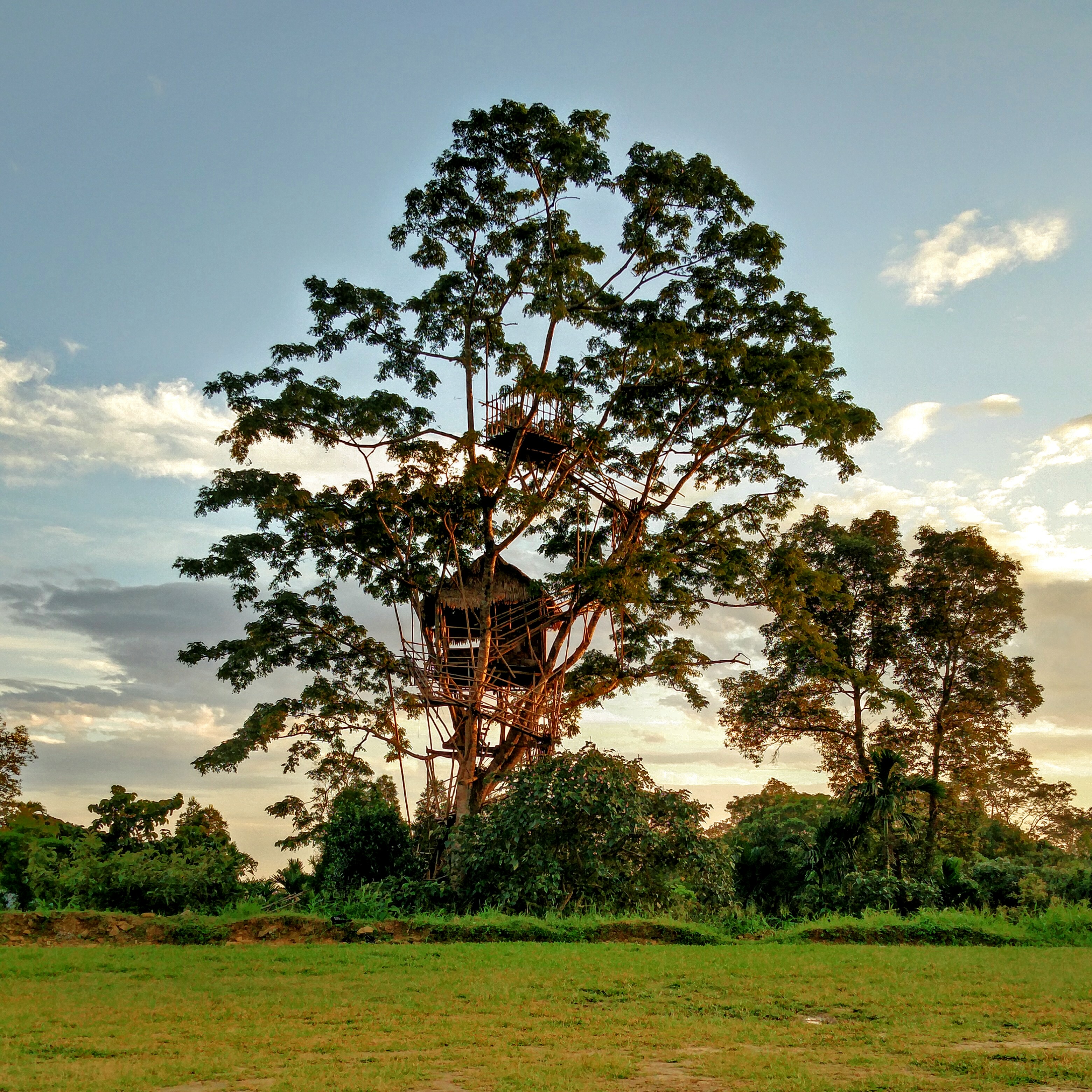 Mawlynnong has a couple of viewing points for the same. I clicked this one from the Ila Jong viewing point. It charges Rs.10/person for entry, and the way up on the bamboo ramp is a bit rickety but safe.
When one looks at the entire village from the viewing point up there, one can't help but draw similarities between Mawlynnong and Auroville (minus the beach). The lush greenery, narrow, winding paths, tall, coconut-like trees (supari or betelnut, in this case), over-cast sky, and sustainable lifestyle.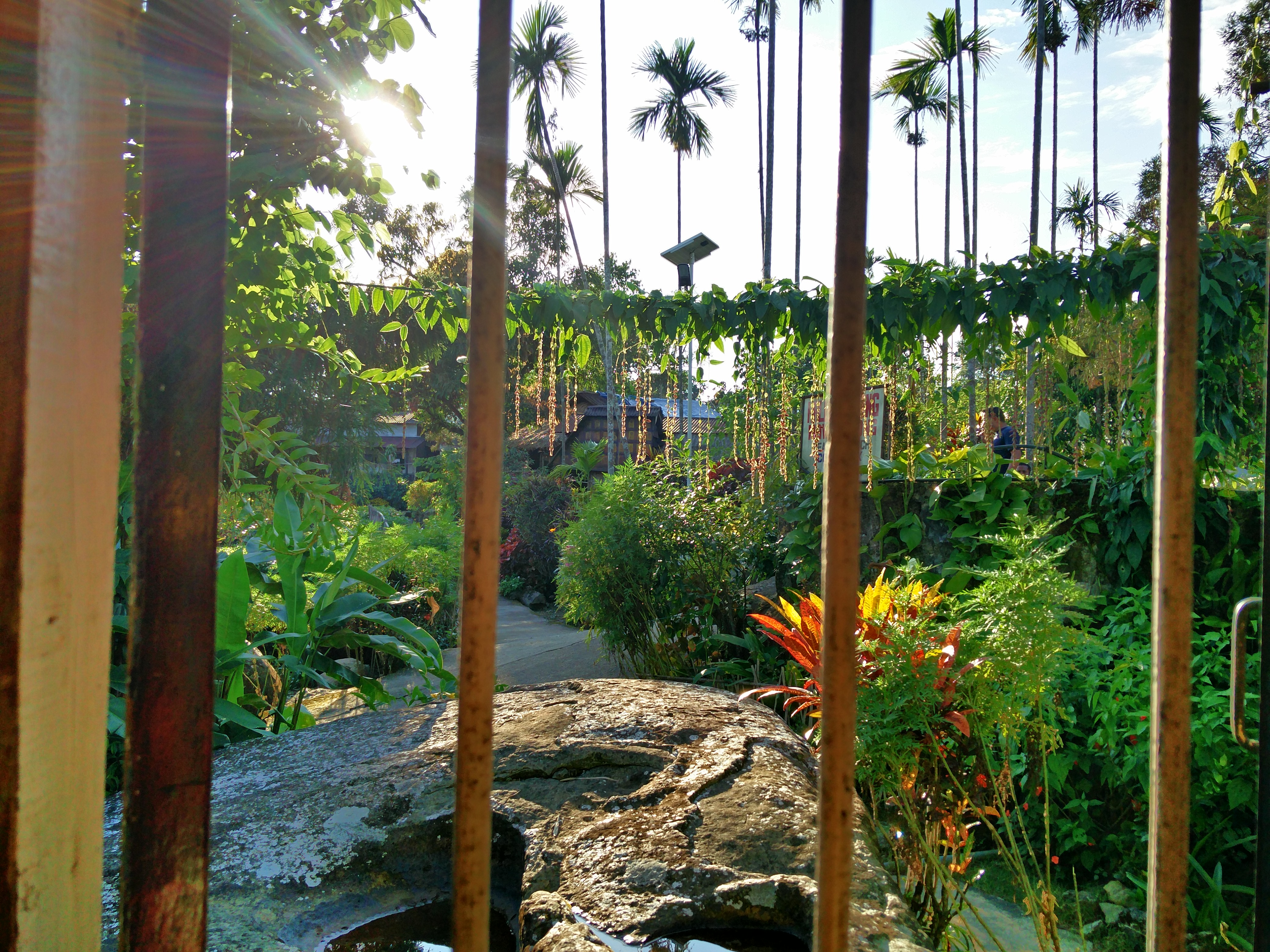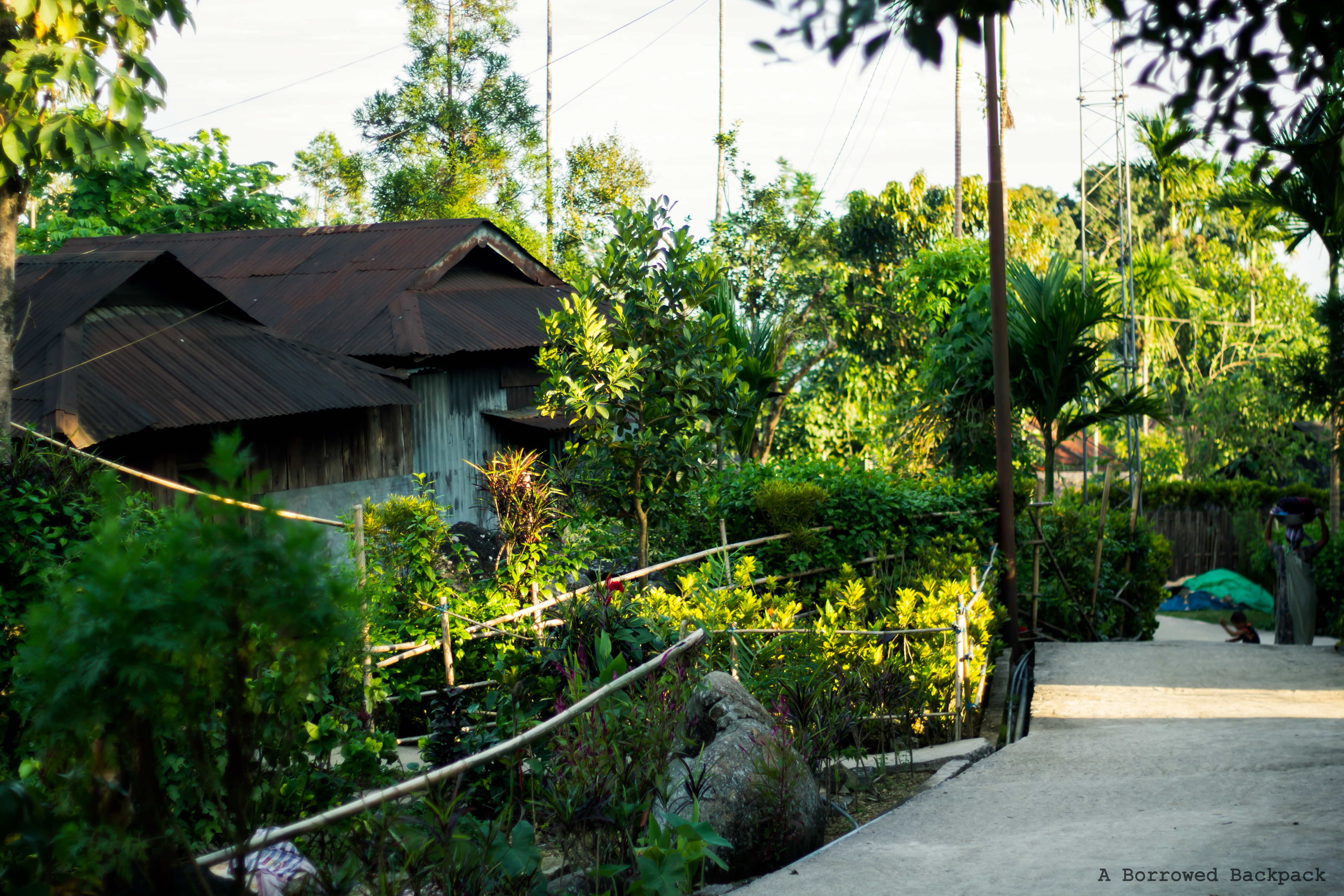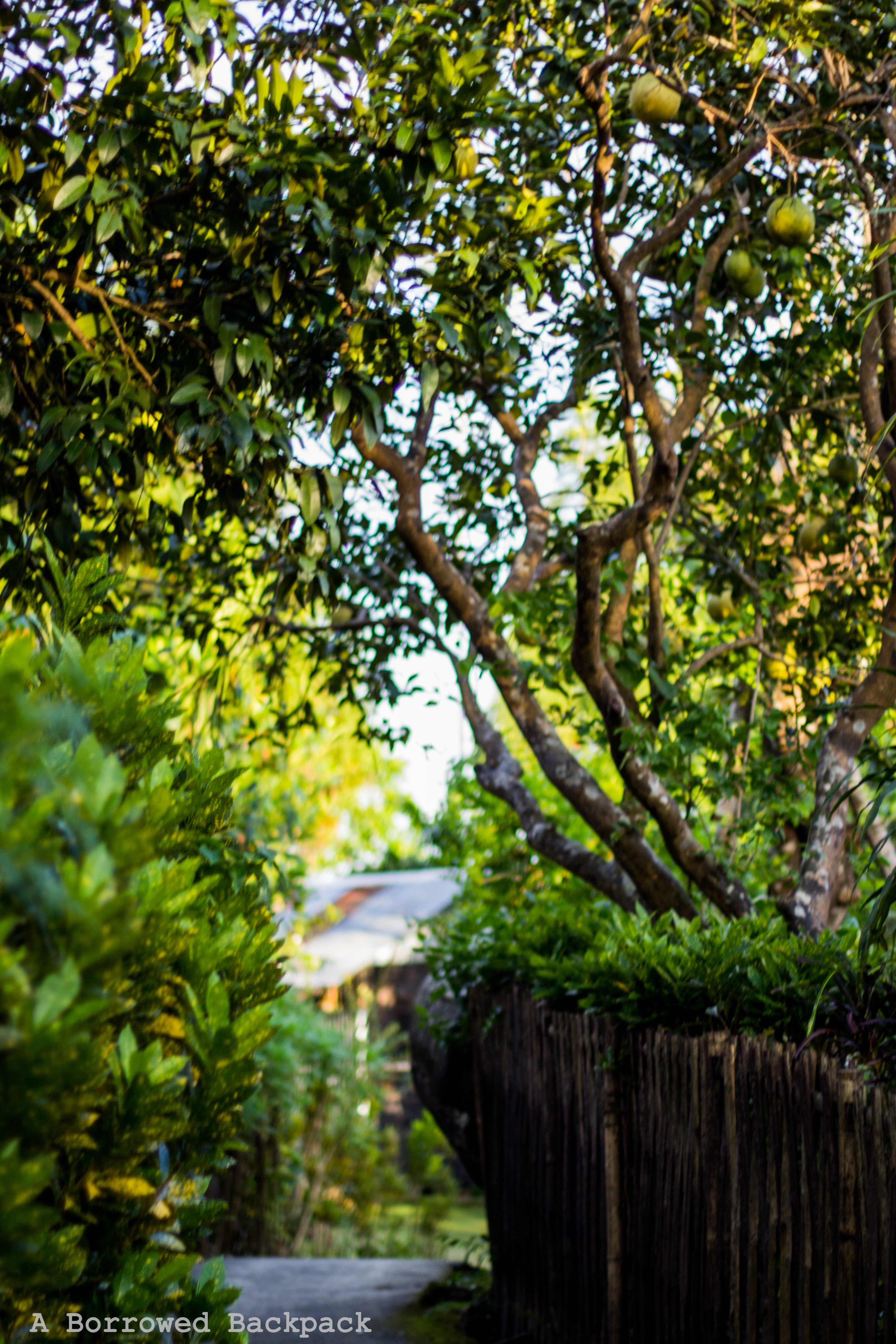 **********************************************************
How To Reach Mawlynnong?
Mawlynnong is at a distance of 90 kilometers from Shillong. Shillong has its own airport too, called Bara Pani; but since very few people know about it, most end up landing at Guwahati.
These are your options for reaching the village:
1) Hire a taxi from Guwahati, in case you land there. Costs roughly Rs.2000/day.
2) Take a shared taxi from Guwahati to Shillong. And take an independent taxi from Shillong to Mawlynnong.
Guwahati to Shillong: Rs.300
Shillong to Mawlynnong: Roughly Rs.2000/day.
3) This one is the cheapest. I traveled solo and did this, but it involves some bit of trick:
a) Take a shared taxi from Guwahati to Shillong. Rs.300
b) Then take a shared taxi from Shillong to Mawlynnong. Approx. Rs.150
In case you choose the third method, please bear in mind:
a) That there are no shared taxis on Sunday. So in case you go to Mawlynnong on Saturday, coming back from there on Sunday on a shoe-string budget might not be an option at all.
b) There is no direct shared-taxis on the days it is the 'market-day*'; which, I think, is a weekly affair. You take a shared taxi from Shillong to Pynursla, and then another shared taxi from Pynursla to Mawlynnong; sounds complicated but it is not.
Shillong to Pynursla: Rs.70
Pynursla to Mawlynnong: Rs. 50
The tricky bit? That the shared taxi from Mawlynnong to Shillong leaves at 6:00am. I did not have the intention of making a fleeting trip. Therefore, I hitch-hiked my way from Mawlynnong to Dawki, Shillong, and Guwahati with an amazing couple from Nabha (Punjab), who very kindly agreed to give me a 'lift' (if you are a non-Indian reading this piece, then this is what hitch-hiking is referred to as in India). In case you do not find yourself so lucky, request someone to drop you by the highway, which is the running road from Bangladesh border to Shillong. You should be able to get some mode of transport from there. Please understand that public transport is relatively infrequent in the area; so plan your journey accordingly.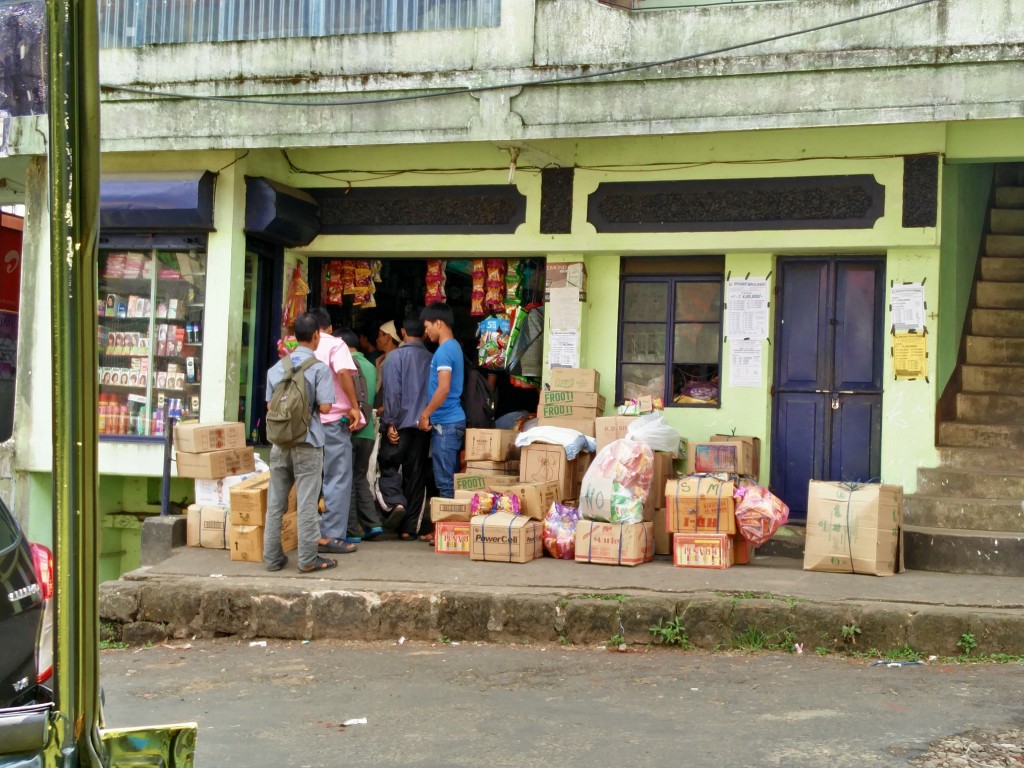 Market-day in Pynursla
This is that day in the week when people from nearby villages visit Pynursla to stock up on fruits, vegetables, meat, and other things of daily need, for the whole week. The entire transportation system is planned around this on the market day. People are hurrying and scurrying all around, shopping and exchanging pleasantries (the old school way; "Hey! this one has grown so tall." "How is your tooth now?" "Why are you buying so much of XYZ?" "When is ABC visiting you?"). Time moves painfully slow; reminded me of the farmer's market in the township I grew up in, back in 1990(s).

**********************************************************
Where To Stay In Mawlynnong?
I spent one night in Mawlynnong. The entire village was sold out when I reached in the evening. I have written a post sharing all the details about homestays in Mawlynnong, here.

**********************************************************

In case, you need someone to show you around the village, you can get in touch with Philip. His number is +91 8256966935.
You can visit Mawlynnong for stay, as well as for a day trip from Shillong.

Traveller's tip: I would prefer to spend all my time in places like Mawlynnong, Dawki, Sohra, Nongriat, and visit crowded places like Shillong and Guwahati fleetingly. In case you are looking for a less touristy experience, you do the same.
---
Other Places Near Mawlynnong
Living Roots bridge: In the southern part of the Shillong plateau, most of the villages seem to have their own living root bridges. The locals, while it is growing, train the roots of trees from the banyan family, ficus elastica to grow in a direction towards the other tree, interweaving the lattice with rocks and wooden logs, and pellets.
Mawlynnong has its own Living Root Bridge, and I gave it a miss because I had spent two fabulous days in Nongriat; a valley village with double root-living bridges.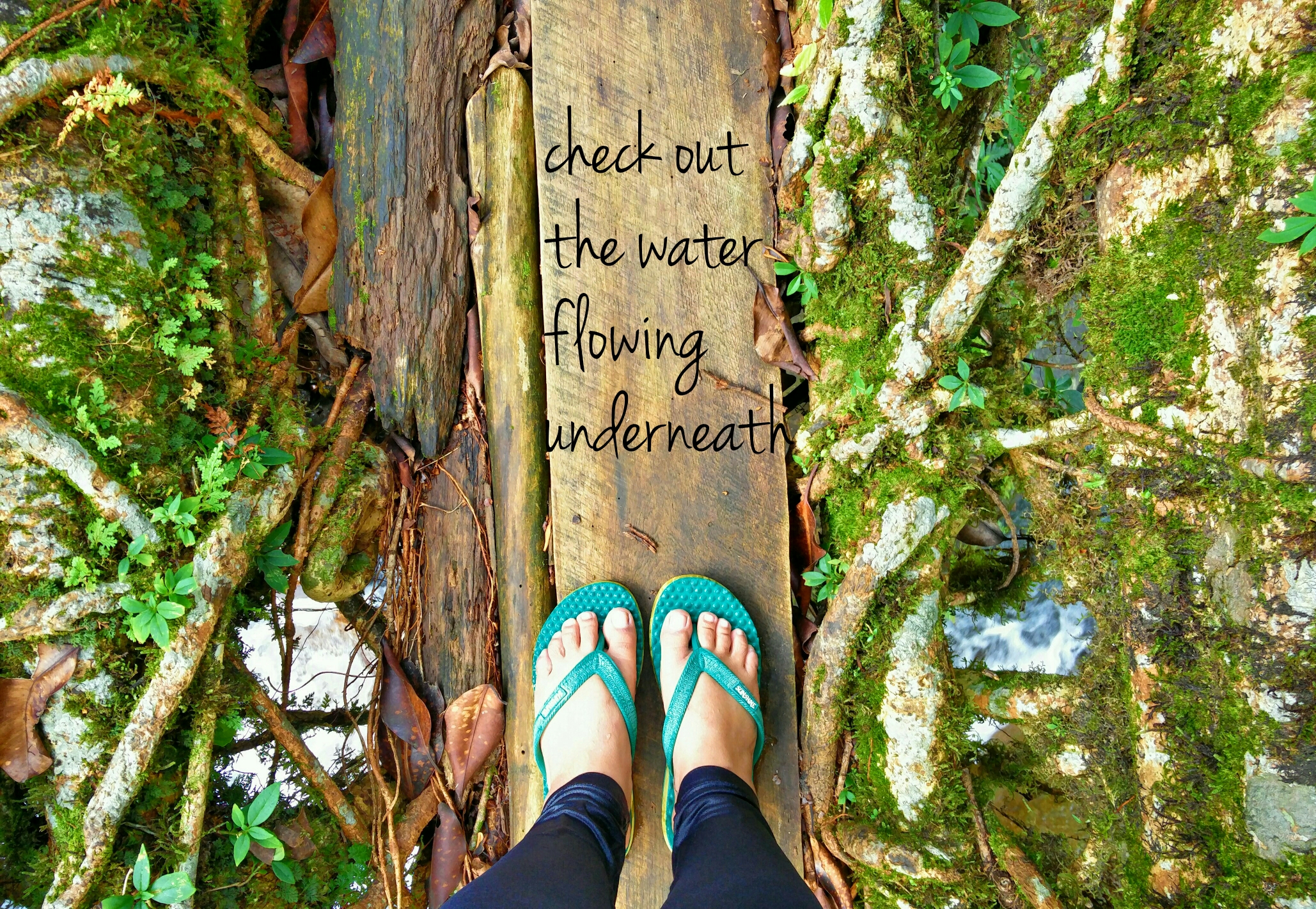 Shnopengdeng Village:
A village, roughly 1.5 hours from Mawlynnong, on the road toward Dawki. It is on the river Umngot. It has such clear water that the boats seem to be suspended in the air. The village has an activity camp called Pioneer Adventure Tours, run by two brothers. It specializes in zip-lining, rock climbing, scuba diving, cliff jumping, canoeing, kayaking and water rafting.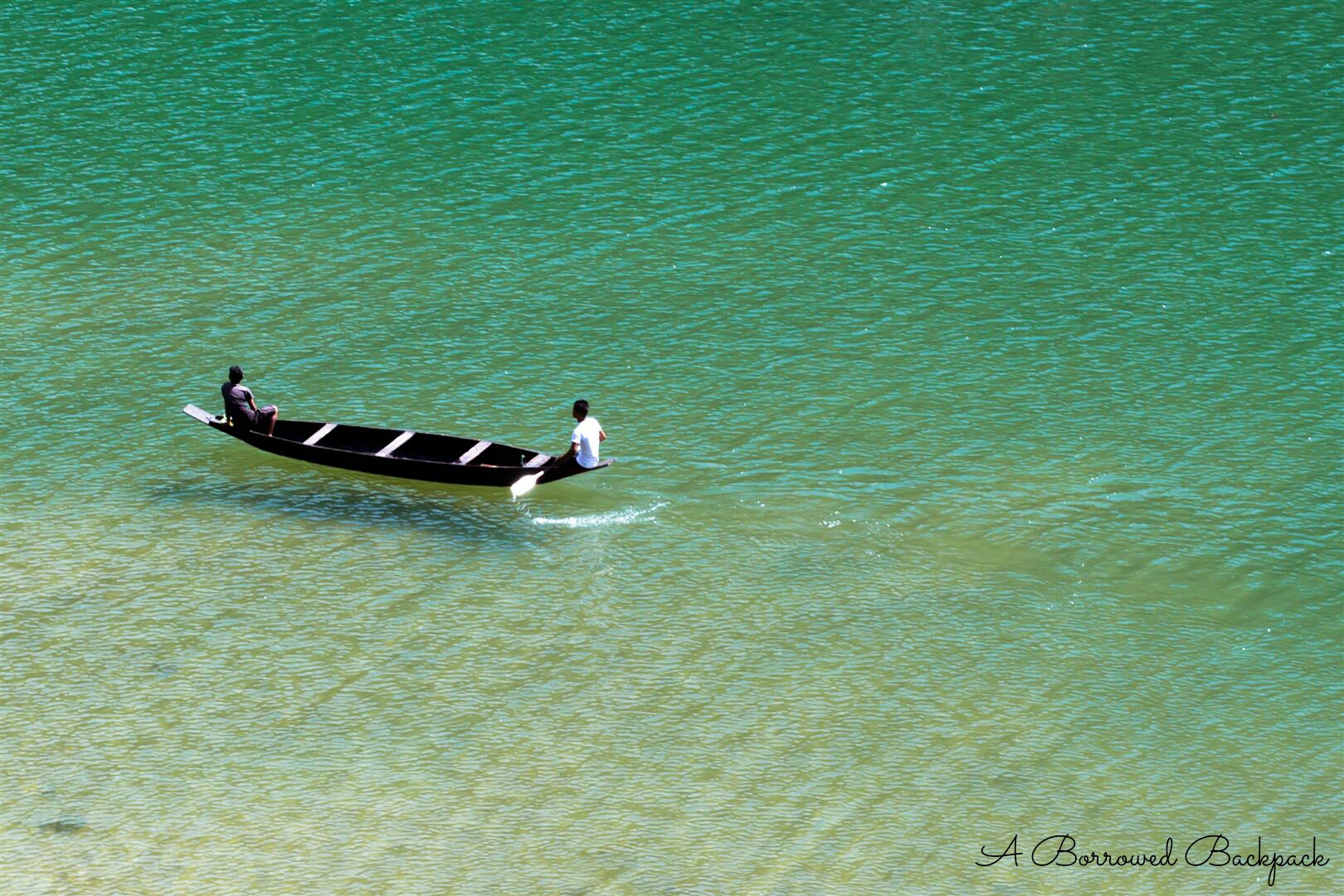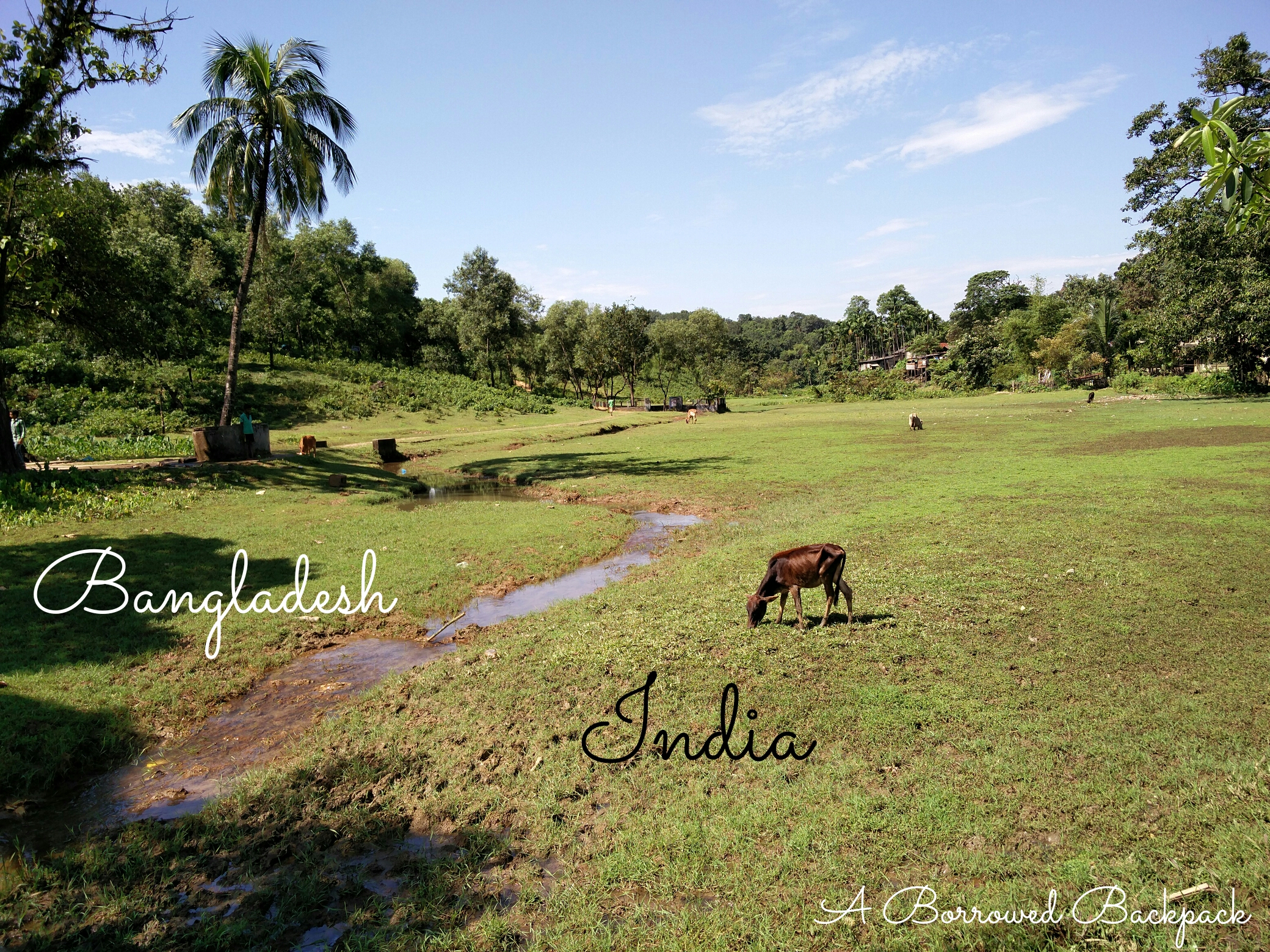 India-Bangladesh Border:
This border is not as friendly and permeable one as India-Bhutan, but you can take permission from the checkpost and go to the area which is the no-man's land between the two countries. Both nations are separated by a thin stream of water. In the pic below, this cow is grazing on the India side of the divide, but once it crosses that stream, it will be in Bangladesh.


The police at the Indian checkpost had warned us that if we crossed the no-man's land, the Indian police would not be able to help in case something untoward happened. These berries were available on the Bangladesh side of the border, therefore we requested the berries vendor to hand us these berries at the no-man's land, halfway-through.

---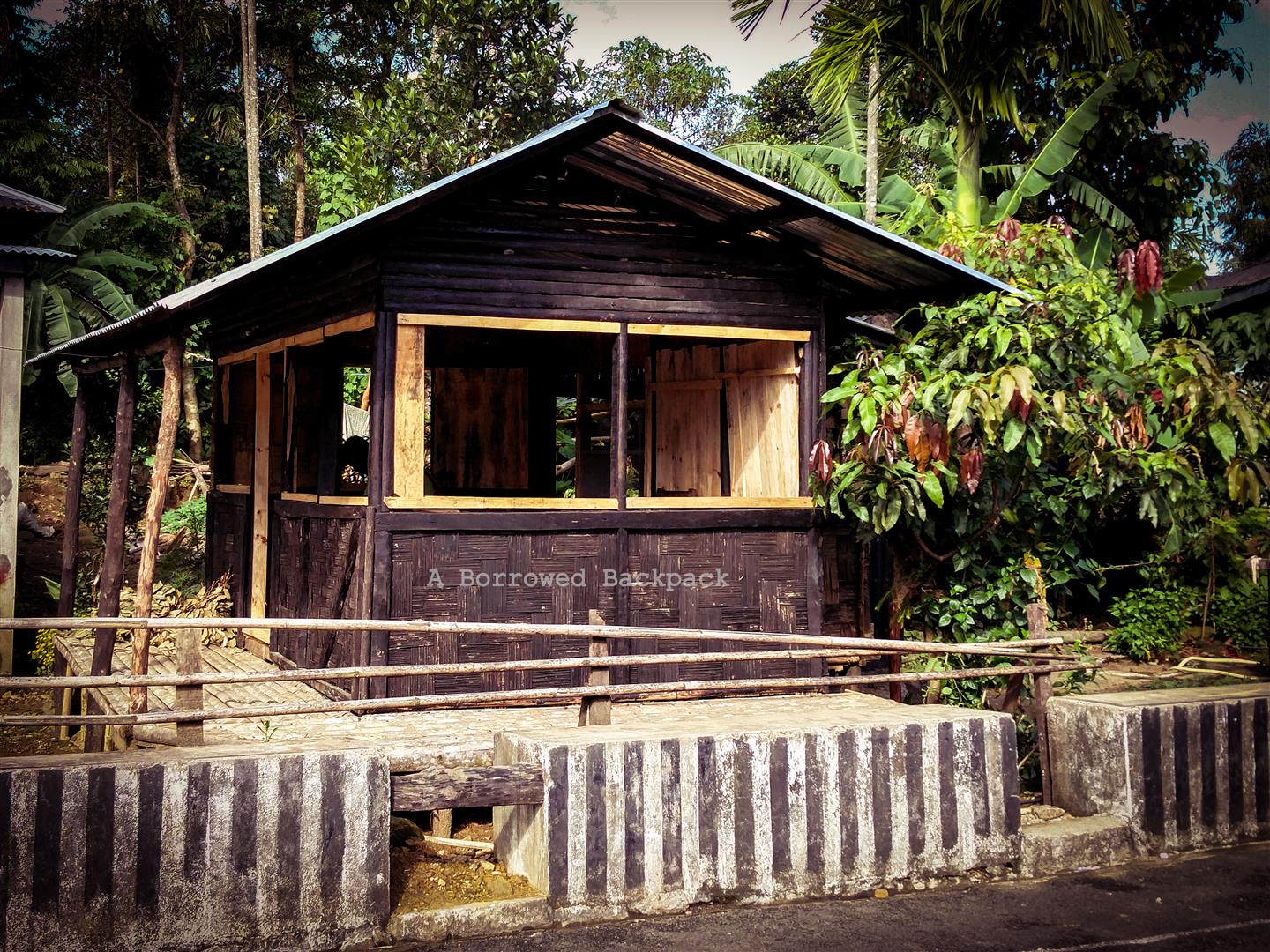 Happy travels!!