How Did My Spiti Trip Come To Be?
Our Spiti trip was planned to take place shortly (five days later, to be precise) after the Uttarkashi natural disaster in June 2013. Spiti lies in Himachal Pradesh, which too was hit, but majorly up till Kinnaur region (a region that borders Uttarkashi). Life was still in process of restoring itself when we reached Manali on 22nd June 2013. Even the roads from Manali to Spiti had opened just two days ahead of our departure to Kaza.
Since the news from our sources was not very encouraging, we were apprehensive about the weather and road conditions. We needn't have worried about the latter, as there are no roads to Spiti (OK , there are roads, but not continuously from Manali to Kaza). We checked for news updates related to the Spiti valley until the night before our journey and were on tenterhooks till the onset of the journey.
Apparently, the authorities had cleared the snow and landslides to make the roads reusable. During the entire span of our stay at the Spiti valley, there was no electricity but the valley is very well equipped with solar power. There are Solar lanterns, geysers, and power-backup (at some places) and you don't really feel much discomfort.
Where is Spiti valley?
Just to put things into perspective, Spiti is a part of northern India, and lies in a state called Himachal Pradesh. I have marked it on the map to explain this better. You can read more about Spiti Valley here.
The word Spiti means 'the middle land'— between India and Tibet. Spiti Valley is a cold desert region.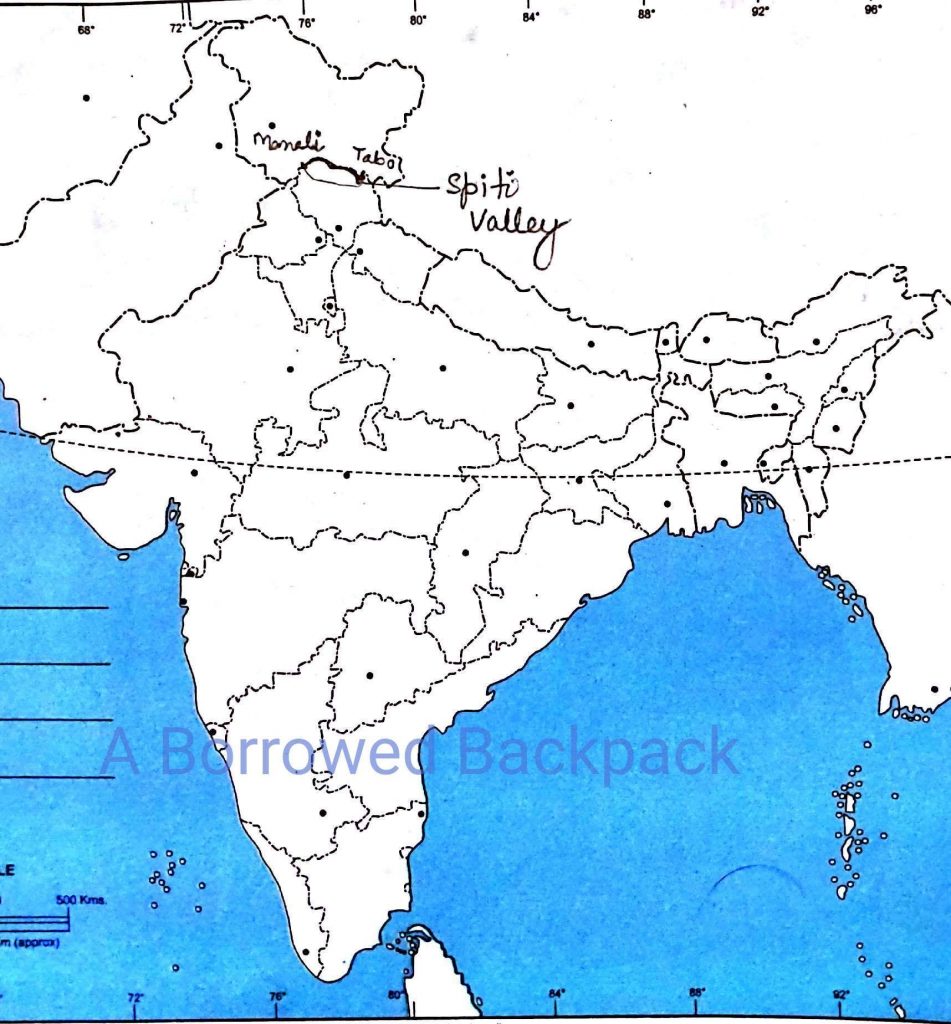 Our Journey From Manali To Spiti
On The Way From Manali To Kaza
We started sharp at 5:00 am from Manali.
Nine of us, groggy-eyed, all set to embark on the journey to the land of surrealism. Ishita Khanna accompanied us from Spiti Ecosphere, our Spiti travel organizer. Ishita is a pseudo-garden lily and a toughie who can give professional trekkers a run for their money (or passion, in this case.)
Shortly after we hit Rohtang Pass, our cell-phone had limited signal reception and soon after Gramphoo there was simply none at all. In my opinion, holidays without a cell phone are the best of all kinds. As you do away with your phone, you live the entire experience with a little more than your five senses.
Journey-Breaks From Manali to Spiti Valley
On the way, we took regular breaks to acclimatize ourselves during the entire course of our journey. The usual stopovers from Manali to Spiti are at Gramphoo, Chhatru, Battal, Kunzum Pass, and Losar.
Gramphoo has metalled road till the point from where the road divides for Spiti and Leh. One road takes you to Leh and the other one turns towards Spiti. The condition of the road deteriorates a bit once you turn for Spiti. After a few kilometers, it turns into a stone-paved road, with mountains all around you as you drive past them. It is a rocky terrain and the way tends to get submerged into streams of water (melted snow) from the Himalayas.
After Gramphoo, our next stop was Chhatru. Chhatru has this raging Spiti river flowing next to the road and it offers amazing scenic views all around. The landscape is rocky and is surrounded by moss-like greenery.
Shortly after we had resumed our journey from Chhatru, we came across a group of bikers going towards Gramphoo on their Royal Enfields. We, incidentally, were passing a stretch of land that was submerged in the stream. Since it is a stone paved path, it is not possible to drive at more than 20 km an hour. After observing the bikers for a while, I felt that it would make sense for bikers to start early as, as the sun goes up, the streams gain momentum and depth. The depth of the stream can add to the problems if one has to stop for some reason. The weather, all through our journey from Manali to Spiti, was scorching hot.
We stopped for a while to click pictures and soak in the scenery.
Once we had clicked the pictures, we set on the journey again and our next stop was Battal (for tea and photography).
From Battal, an off-shoot of the main road from Manali to Kaza takes you to Chandratal, which is at a distance of 14 km. Our initial plan was to undertake the trek to Chandratal (28 km) on our way back from Spiti. This was there on our wish list till we trekked up to Dhankar lake (Day 2) (5 km). After the Dhankar hike, better sense prevailed and we dropped the idea.
The important fact about Battal is that it serves as a crucial stopover for tourists and hence it is provided with a temporary night shelter for people who have to take a break from their journey unexpectedly. Himachal Pradesh government has made these night shelters called the white houses, at several places though-out the area.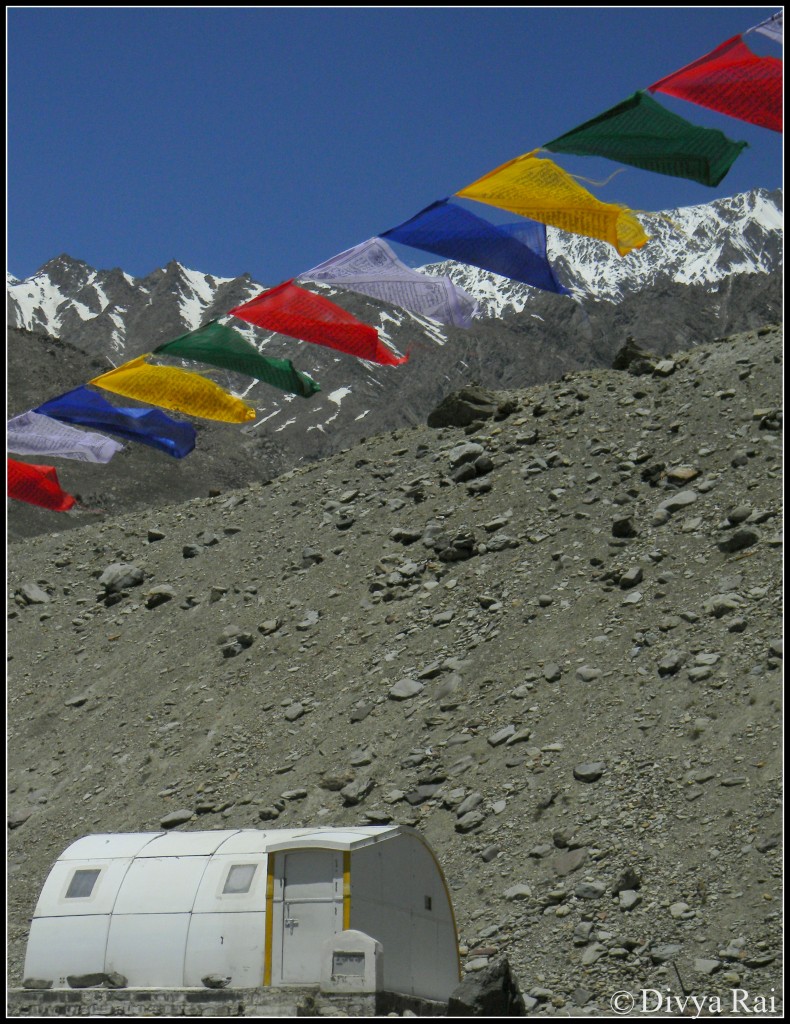 Next on the way was Kunzum pass. A stop-over here is a must as it gives you an amazing view of the snow-capped Himalayas. Do not let the view of the snow-clad Himalayas fool you. It is fairly hot at Kunzum Pass. Once there, you do the customary circling of the temple instead of driving straight past it. It is believed to bless your journey ahead.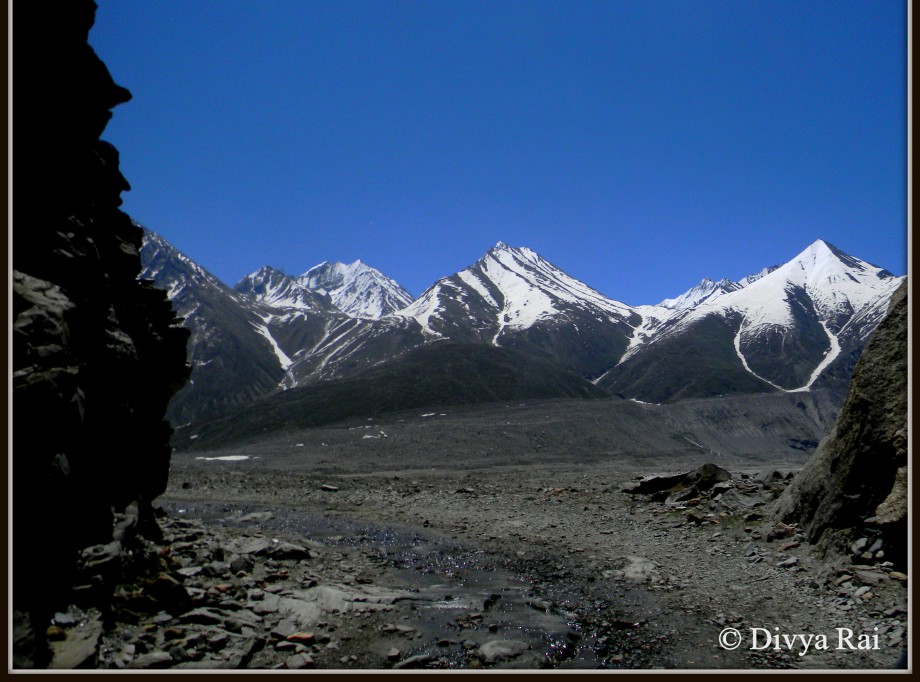 As you touch Losar, the landscape changes from picturesque to awe-inspiring. We took our lunch break at Losar, and from here onward, we felt a very slight thinning in the air. The sky is much clearer in Losar than in all the places mentioned earlier. After approximately two hours of driving from Losar, we reached Kaza.
One remarkable fact about the road journey was that post-Gramphoo (when we still had 150 km ahead of us to reach Kaza), we barely overtook any vehicle, nor did any other vehicle overtake us (almost). For 50-60 kilometers at a stretch, you could be the only one driving to or from Spiti. And it can be very bad news in case your vehicle breaks down, and your phone doesn't work.
…And Finally! We Reached Kaza
We reached Kaza after 12.5 hours of driving from Manali.
Kaza is located at a height of approximately 12,500 ft above sea-level and is the commercial capital of Spiti valley.
On the way from Manali to Spiti, or once you reach, you might experience various phases of H.A.S.(high-altitude sickness).
Our Spiti travel organizers advised us to take a medicine called Diamox. It helps to counter the HAS and its effect. It is recommended that it strictly be taken under medical supervision only. When I talk about medical supervision, you would soon know why I say so.
Most of us were experiencing general breathlessness because of the thin air. I had breathlessness coupled with a pounding headache.
Upon arrival, we had our evening tea and freshened up. A bunch of us decided to go for a photo walk close to the river. The natural light of the evening was extremely beautiful. It was quite bright and clear for 6:00 pm.
My roommate and I decided to stay in our room and take a nap. We reasoned that it would help us acclimatize to the change in environs. I was feeling uncomfortable despite taking the required medication for the trip. What baffled me was the fact that my roommate had not taken any medicine, despite the advice from our travel coordinators. She felt a bit worse with this strange nauseous feeling all the while.
We decided to take a nap until dinner time, which was 8:00 pm.
Dinner Time
Both of us got up a bit before dinner. My breathlessness had gone but the headache persisted. We had our dinner and filled our water bottles for the night (you do not buy water bottles in Spiti, you buy water. This ensures that the plastic bottles are recycled more and disposed of less).
After dinner, as the last resort, I took a painkiller and slept early. The next day was to begin at 7:00 am. My roommate too decided to take Diamox to counter HAS and hit the sack to get ample of sleep.

Sometime in the middle of the night, at around 2:00 am or so, I woke up to an extremely unwell roommate who had severe bouts of vomiting. I think she had thrown up the medicine. Turns out, she was allergic to the compound called "sulpha" and that was what had caused the reaction. I mentally thanked the universe for this minor repercussion as Kaza has a limited medical facility and a medical emergency at 2:00am would have been slightly difficult to handle.
Things To Keep Handy For Your Journey From Manali to Spiti Valley?
1) A travel pillow like this if you are taking a four-wheeler (and not driving).
2) A water-bottle, or the one with an infuser if you have travel/mountain sickness.
3) An excellent quality sunscreen. I use this one; works amazingly well without making the skin oily.
Where to stay in Kaza?
If you are a backpacker like me, but traveling on your own (instead of a pre-organized package tour), you should consider staying at Zostel.
If you are looking for a comfortable and private space, consider Baspa Resort in Kaza.
And if you are a budget traveler looking for a homestay experience, you can check if Semskit Homestay has space for you.
Is Spiti Valley Safe For A Female Solo Traveller?
Spiti valley is 100% safe for a female solo traveler. The valley prides itself in being a 100% crime-free zone in India.
Best Time To Go To Spiti Valley?
The best time to visit Spiti Valley is in June-October. Avoid going during monsoons because some stretches can be landslide-prone.
If you are adventurous enough, it may be a great idea to visit the valley in the winter months when it is completely snowed out. However, this weather is better suited for slow travel because the temperatures can dip to -35°C.
Things To Keep In Mind While Travelling From Manali To Spiti
The distance between Old Manali and Kaza is 210 km.
For us, the travel-time from Manali to Kaza was 12.5 hours (including breaks), but it can vary depending on the weather conditions, roads, etc.
The stops where you can take a break from Manali to Kaza are Gramphoo, Chhatru, Battal, Kunzum Pass, Losar (in this order).
You must, must carry and apply sunscreen all through your holiday! Remember to reapply it after every 4-5 hours.
When referring to Spiti valley, people bunch up the names Lahaul-Spiti, but Lahaul and Spiti are two separate valleys with different characteristics.
Kunzum Pass is considered to be the gateway to the Spiti valley (via Lahaul).
Spiti valley is accessible through two routes: Manali and Shimla. The Shimla route is accessible and usable even during winter months in Spiti.
If you go to Spiti valley from the Manali route in March, April, or May, there are chances that some of the passes would not be accessible due to snow.
The roads from Manali to Spiti valley become accessible only after Kunzum Pass opens up. This is usually announced in the local newspapers.
It is important to take regular breaks in your journey because that helps your body in acclimatizing to the change in environment. Do not rush this process.
If your travel organizer advises you to take Diamox, please remember to check with a good doctor first. I did Chadar Trek without taking Diamox, but in terms of altitude, Spiti Valley starts where Chadar Trek ends.
Read Day 2 here.
P.S.: Some of you have written asking about the metrics for this sequence:
Stop-overs: Manali>Gramphoo>Chhatru>Battal> Kunzum Pass>Losar>Kaza
Distance between Old Manali to Kaza: 210kms
Road condition: Mixed.
Distance between Old Manali to Gramphoo: 67kms
Road Condition: Average
Distance between Gramphoo and Chhatru: 18kms
Road Condition: Below Average
Distance between Chhatru and Battal: 32kms
Road Condition: Poor
Distance between Battal and Kunzum Pass: Someone please update
Road Condition: Poor
Distance between Kunzum Pass and Losar: 20kms
Road Condition: Poor
Distance between Losar to Kaza: 61kms
Road Condition: Average