Looking to volunteer in Auroville?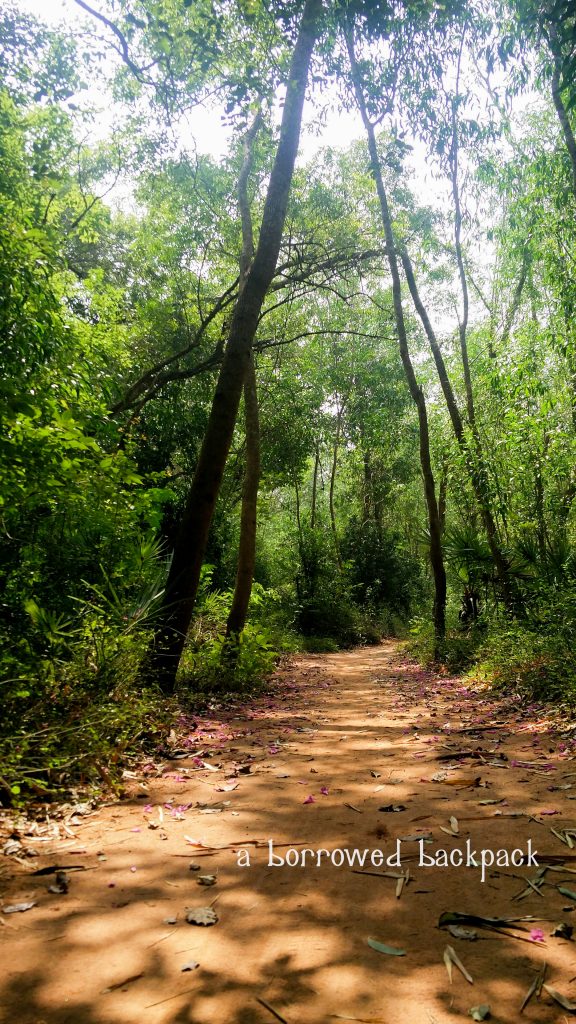 At 6.10am, the coordinator tells us we need to pick rucula from the bed, segregate the heads after a quality check, and wash, weigh, pack and label it to be dispatched to the local prosperity system.
My father, the coordinator, and I spend an hour hunched over the rucula bed. As we work, the coordinator tells us how voluntourism has changed the way people travel. Many digital-nomads (people with location-independent professions such as writing, coding, editing etc., who practice slow travel) have contributed to the farm in terms of website content and photos for an online presence. In exchange, the farm provides bed and breakfast for four hours of work in the fields.
Voluntourism is a great way to travel, but it also calls for tremendous discipline. To do physically exhausting work from 6:00 am every day means late-night socializing goes for a toss. That's why very few youngsters go for it. It requires the stability of a disciplined life even without fixed geographical coordinates.
After an hour, my father and I ready the harvest for dispatch. As I wash the leaves tub by tub, my father compares the 'Indian kids' 'back home' and the non-Asian youth who are working with us on the farm. The sun blazes down, and the day is getting hotter.
Another hour-and-a-half, and we have neatly arranged 54 packets of rucula in a basket marked 'dispatches'. In another hour, these packets will be on the retail shelf.
By now, my father is bored and fidgety. A farmer himself, this is something he has people to do for him at his farm. At 9:00am, a bell goes off and everyone rushes to the tool shed to deposit the equipment. Then we head for breakfast.
As we take our place on a ledge in the foyer, two girls sit opposite us. They are enthused because India seems safer than they'd been told it would be. Though they want to explore more of the country, they only have an Auroville visa, which is different from an Indian visa.
Headed back to our guest house, we stop at the financial service center to get our Auro-cards topped up. The Auro-card is the only mode of payment for most Auroville bodies. The township has had cashless economy for as long as I have known it.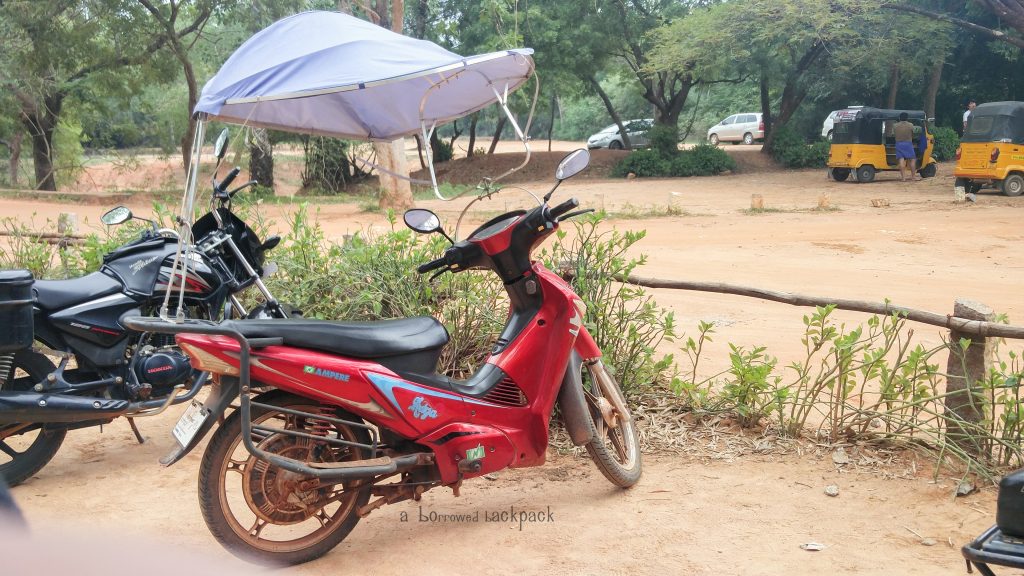 Day of play
We reach the guest house and get ready for the day. Between 11:00am and 12.30pm, I sit at the Visitor's Center Cafeteria. It has the fluffiest of idli, filter kaapi and good Internet connection. I am working on a story to be submitted to a publication in Delhi.
Visitor's Center is the first contact point for people on a day trip to Auroville. It has shops with merchandise from entrepreneurs around the area and information on the town.
By 12.30pm, I have used all the Internet I need for the day. I slot the remainder of work for the afternoon and head to the guest house for lunch. On my way back, I cross Tanto's pizzeria, my favourite eatery. They hand roll the base in front of you, and almost all the ingredients are sourced from local farms.
At the guest house, my companion for the meal is a girl who is learning hatha yoga. She leaves for her class at 5am, and I don't see her for dinner. She's been living here for three months. We chat over our meal of spaghetti and nannari syrup, a local produce based on ayurveda.
Soon our other mealtime friend, an architect, joins us. Post-lunch I take a nap, while others sit in the common area with their work. After my siesta, I finish the article I'm working on. My parents take off for Pondicherry, 7kms from Auroville. In the last two weeks, my parents have gone way more than I ever have in all my holidays at Auroville.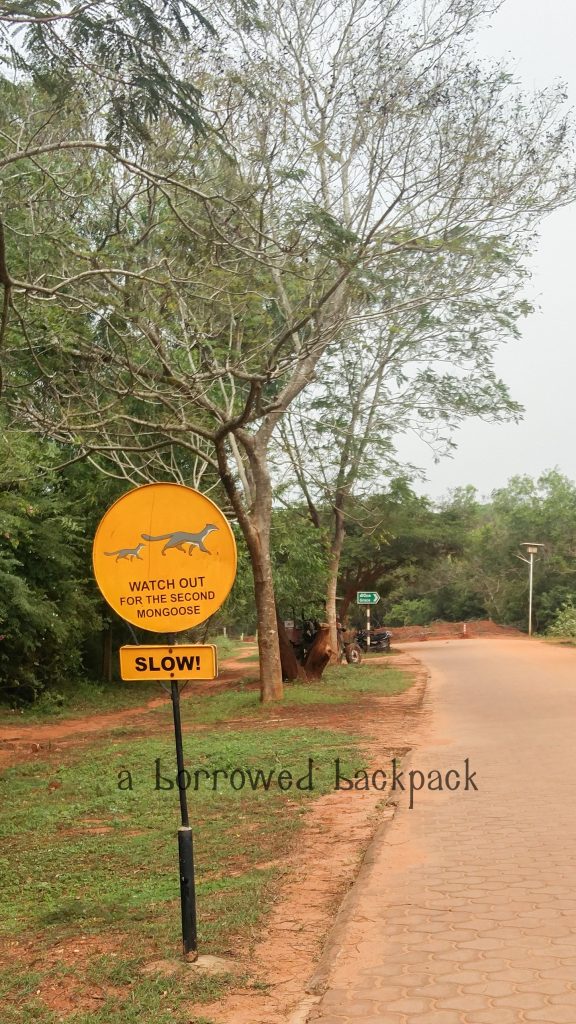 At 6pm, a friend calls to ask if I'd like to see her after her Capoeira class for a quick chai at Dinesh Dhaba.
Before leaving my room, I slather on anti-mosquito cream for the fourth time this day. Others use a neem-oil concoction, but it is too hot for me to use oil.
I reach our designated place and a mini jam-session is in progress. An Indian student is excitedly making a video on his phone. "No videos please," one of the two girls sitting ahead of me protests. The boy stops and is too taken aback to do anything for the next 15 minutes. This is the first time I've seen someone here more interested in recording the moment than actually living it.
"Indians take w-a-y too many pictures!" says one of the two girls to the other. "And send so many Facebook friend requests!" her friend rolls her eyes. They turn to look at me, smiling sheepishly. I smile back.
Natural beauty
As I leave the dhaba, I see my parents riding past. We decided to see if we can have dinner at Solar Kitchen, which uses the sun's energy to cook the food partly.
A table at Solar Kitchen needs to be booked in advance; they take food wastage very seriously. After you are done eating, you bin the leftovers in a trash can, which is then placed on a weighing scale that tells you how much food you have wasted. If you are dubious about a particular food item, they encourage you to try a small quantity first. I am in two minds about the potato and pumpkin soup, and the server offers a quarter of the original quantity. I am glad because it isn't something I fancy, but I do not have leftover food.
After dinner, my parents and I leave for a play called Water (an English translation of a classic Tamil play, Thanneer, Thanneer).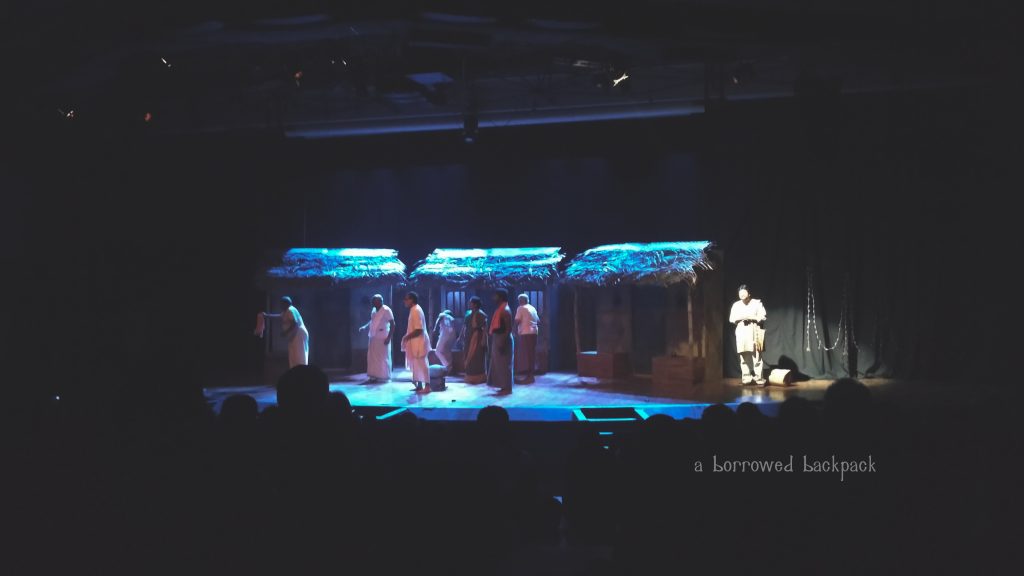 At the venue, there is a lot of VIP security, which is quite un-Auroville-like. Sure, Lt. Governor Kiran Bedi is the chief guest, but it's unusual. A VIP or chief guest does not fit into the ethos of Auroville.
After the play, my parents want to watch a film, but I yawn as a reply. Clearly, I've grown way older than my parents who are both 60+ and are able to pack much more in their day than I can. It is 9.15pm, and w-a-y past our bedtime by Auroville standard time.
On our way back, we hear a drum-jam session at the African Pavilion. We stop for a little while to enjoy the delightful music; we feel so alive. I sit on a log of wood. Ten minutes later, someone taps me on the shoulder. I need to get up. They need the 'musical instrument' I am sitting on.
Finally, we head back. The night is cool, calm and alive with the croaking of frogs. Auroville is magnificently washed in moonlight and solitude; the moment seems like a blessing from the universe.
*****************
How To Volunteer In Auroville
Go through SAVI (Auroville's body for students, volunteers, and interns). The application process is available at www.auroville.org . SAVI has details for both, informal and academic internships. It needs a commitment of minimum two months and the stay is charged according to your requirement of accommodation and facilities. September to February is the peak season for tourists, and you need to plan well in advance. The weather is warm and humid in these months; it often rains without warning. Auroville has almost negligible nightlife and it is so by design. Languages spoken are English, Tamil and French. Mode of payment for Auroville bodies is 'Auro-card', which is issued by the Financial Service Center.
********************
Some great voluntourism options in India
Sadhana Village: Situated near Pune, this project is dedicated to the residential and educational care of disabled children and empowerment of rural women. Log on to http://sadhana-village.org
Sikkim Himalayan Academy: This one's ideal for those who love working with students. Volunteer at this free residential school for underprivileged kids who come from remote mountain areas of Sikkim. For more details, access http://www.sikkimhimalayanacademy.org
Spiti Ecosphere: Take your pick from physical labour to cultural learning here. Participate in a greenhouse project, construct a solar passive structure or experience life as a local in the Spiti Valley. Check out http://www.spitiecosphere.com
Here is my travelogue on Spiti, in case you need to understand anything about the land, its people and culture.
[This piece originally appeared in Hindustan Times Brunch (Sunday Magazine) in metro cities and Hindustan Times Sunday Paper in other cities on 10th/Sept/2017.  Here is the link to the same.]
In case you need more details on Life In Auroville, here you go:
https://aborrowedbackpack.com/2015/07/19/auroville-a-sustainable-serendipity/
https://aborrowedbackpack.com/2015/01/28/eating-out-in-auroville/