"We are planning to go to Chaini Kothi. Do you want to come?"
I was half-dead from the waterfall and street cleaning drive we had carried out as a group that morning. By the time we finished, it was well past noon and the sun had managed to wear me out. It always does.
"What do they have there?"
"A skyscraper from the 17th century."
I was dying to sleep, but who could say no to that? Also, when you are in the hills and are set to leave the next day (or otherwise too), wasting your time sleeping is a sin. At least, when the view is like this:

With a heartbeat-rate signifying extreme exhaustion, I sat in the car that was supposed to drive the group to Shringa Rishi temple. In the Himalayas, even if something is not half as good as you had dreamt it to be, it is likely to be a thousand times better than what you had imagined. (If you don't trust me on this, feel free to go through this archive).
Chaini Kothi, or Chehni Kothi as it is locally known in Kullu, happened to us on a tightly packed day. It didn't help that I had reserved the evening for my daily run for #100DaysOfRunning. After watching others plan the hike and wracking my brain a bit, I arrived at the conclusion that I will have to marry my evening run with this hike.
About The Chaini Kothi Hike
The hike starts from Shringa Rishi Temple, which is located at a distance of 8 kilometers from Banjar bus stand, and takes about 35 minutes. Just to put things into perspective, it is a hike of 161 meters within a distance of 800 meters. at least that is what my Strava reading said. In case this is Greek to you and/or you are new to hiking, please take it slow.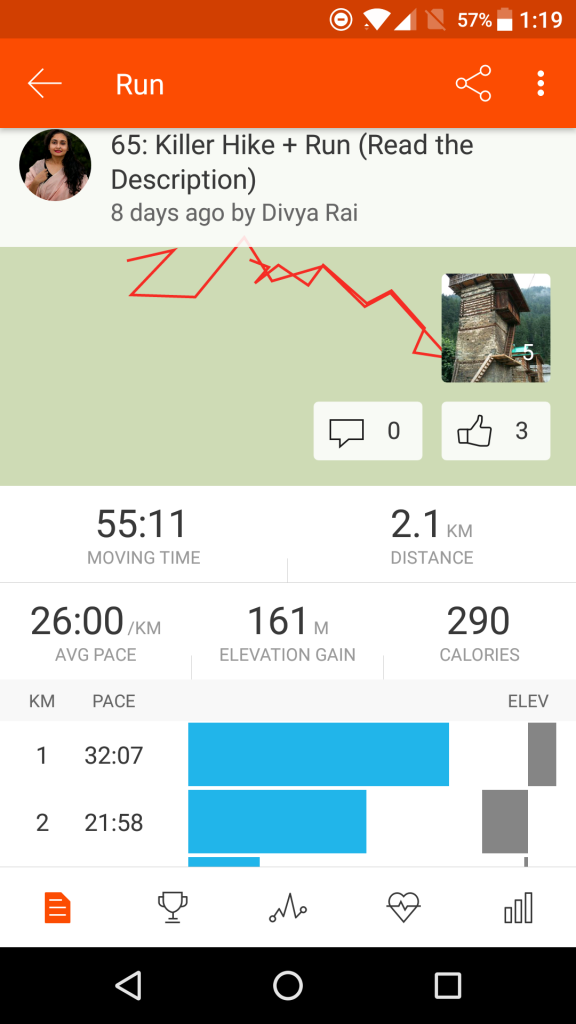 The hike to the top passes through some of the most beautiful orchards of peaches and apples. Take your time to relish the sight.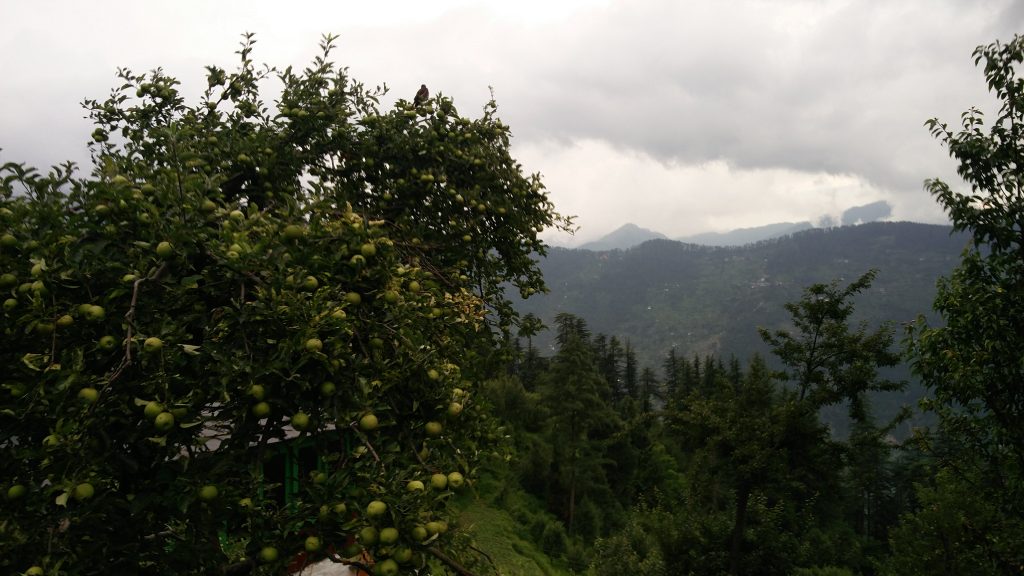 Once you reach atop the hike, suddenly all of it will seem worth it. The sight of two towers with a backdrop of mountains is overwhelming!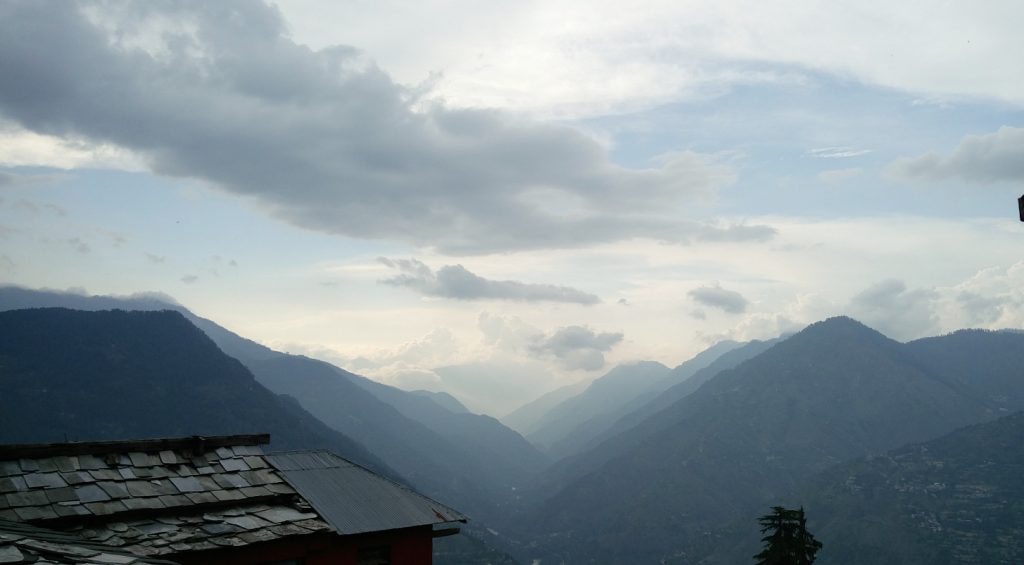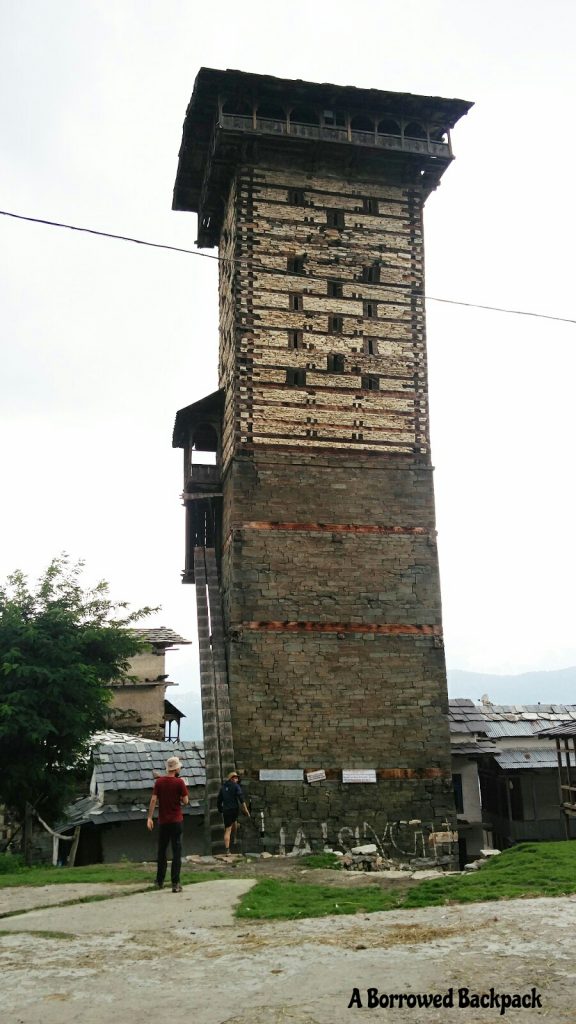 So, what Is Chaini Kothi?
Chaini Kothi is the main tower and is known to house a temple. It is not open to visitors. Apparently, it was used as a fort in the olden days.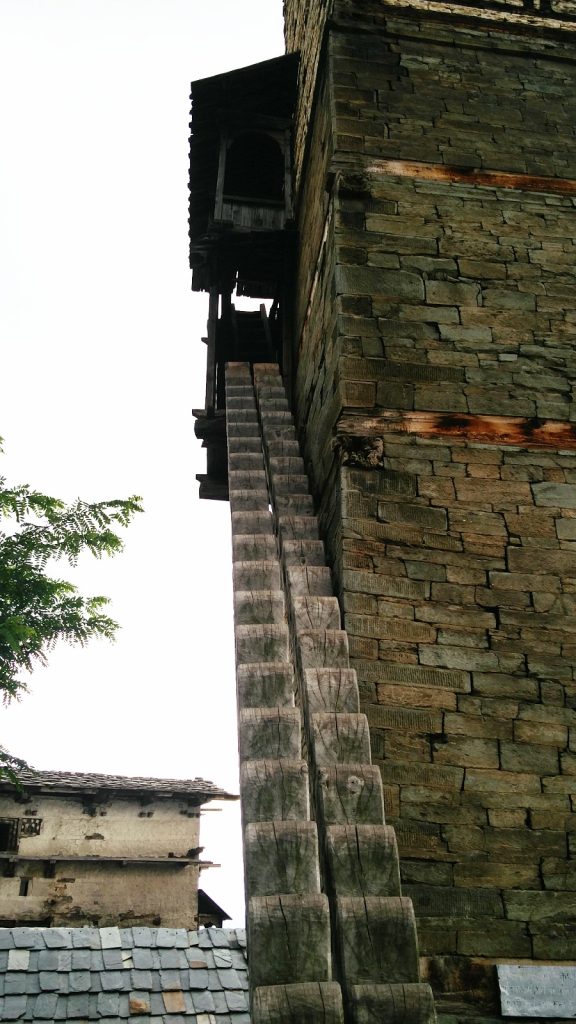 The staircase leading to the temple door is made of a single log of wood. It was designed to be removed easily in a 'move of defense' if the sudden need arose. A case of 'take stairs in case of fire'— quite literally!
Dev Bhandar, or the temple treasure, is another tall structure that is right across Chehni Kothi. Tourists are not allowed to go inside Dev Bhandar as well.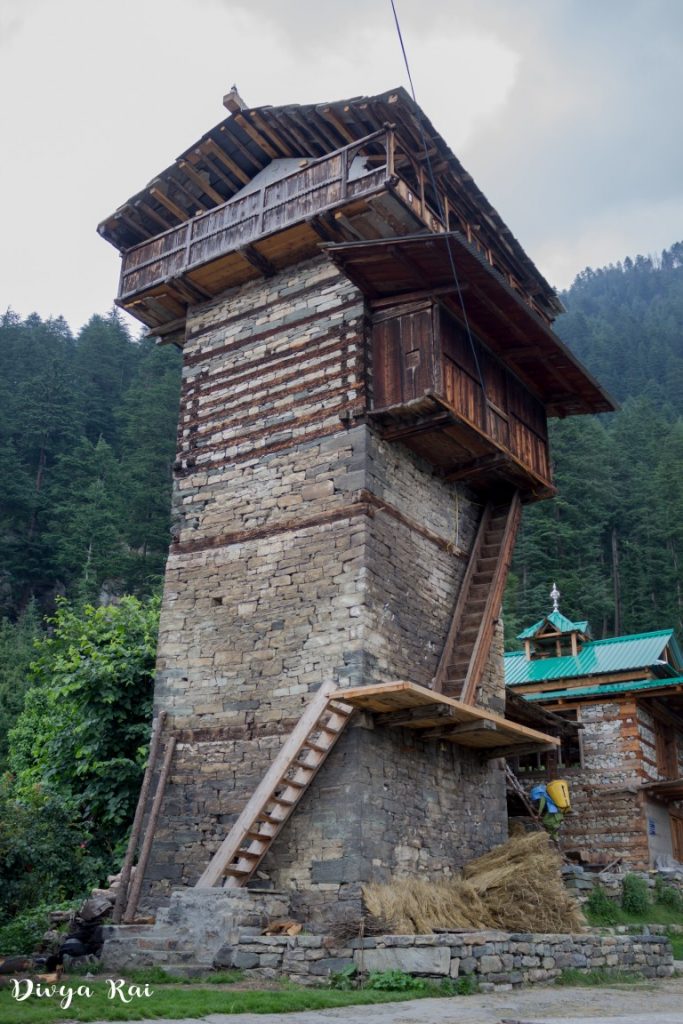 Both of these buildings are nearly 500 years old.
KathKuni Architecture:
The towers are made of layers of stones and wood, lending the structure earthquake-resistance, I am told. It is built with 'Kathkuni' method of architecture. 'Kath' means wood, and 'Kuni' means angle.
The main tower of Chaini Kothi lost two floors in a massive earthquake in 1905, thereby losing about 30 feet of height. The local folk, who are deemed to be skilled wood-crafters of the village, carried out the restoration project.
It is clear that Chaini Kothi and Dev Bhandar have served multiple purposes in the past, based not only on their architecture but location as well. Even though these are known as forts/temples, visually they fit the description of watch-towers better. From the top of the hill, there is a very clear and unobstructed view of the entire valley; makes for a good vantage point if you are a photographer.
Important Tips For Chaini Kothi Hike
This is not a difficult hike, the distance is just 800 meters. Just remember to wear shoes, and not 'chappals' or any fancy footwear.

Heart patients should not take up this hike.

It is not advisable to descend in the dark, so please plan accordingly.

Avoid going to Chehni Kothi on a rainy day. The wet mud can make the way slippery and unsafe.

It took us 35 minutes to reach the top.

Chehni Kothi is a part of Kullu district in Himachal Pradesh.

There is no lodging facility up there, so only a day trek is recommended (though camping MIGHT be possible).

Use Odomos or some other insect repellant, if you don't want to end up like the pic below (better still, wear something covering your legs). Don't get too scared or worried, yours may not get so bad. I have a terrible case of insect-bite allergy; even a harmless bite can turn into a huge, swollen lump, only to bleed later.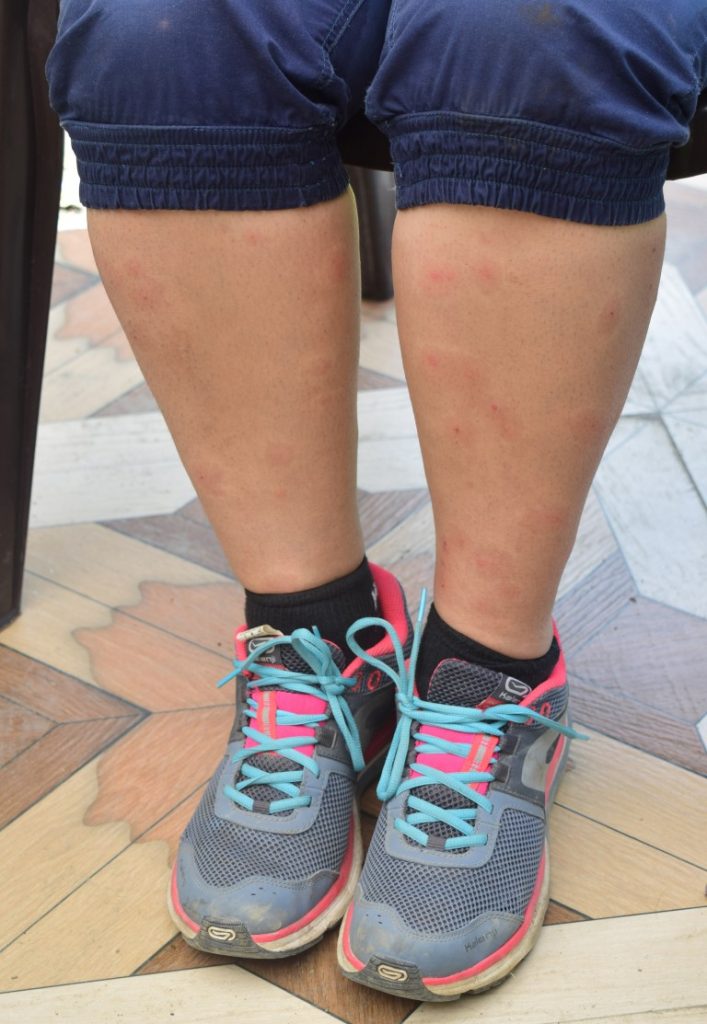 Carry something to munch on if you are likely to go hungry on the way. The noodles (Maggi) we had when we reached Chaini Kothi was the worst one of our collective lives!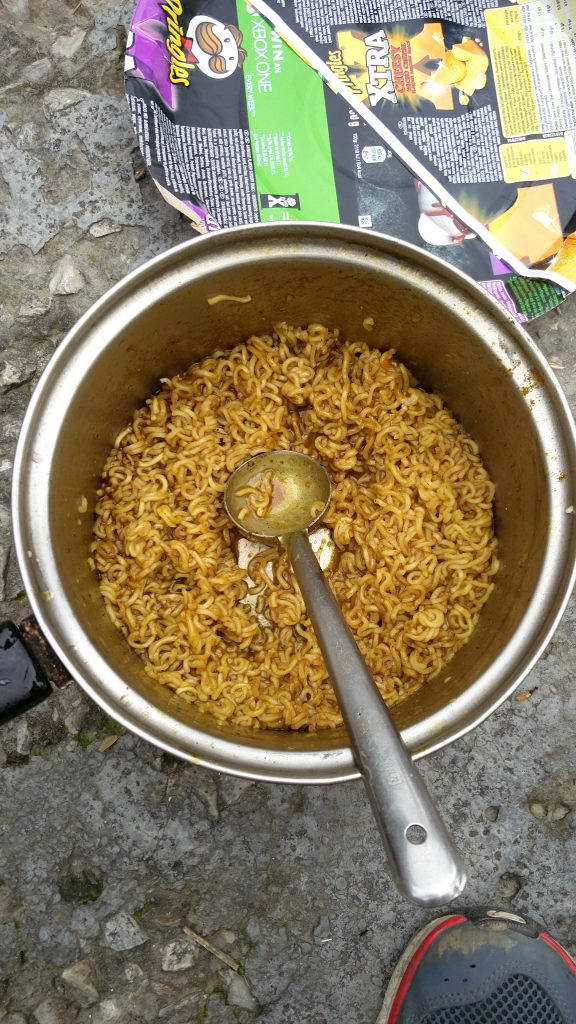 How to reach Chaini Kothi:
Distance between Banjar bus stand-Shringa Rishi Temple (this is where the hike starts): 8 Km

You will have to hire a taxi (charges roughly Rs.800 for up and down). There might be buses plying on the route for the local folks. Check from Banjar Bus stand. Apart from this, you can also hitch a hike.
This is one of the things to do in Jibhi, while downhill cycling from Jalori Pass to Banjar Market is another one. I went for it in 2013, a week before my Spiti Trip.
Happy travels!
P.S. I have refrained from writing about the historical how-about of Chehni Kothi and Shringa Rishi temple, as I do not have the required information from any trusted source. The villagers do narrate stories, but for those stories to be seen as fact we need validation, which I have not come across.