Location: Tiger's Nest trek (or Taktsang Valley Monastery, or Taktsang Hike, or Taktsang Monastery Trek)
Paro, Bhutan.
It is 10:30am. I am on my way to the Tiger's Nest monastery and I have already committed my first two mistakes of the day:

1) I took a one-way taxi to this place (The trek base is situated at a distance of 12 kilometers from Paro main town) as I wasn't sure how long would it take. (However, my taxi-driver wanted me to give him the exact time.) Also, I am a bit overconfident of my hitch-hiking skills almost all the time.
2)  It is a hot day (Oct the 2nd, 2015), and despite repeated warnings (that the trek ought to be started no later than 8:30am) from my hotel-manager, here I am, looking hopefully at the thick globules of clouds. And that tiny speck, up in the mountains, namely Tiger's Nest.
Please watch this in HD.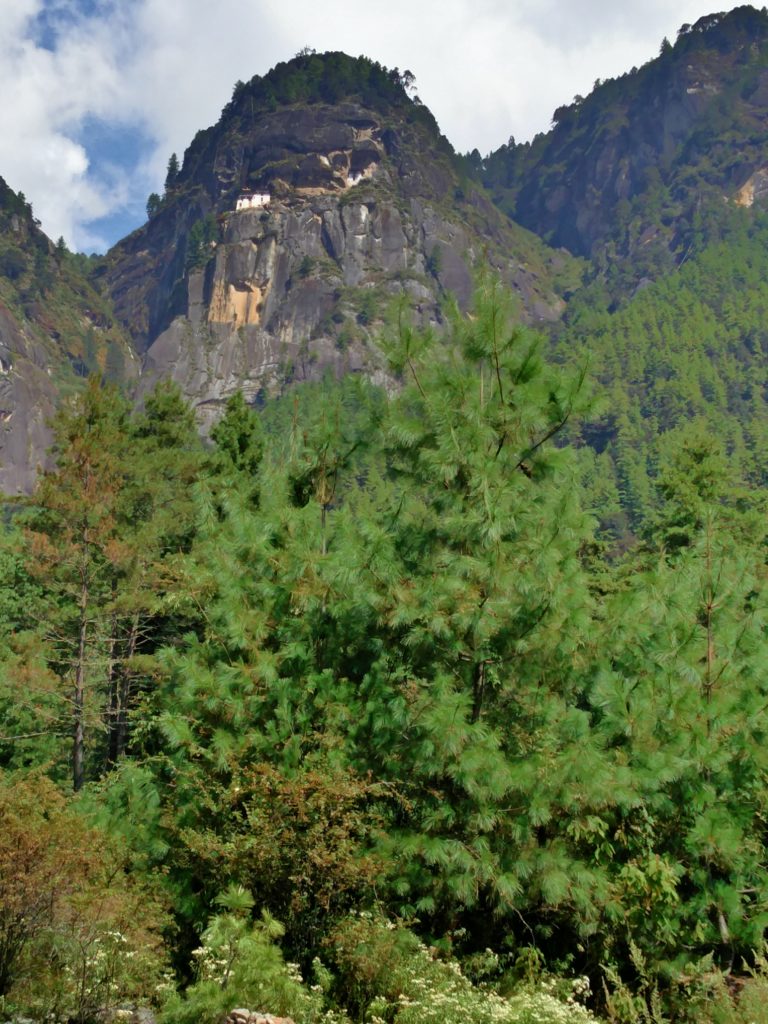 From the point where the taxi drops you, there is a small line-up of trinket and handcraft traders. The patch of land is a part of pine-forest. This is where one buys the local trekking stick for Nu.50 (if you are taking sticks, which I suggest you do, please be in the know that taking two sticks works out better than one).
Also, hire a horse if you don't prefer walking the distance. A giant rock serves as the platform on which one stands, to be able to climb on to the horse-back, assisted by the handler. Much amused at the 'jugaad' set-up, I walked past it. Beyond the mini-market , there was a clear patch, where I took some pictures of the view of the monastery.
I undertook the entire trek on foot.
Just 50 meters from here, starts a gradual ascent. Five minutes into the trek, and I met an elderly couple who remarked, "why are you starting so late!! The monastery closes at 01:00pm. Run!!".  [Well, they were correct, albeit partially.]
That was it.
I ran through the gradual ascent, the steep ascent, the mid-point café, right till the official viewing point of the Tiger's Nest Monastery. This is where people jostle with each other to take pictures, and every camera captures THE SAME thing.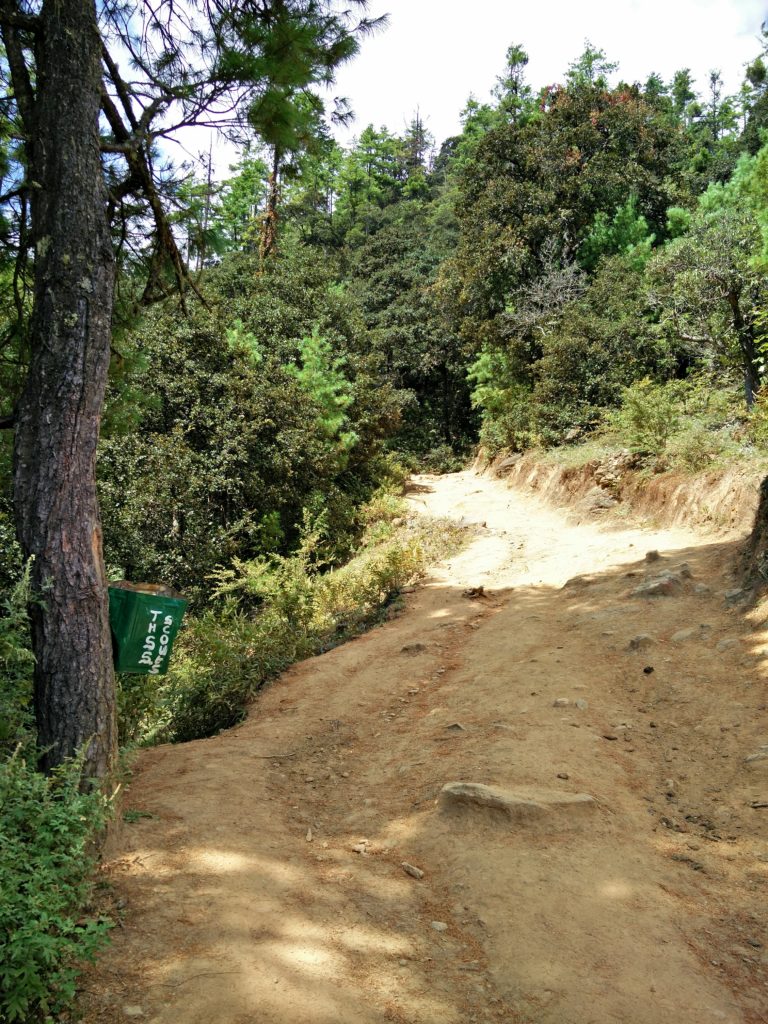 Just five minutes before the viewing-point, as I huffed and puffed my way past a constant stream of people who were headed back, I met another elderly couple. They said, "Why are you running??!! The monastery will close in 10 minutes, but will reopen at 2:00pm."
OK.
Let me breathe now.
AND take pictures.
With another hour to kill (actually, photographers never need to kill anything; they shoot :p ), I focused on soaking the feeling of being at the edge of cliff.
Of sweat being taken care of by the slightly cool wind.
And of seeing Taktsang Monastery so up close.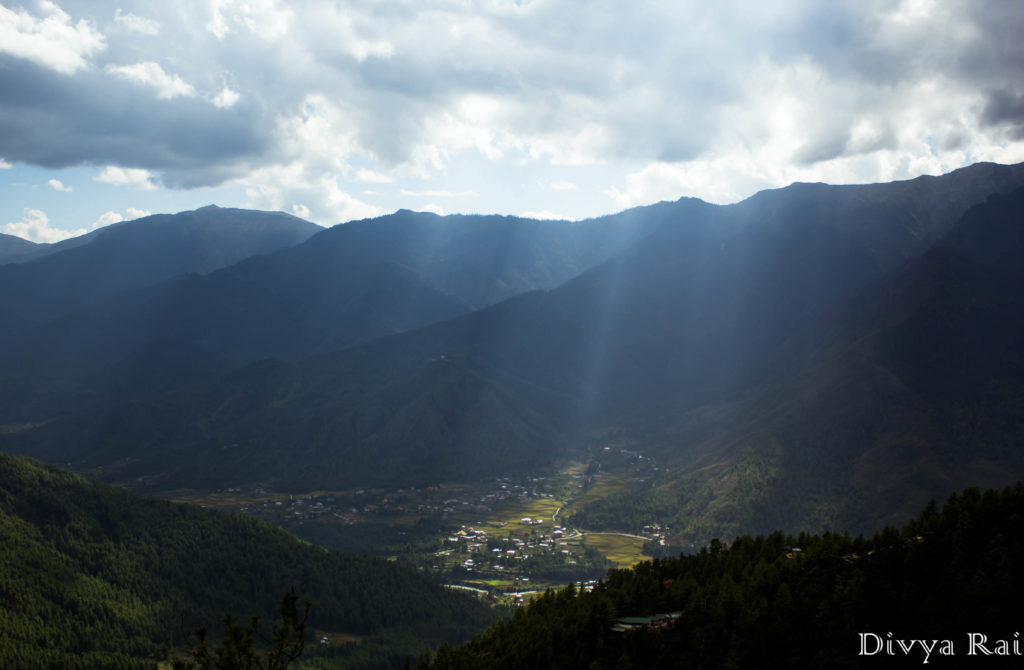 Of earning it all, in every sense of the word.
When I reached at the edge of the cliff from where one gets the clear view of the monastery, the first thing that hit me was a faint feeling of vertigo. The same thing happened when I reached the area where the monastery is located. It surprised me that none of the travelogues, reviews, blogs I had read ever talked about this bit. The dizziness is unmistakable; though difficult to say if it is because of the height or the altitude-sickness. Latter, because Tiger's Nest is perched at a height of 10,000 feet from the sea level.
Even with that, it makes one's Bhutan tour worth it!
Please watch this in HD.
No matter how many times you have seen the images of  Tiger's Nest monastery floating around on various media, when you see it in reality, it is bound to overwhelm you with emotions. It is set at such a precarious location, that you cannot help but wonder what architectural roadblocks must have the people faced while constructing it in the 17th century. And while reconstructing it in 1998, after the original one got destroyed in fire. The former used human labour, while the latter used cable car to carry the construction material up to the cliff.
The usage of the cable car was discontinued once the re-building work was over. The idea is to earn this auspicious sighting with effort.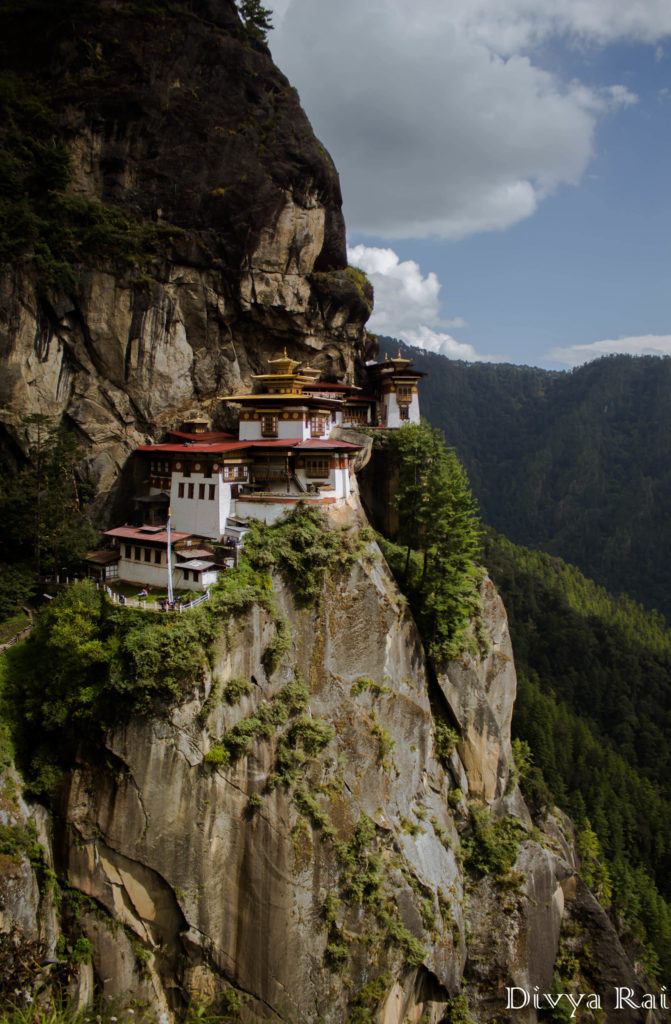 Just twenty minutes before it was time for the monastery to reopen, I started the last leg of my journey, which is the staircase. There are around 800+ steps. On the way, there is a waterfall that goes underneath a bridge, after which there is the last bend with steep stairs. This is the point where my knees felt locked-of-sorts, but since I could see how close I was, I carried on with the steep staircase.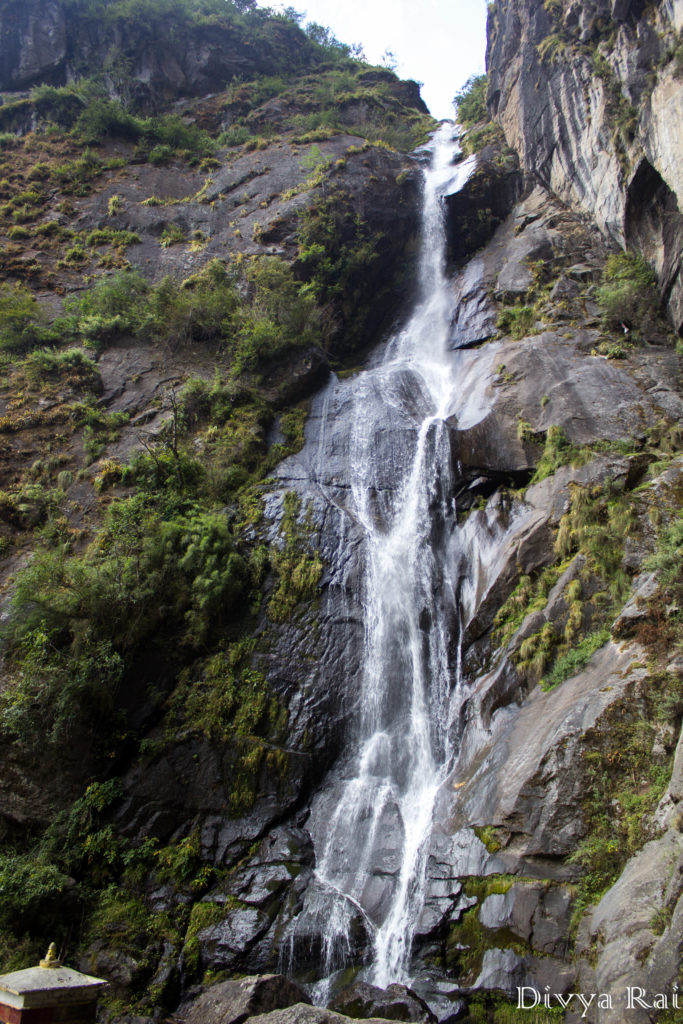 Once I was at the monastery doorstep, I was asked to leave everything inside a locker and keep the keys with me. No camera, phone, or any other gadget is allowed. After I had submitted everything I had, I was asked to fill my details in a register, which I duly did.
The fumes from incense and the chants from inside the monastery calm you down as soon as you take the initial few steps.
Inside, there is a cave-like structure next to the butter-lamp room where guru Padmasambhava had meditated. I saw many people turning away from here because the cave is too narrow, and calls for a bit of adventure in the soul to venture. Only one person can go in at a time. I peeped in with skepticism, but even before I could assess the whole thing, a group of students lined up behind me said, "go, go; your turn." There I was, climbing the planks next moment. It felt like some kind of game.
The monastery has several rooms with various kinds of prayers, chanting and meditation sessions going on at most of the times.
While exiting the monastery, I saw some students, a monk and tons of laughter. Upon going close, I realized that the challenge was to stand at some distance from a statue and walk up to it to touch the eye, albeit with yours closed. I tried and was way off, and mouthed "fu*k!" to express my disappointment. The monk smiled in return and I squirmed in embarrassment.
With this, I exited to collect my belonging from the locker-room.
The good part of starting the trek late was, I found most of the temples and shrines with very thin crowd. There was no 'hurrying' in the experience, or the process.
Once I collected my things from the locker, I met two senior citizens (two friends, who had known each other for forty years) from Kolkata, and their guide called Durga. Latter was a telecom engineer with Bhutan telecom. We got talking because they were curious to see a solo female traveller trudging around. I told them I live in Delhi, and Durga informed me that Delhi is where he was trained for his profession.
Three of them suggested that I walk with them, and if I find no transport for way back, I hitchhike with them too. I was so grateful!
Of Guides In Bhutan
On our way down, I was wondering why would a telecom engineer bother doubling up as a guide (I don't know if anyone in India would); the pride in his voice was unbelievable! Durga sensed my dilemma, and explained that Bhutanese people are very proud of their country and culture. It gives them immense happiness in showing their guests around; it is like a proud owner of a b-e-a-u-t-i-f-u-l house!
What a wonderful thought! Since he said that he is available to show people around on weekends, I have mentioned his contact number (with his permission) at the end of the post.
You need to tell him well in advance for him to be available to take you around.
The Indo-Bhutan Friendship
Durga told me that Bhutanese people have a lot of respect for India and Indian people. Apparently, the Indian government manages Bhutan's telecom, road-network, hospitals, army, and the people of Bhutan are more than thankful for it!
We trekked down with students who carried trash from the monastery to the trash-bins on the way. The sun filtered over Paro beautifully.  It drizzled a bit, making the mud track slushy and slowing our pace. By the time we reached the parking-lot, it was almost dark. What was a chirpy place in the morning, now wore a deserted look and had only one car which was Durga's.
Durga, and his two guests dropped me at my hotel, and refused any money in exchange of the favor. Bhutan is a nation that reminds people of a virtue called kindness, many times over.
If trekking in Bhutan is something that is of interest to you, please be in the know that Tiger's Nest hike is not to be missed.
Brief History of Tiger's Nest Monastery:
As the history narrates, guru Padmasambhava flew on tigress' back (an incarnate of Yeshe Tsogyal) to a cave perched on this cliff, where now the Tiger's Nest sits.
The guru has been known to have founded the Mahayana School of Buddhism, and later on purified it to preserve integrity of Buddhist culture. He meditated for three years, three months and three days in this cave, a place which later gained religious importance, and that is how Tiger's Nest or Taktsang Monastery came into being.
About the Taktsang Monastery trek:
Tiger's Nest Trek Difficulty Level:  Going by the books, Tiger's Nest is classified as an 'easy' to 'medium' level trek/hike.
The entire trail has two parts:
a) The main trail: gradual ascent, relatively less straining path
b) The side trail: cuts through distances, but eventually works out to be a lot steeper. Stick to the main trail unless you are an avid trekker.
All through, you will see that the monks take the side trail, and are fairly adept at it. I followed them until I realized

I am not, and

it was wearing me out.
Tiger's Nest trek has three landmarks:
1. The cafeteria
2. The viewing point
3. The Monastery
The cafeteria, called the Taktsang Cafeteria, marks the half-way through. After a lunch fit-for-the-kings (yes, that is how expensive it is, with food being totally average), you may proceed further from here. To my utter surprise, I am told that about 30% of the people hike uptill this point only, and no further.
You can either trek on foot, or take a horse till here.
[Why so, I have explained later]
The viewing-point of Taktsang Monastery Hike: Another 30% trek upto this point only.
The Monastery: A handful of tourists, around 40%, finish the whole trek. The prayer flags flapping all around lend a very positive vibe to the whole area. Even the silent stretches (in my case, there were too many; I started late), had them as background music.
Tourism in Bhutan, for folks from nation other than India, Bangladesh and Maldives works out to be very expensive, which why, 'travelling to Bhutan' happens very late in the timeline of their life. It is a kind of destination that is associated with

niche, selective and affluent class

(or an age; which is mostly much later in life, when the bank balance is less wobbly than the knees, and liquor isn't the answer to every problem one is facing). A major chunk from this comprises of

the 40% that take the trek till the Cafeteria.

Tiger's Nest Bhutan Elevation: 10,240 ft


Tiger's Nest Checklist
Should you? Should you not?: If you are travelling to Bhutan, then you must include Tiger's Nest Monastery in your plan. It is a highly-recommended feature of Bhutan Tourism.
Altitude-sickness:

Tiger's Nest is perched up at a height of 10,000 ft above the sea-level

. I have travelled to places much higher (Lahaul & Spiti), I did not feel any AMS (acute mountain sickness) here, but I could see people grappling with side-effects of high altitude.

Acute Mountain Sickness hits a person irrespective of age and/or gender, or the level of fitness

. Headache, giddiness, nausea, breathlessness; these are some of the symptoms, and the 

person is advised not to fight the system.

Clothing: For hiking, guides normally suggest that you dress up in warm clothes, as the breeze up there is much cooler. I suggest that you do not wear the warm clothes as inner layer, because if you feel warm (which you will, in case you choose to trek), you will be stuck with it. Carry a jacket/pullover, so that it can be removed in case you need to.


Please dress up conservatively if you intend to visit the monastery

.
Footwear: Wear sneakers because at places, the path is too rough, and anything else would wear you out.

No boots/ bathroom slippers/sandals/heels etc.

Snacks: It is advisable that you carry some snacks, protein bars, chocolates for munching on once in a while; helps immensely in keeping hunger and energy-level in check for the whole duration.
 Carry a daypack: I cannot stress enough on the importance of this one. Also, if you are a group of people, carry more than one, because lugging one day pack with everyone's things becomes a pain while ascending.
Rain-gear:

Carry a rain-coat/umbrella with you

, just to be on the safer side. Read the forecast for the day too, but most importantly, listen to the local folks.
Weather: If it is not cloudy, start early, because a late start can dehydrate you. Dehydration happens on two accounts; the exhaustion from strenuous activity that trekking is, and the other reason is the over-head sun.  Just in case it looks like it might rain unabated, DO NOT attempt the trek. The path is unpaved, and it has the kind of mud that becomes extremely slippery after it rains. Trekking in Bhutan must be undertaken with caution.

And The Most Important Thing…
Water:

Carry a water-bottle, and save yourself from contributing to the trash

. Tiger's Nest has excellent management for recycling the water bottles. People leave behind plastic water bottles, and these are lined up outside the monastery, in a grotto that has free flowing fresh water dripping continuously. You can take a bottle, or if you have one already, you can fill it here; apparently it is the 'holy water'. All through the trek,various water-points supply piped drinking water. 

The monastery has a way to manage wastage left behind by the tourists. In the evening, the young Buddhist students carry all the trash down to the trash-collection point.

Viewing point: As you go up the trail, after every bend the view of monastery levels down a bit (or so it seems). Also, you get a closer view, and

it tempts you to stop and take pictures

.
You will want to click pictures of the monastery, or the view of Paro town, several times during the course of the trek.


Trust me, don't bother;

it will just waste your time. The best view for both, Paro and Taktsang Monastery, comes from the viewing point itself, which is just where the stairs leading to the monastery start. If you are not going right uptill the monastery, then wherever you are going to be turning back from, would be the best view for obvious reasons.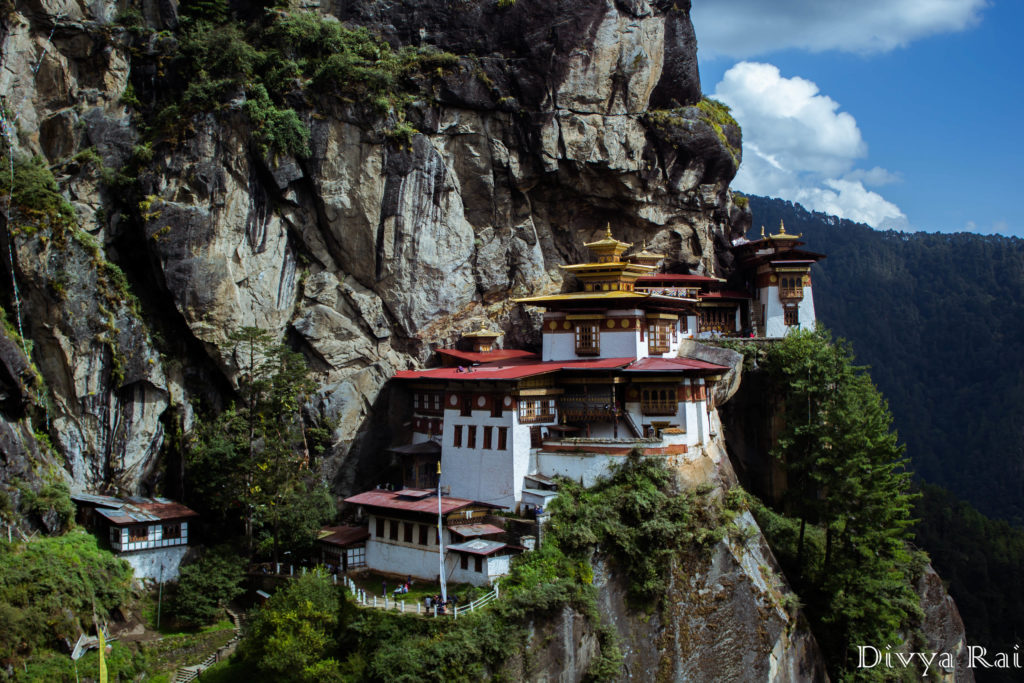 The biggest nightmare? The Washrooms. Just for this one, I hope Bhutanese authorities are reading this post. One of the living nightmare come true is the restroom facility at the monastery. Looking at the state of the washroom, my pee retracted way up to my esophagus; unbelievably

unhygienic and dirty

!! Using it is not a choice; with the amount of water one glugs on the way up, one has to.
The other alternative is to hold the bladder, for good 6-7 hours. [Edit: please read the post-script at the bottom of the article. Mr.Pasang is working on this.]
But, if you must, and are a female traveller, then read this post:
For smokers: I am not a smoker, but my two other friends who are smokers, have told me recently, that

they did not go all the way up as they struggled with the trek

. It was difficult for them to breathe with ease.
Taxi: In case you have a taxi waiting for you, take their phone number. It'll help you communicate your whereabouts as you descend. In case, you don't how to get a phone-number in Bhutan, I am assuming you missed reading this post.
For queries like best time to visit Bhutan, how to visit Bhutan, where to stay in Bhutan, What to do in Bhutan, please go to this link:

Lastly, start early, go slow. Happiness!
The fact that I managed the trek without any difficulty called for a celebration. And celebrate I did, with a drink I don't like one bit (beer; but I LOVED this one), but the entire of Bhutan can't stop raving about it. Druk 11000 is the name of the beer. (Though, another friend insists that it is Takin (the red wine) which is way better than Druk 11000 for celebration like this.)
Two bottles later, the pain and the heaviness in my legs gave way to tipsiness in my being, and that was more than welcome! If you want to understand how I felt post the drink, look closely at the font I have watermarked the image with. It is indicative of how the ground beneath my feet felt.
Have a safe trip!
Details:
Durga, the guide: 17113440
(In case he asks you how you have the number, tell him the girl who walked down with you when you took two friends from Kolkata to see Tiger's Nest Monastery, has given it to you.)
Distance between Paro and Tiger's Nest: 12 kilometers.
Tiger's Nest Monastery Trek Distance: 4.5 kilometers one way.
Total trek distance: 9 kilometers.
Elevation gain during Tiger's Nest trek: 2000 feet
Best season to visit: March, April, May, June, September, October, November
Edit 1:
Apparently, the authorities have read this post, and have cleaned up the toilets at the monastery. Some of you are truly brilliant and entrepreneurial: