Read Day 4 here.
The next morning I was up at 7:40 am and my dear roommate was almost ready for the day and was packing her luggage. We were to leave at 9:00 am. I quickly got up and caught up with the day and the schedule. We were going to visit Kyee Monastery, after all!
Thankfully, I had packed my luggage well in advance. We got ready, had our breakfast, picked up our tiffins, and said goodbye to the family. Our hostess dropped us and some of our luggage where our bus was parked. I was in love with the cat and hence was feeling bad to be leaving the place.
Komik New Monastery
We started from Komik at about 9:00 am. The organizing team drove us to Komik Monastery which was a kilometer from the village.
The new monastery was a recent architecture. The old monastery does not allow women inside it and hence we took this opportunity to take a photo break as we waited outside.
From Komik monastery we started for Langza, which was at a distance of 9 kilometers from there. It took us 30 minutes of drive to reach Langza. Langza is a village that has a rich bank of fossils available naturally. Anjaan, our guide, was from this village. It also was here that Mr.Norbu was scheduled to take our pottery class. The potter's wheel is a recent introduction to the village facility.
Mountain Biking In Spiti
Also, a bunch of us had signed up for mountain biking. We cycled from Langza to just about when you enter Kaza. A total distance of 17 km! The rest of the group members were to take a jeep to join us after their pottery class.
The mountain biking group (3 people) took up pottery as the first batch so that they could proceed with their mountain biking. I, along with 2 other travel-mates decided to accompany this biking bunch in our Tempo Traveller just in case they face any unforeseen situation (more importantly because I did not want to miss the fun). The minute mountain biking started, I regretted not signing up for it, but I enjoyed photographing the event. Somewhere halfway through, one of the bikers decided that I could share the bike with him for the remainder of the journey. THIS simply made my entire trip!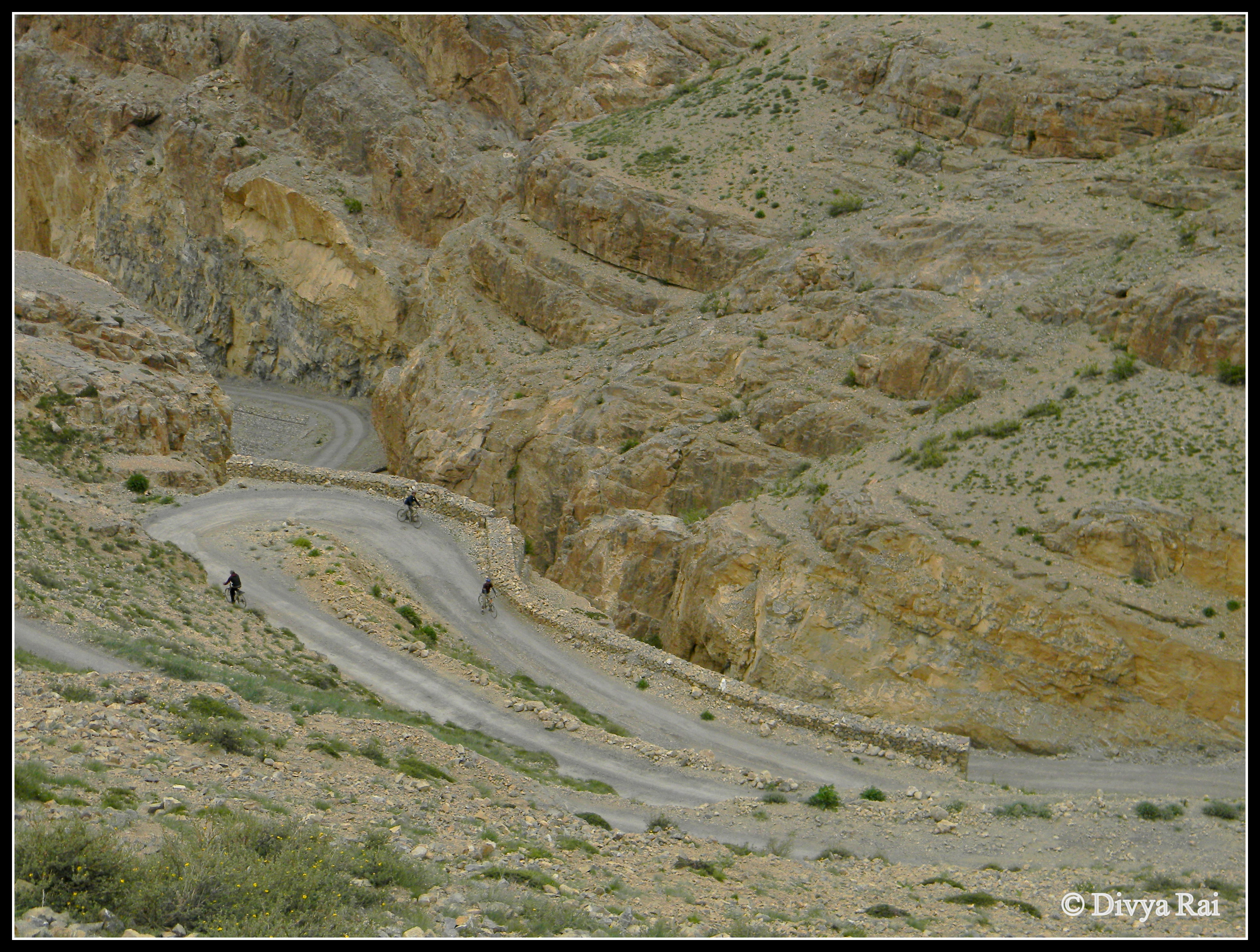 We reached the endpoint and handed over the bikes to the Spiti Ecosphere team as they had arranged it for us. While we waited for others to join us, we had our lunch which was packed in tiffins by our respective host families. After a bit, the rest of the group joined us and we resumed our journey on the bus. We, from there, went to the Kyee Monastery, my most awaited point in the itinerary.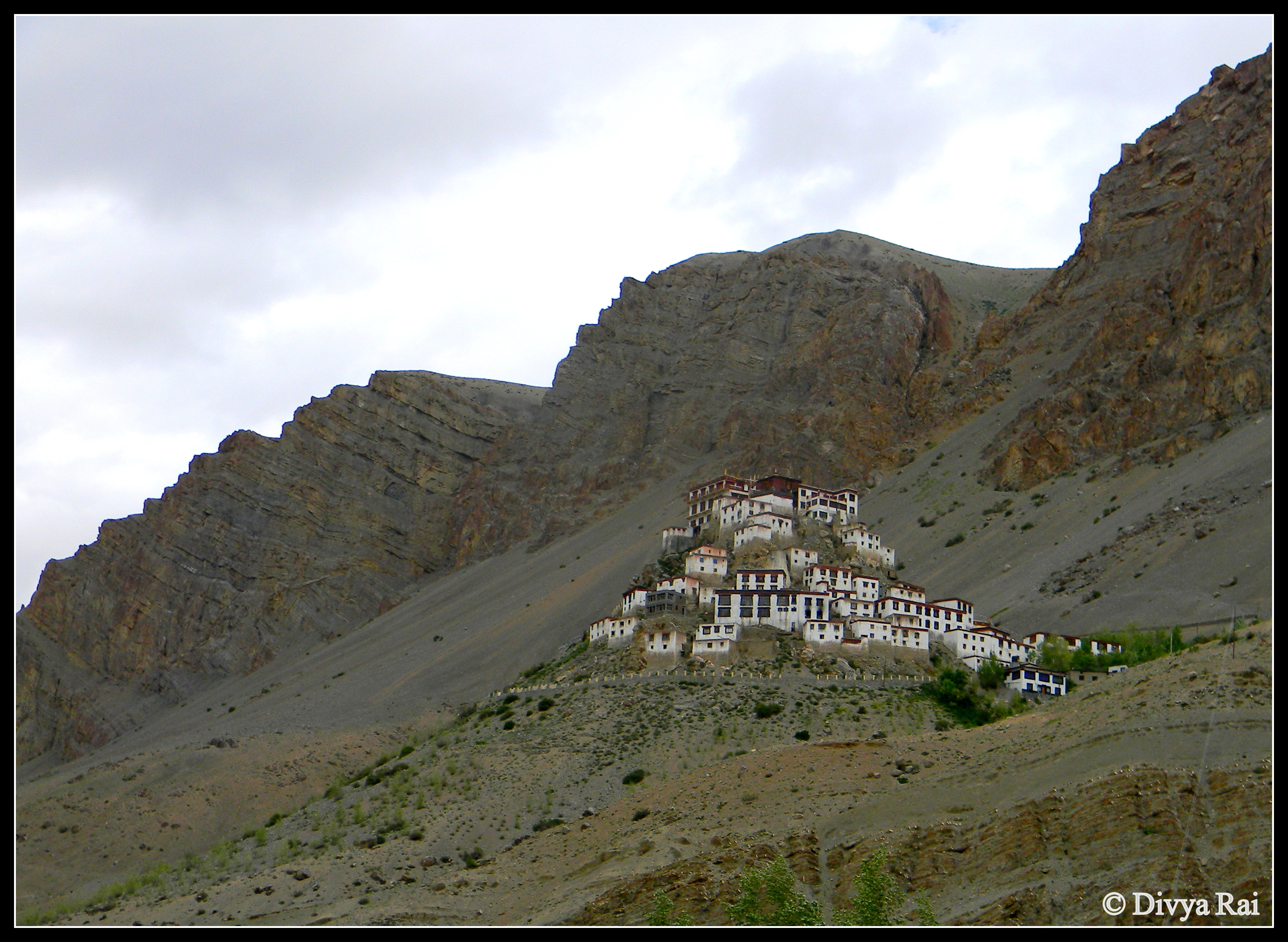 Kyi Monastery, or Kyee Monastery
Kyee Monastery is also spelled as Kee, Kyi, Key, and Ki. It is one beautiful piece of architecture and a good place for photography. You can read more about it here.
Our guide took us around the place and then gave us a photography break. I think by then, we were slightly bored with the monastery routine, and hence a few of us skipped the part where they briefed us about the history of the monastery. Also, I switch off mentally the minute they say "Women were not allowed inside the…".
An hour later, we were on our way back to Kaza. We reached Kaza at around 5:00 pm and this time it taxed the body lesser than the last time, in terms of high-altitude breathlessness.
Finally, Reached Our Guesthouse in Kaza
We reached our guesthouse, had tea, and decided to take a walk around the market. We also visited the Spiti Ecosphere office to meet the team behind this fabulous trip and the reason for the development in the district.
At the dinner time, we had Ishita and Sunil, the movers and shakers of Spiti Ecosphere join us for a goodbye-dinner. One of the host-families gifted a bottle of 'Arrak' to one of our teammates, and she was kind enough to share it with us during the dinner.
We toasted to our intact body parts and amazing travel experience. Dinner was multiple times enjoyable because of the flowing arrak and the travel tales from both sides, ours and the Ecosphere teams'.
Post dinner, we hung around the place to absorb the last night-in-Spiti feel. We interacted with this another group of students from the UK interning with the Ecosphere office, who showed us the star trails they had captured during the pitch-dark nights in the valley.
I wanted to stay up and chat, but the next morning was to begin at 6:00 am, which meant getting up at 5:00 am. There was no scope for starting late as the terrain is fairly unpredictable. Also, the 210 km journey had taken us 12.5 hours on our way up.
Read Day 6 here.
P.S. If you came here looking for information on Spiti on a bicycle, this link might help you a bit more.