What Is A Urination Device?
A urination device is a small, nifty equipment that makes it easier for women to use a public toilet, in case they need to pee. Offices, shared loos at the dormitories, backpackers hostels, coffee-shops, paying guest accommodations, malls schools, colleges, offices, coffee-shops, just about anywhere! Here is more information about a urination device.
So, what is it?
It looks like a mock penis; a funnel to drain the pee at a distance from the body. It eliminates the need for women to sit on the western toilet seats. Most of the public loos are extremely unhygienic and a breeding ground for various kinds of infections, even the most clean-looking ones! I wish, I knew about it its existence when I went for Chadar Trek, Spiti Trip and for celebration Holi in the villages of Nandgaon and Barsana.
I know of female friends who would use the office-loo before heading out for the meeting at the vendor's place, or at that unheard of coffee shop. Or, a field trip to the village (for the friends from the development sector). Or, even before a long ride with the metro train.
The urination device has three parts-
The end that fits against the body, making a seal
The funnel
The hole at the end of funnel (it drains out the pee).
This is what it looks like: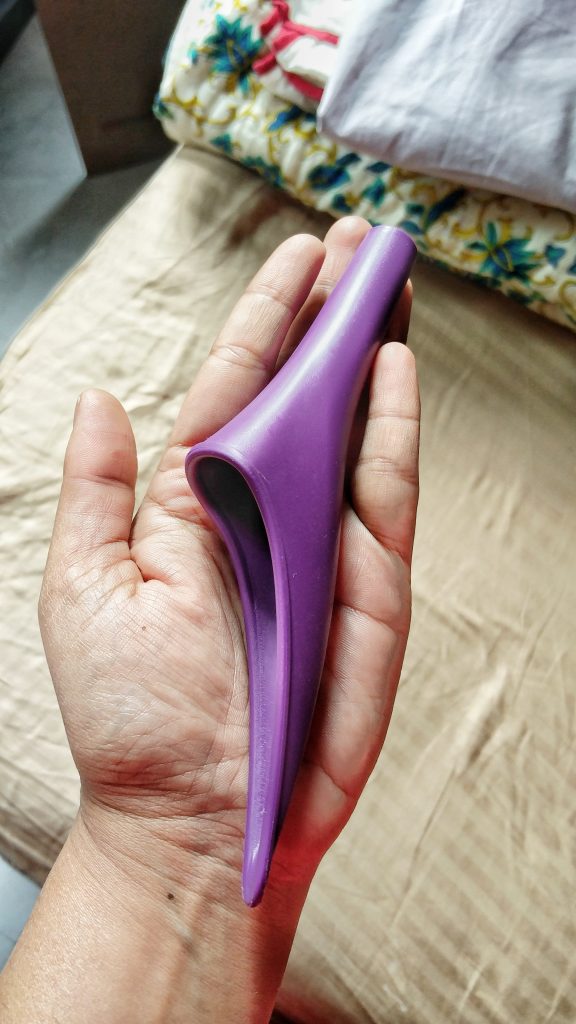 How to use the urination device:
Stand next to the pot; not too far, not too close. Just hold the device against your body, do your job, and let it take care of the rest. It will take you some practice to understand how far you really need to be from the pot.
Initially, you can begin practicing in the shower, so that you don't mess up your clothes, and then at home, with your clothes on, before you consider using it outside. It takes usually about a day or two to get the hang of it, after which it is easy-peasy! The important thing to understand is, the device needs to be held against the body, and not inserted inside. 
Make sure that you wash and sanitize the device after every use. I usually wash it with water and then clean it with a sanitizer, but even if you wipe it dry, that would be enough. The finish on the plastic is such that the liquid doesn't stay.
Price:
Ranges from Rs.170-Rs.3000.
Variants Of Urination Devices:
UDs come in two variants:
Disposable Urination Devices: Disposable ones are from PeeBuddy, and are made of paper. These have to be disposed after single use. The problem with that is that it is a non-green option and less preferable because the our dump-yards are already overflowing with unmanageable amount of waste. Also, in the long run, that works out to be expensive.
Non-disposable Urination Devices: These are made of plastic and last as long as you don't lose it! (Honestly!).
I use the one from SheWee. It has many variants. Make sure that you buy the one with a box; I have this only. Makes it discreet, easy to carry and keeps it hygienic.
Other Brands That You Should Look Up Before Hitting 'Add To Cart' (if something has a strikethrough over its brand-name, it means that the brand is currently sold out:
GoGirl (Rs.170), Grasshopr (Rs.325), Rrimin (Rs.199), Okasu (Rs.559; comes with a urine storage tank, in case you can't find a loo), Ureka (Rs.224), Enem (Rs.379), GoNPee (Rs.175; disposable), BeyBee (Rs.474;disposable), Noctronique (Rs.325) Go Girl (Rs.1674), Spider Juice (Rs.199), AST Works (Rs.1213), PeeBuddy (Various options)
Prices mentioned are from the time this blogpost was written.
If you know of a brand/type that I might have missed, do feel free to talk about it in the comments. It is is a unique feature, I'll try to mention it in this post for everyone to benefit from it.
Whichever brand you choose to buy, make sure that the extender is long enough, so that you don't end peeing on your feet/clothes. Also, make sure that the funnel finish is smooth; that ensures that not even a droplet of pee stays on it once you are done. Lastly, I wanted hard plastic and not silicone, hence I bought this one.
Needless to say, it should be lightweight too; while trekking, every gram of weight matters.
For me, SheWee checked all these boxes; you can take your pick from the brands mentioned above.
Also, if you are peeing in the open, check for the direction of the wind. I never knew this, but this is what men calculate (on the pretext of wafting aimlessly) before peeing atop hillocks.
So, which is the best urination device in the Indian market? 
There is no 'best' urination device. It all depends on your requirement. Do you want one with a pouch, without a pouch, with a small spout, in plastic or silicone? Whichever suits your need is the best one; just do your research right, and know what you want.
[Note: The device is held against the body and is not to be inserted in. It is totally non-intrusive.]
**********************************************************************************
You know of a female friend/colleague who wouldn't go for road-trips because peeing in the open is not her thing? Or, because public loos are too unclean? It is time to make a little difference in her life. Share this post with that friend of yours!
This is not a sponsored post.

Yours truly has bought hers with her hard-earned money and has expressed her views independently.