Read Day 1 here.
Next morning, I woke up to a ringing phone. And not an alarm. I miscalculated that the phone rang at an hour that was even before 6:00 am, because I hadn't heard the alarm go off. And got slightly worried. Upon picking it up, the voice on the other end said "Madam, your complimentary breakfast is laid out, and we will wrap it in next 20 minutes, as we do not serve breakfasts post 10:00 am ". Since I was too sleepy to wrap my head around what was being said, I conveyed this to BFF and she confirmed the complimentary breakfast bit. I "okay"-ed him and kept the receiver back in its place. And then it sunk in that it was past 9:30 am by that logic.
Since it was foggy (minus the sun) outside , the curtained window filtered in the brightness that could be equated with early hours of the morning. That meant we had slept past Oprah's talk. Well technically, because in all fairness, we couldn't be attending it either.
I freshened up in 10 minutes  and rushed to the buffet-hall and had my breakfast and reserved one plate for the BFF. The hotel, apparently, would not do any other meal except for the breakfast. After breakfast, I went back to the room to get ready, and BFF, who was meanwhile ready, went to have her breakfast.
We checked out at 11:30 am and deposited our luggage with the hotel management. Just 2 kms before the venue, we were asked to leave our auto and walk to the place. The security people had cordoned off the venue by at least a kilometer from each side. We got down and started walking towards the venue.
While walking towards the venue, we noticed, that a queue of people leading towards the venue was standing still. On inquiry, we came to know that these people had arrived just that day itself and needed to get registration done. It was a queue for just that. Also, the registrations would resume after Oprah had left. I wanted to hold a moment of silence to express my sorrow of those who had come just for the occasion and were stuck outside the venue.
Secretly, BFF and I were very happy that we weren't in for this torture. We thought, we would zip through the security check with panache. But we were wrong. :p At the gate, were told that the entry was closed post 10:00 after assessing the madness outside. I was surprised as they had made no announcement regarding this on the previous day.
Dejected,we generally hung around outside to kill time. BFF felt bad for completely missing Oprah. I think I more regretted missing watch Barkha Dutt, who Oprah was in conversation with, fire a series of disconnected questions at her. And Oprah answer them. That would have sufficiently put The Brand Oprah's credibility to test. I think planting Barkha Dutt to question Oprah was a smart move on JLF management's part.
Anyway, to our shock, after an hour, an announcement regarding entry being closed for the entire day was made. We could see people going back and/or contemplating going back. I wanted to not waste time and hang around in the market/city/forts, but BFF was hopeful. There was no food stalls etc outside the venue. No everyday vendors too. Plus the security people weren't polite either. It was a case of poor crowd management.
But after another hour and a half, the gates were thrown open. Oprah was whisked away from the back gate (thankfully) and hence there was no chaos where we stood and waited.
We quickly rushed to the tent where the panel discussion regarding Twitter was supposed to be held. There were three people in the panel discussion. Of them, subject of interest were Shashi Tharoor and Suhel Seth. I missed taking note of the the third guy.
When we reached the tent in question, Gulzar sa'ab was already in conversation with someone. There was no scope to enter the tent. No space outside the tent. But thankfully, the speakers were placed outside also, so we could hear Gulzar sa'ab speak in his furry-velvety tone. He recited couplets and a few poems from one of his books. It is a sheer delight to listen to him speak!
 After Gulzar sa'ab, there was another session and then the one we were waiting for. We had our lunch and saw people celeb-spotting (basically, generally making their life hell) and going delirious with joy. One guy chased a writer to pose with him for a photograph even when she was standing in the queue to pee. :p
After lunch, were decided we will not take chances with the Twitterati talk and would station ourselves outside the tent while the talk preceding it was in progress. And that, we did.

Finally BFF and I managed to push our way in against the sea of people stepping out after the session preceding Twitterati got over. Seated and settled, I noticed that the apart from the crowd with a "thinking-mind", there also was double the number of youngsters who did not look like book-lovers. I wondered aloud what had brought them to the panel discussion and what would they know about Tharoor and Seth. BFF then clarified. That the third panelist was Sir Chetan Bhagat. My doubts in the JLF's selection committee got re-enforced further (but to Chetan's credit, he did prove me wrong as the panel discussion progressed).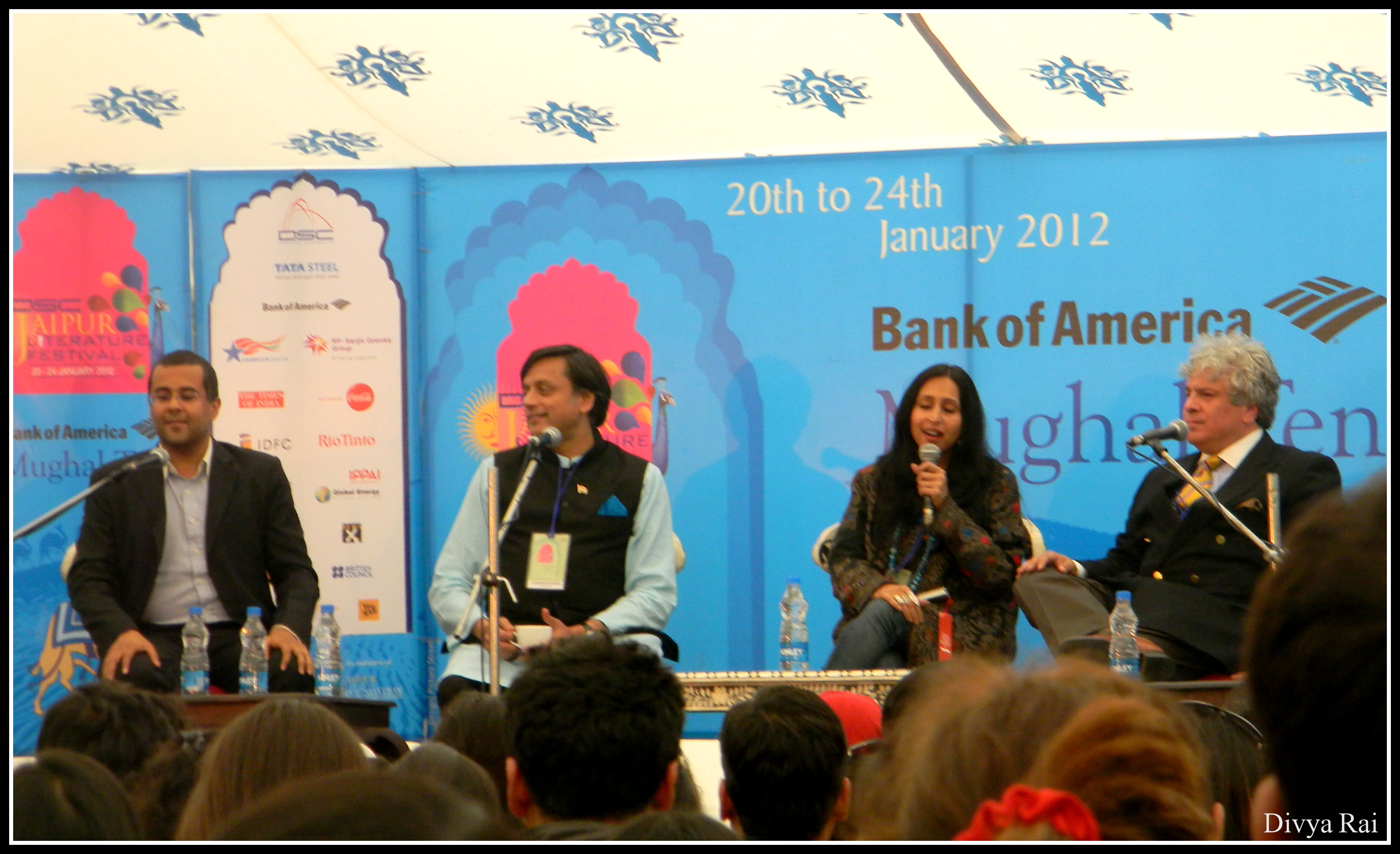 So the panel discussion regarding Twitter and its use and misuse started. Shashi Tharoor, Suhel Seth and Chetan Bhagat brought very interesting perspectives to fore. Apart from everything else, I think I have a forever crush on Shashi Tharoor. But regardless of my opinion about him, he does speak a lot of sense. For example, I disliked the way the JLF organizers had handled the Salman Rushdie matter (especially since the news sources said that they were sending the authors quoting Rushdie packing) .
For the uninitiated, he was invited by the JLF organizers as a speaker to the event, and closer to the date, they "suggested that it would be unsafe for him to attend the event", as a result of which, he pulled out of the event. Personally, I feel it is unfair, as a medium for creative expression should be kept away from the purview of censorship. However, in the panel-discussion, Tharoor reasoned that Salman Rushdie is being discouraged from attending the event not because there lies some fault with him, but for the fact that organizers and security find themselves inadequate in managing the situation, lest the matters spin out of control and snowball into something bigger that poses life-threat to many other people involved.
Here is the link to the entire panel discussion on twitter:
Post this, we checked out some stalls put up by Amrapali Jewels and a few others. BFF shopped for a pair of earrings while I people-watched.
Once done, we rushed out of the venue soon after to collect our luggage from the hotel and catch our train. The train-journey back to delhi was a soul-therapy as we caught up with each other, which was due for ages. 😀