Pushkar is known to be a holy-city, and hence the food in Pushkar is 100% vegetarian. Nor is alcohol welcome anywhere. That said, there is this other medium of inebriation, for which, the city is very well known. It is called 'bhang', or cannabis. You can read my experience with 'bhang' here.
Happy reading!

There are two distinct kind of cuisines prevalent to the culture here. One, which is innately Rajasthani in its preparation, another, which is the bastardized version of cuisines from far off lands. It is much loved, and is a potpourri of touristy influence on the city. I am going to talk about both, seamlessly. 
  When it comes to being 'pocket-friendly', Pushkar is a backpacker's heaven.
What Not To Miss In Pushkar?
1) Dal-chaat/Dal-pakwaan:
A must-have street-food from Rajasthan. This comprises of a multitude of elements from the Indian street food, spread on a cracker or papadam. It truly is a work of art. For the man who made this for us, it seemed to be a meditative journey of sorts.
Dal-chaat is: moistened flattened rice, bhujia, onion,-tomato-dhaniya, spices, chutneys etc spread on the cracker and when it is had, there is a burst of flavors AND texture in the mouth. Like all 'poha'-joints in Rajasthan, this is a morning (breakfast) affair and the fully-functional hand-cart can be spotted as early as 8 am.  Ask the locals for direction.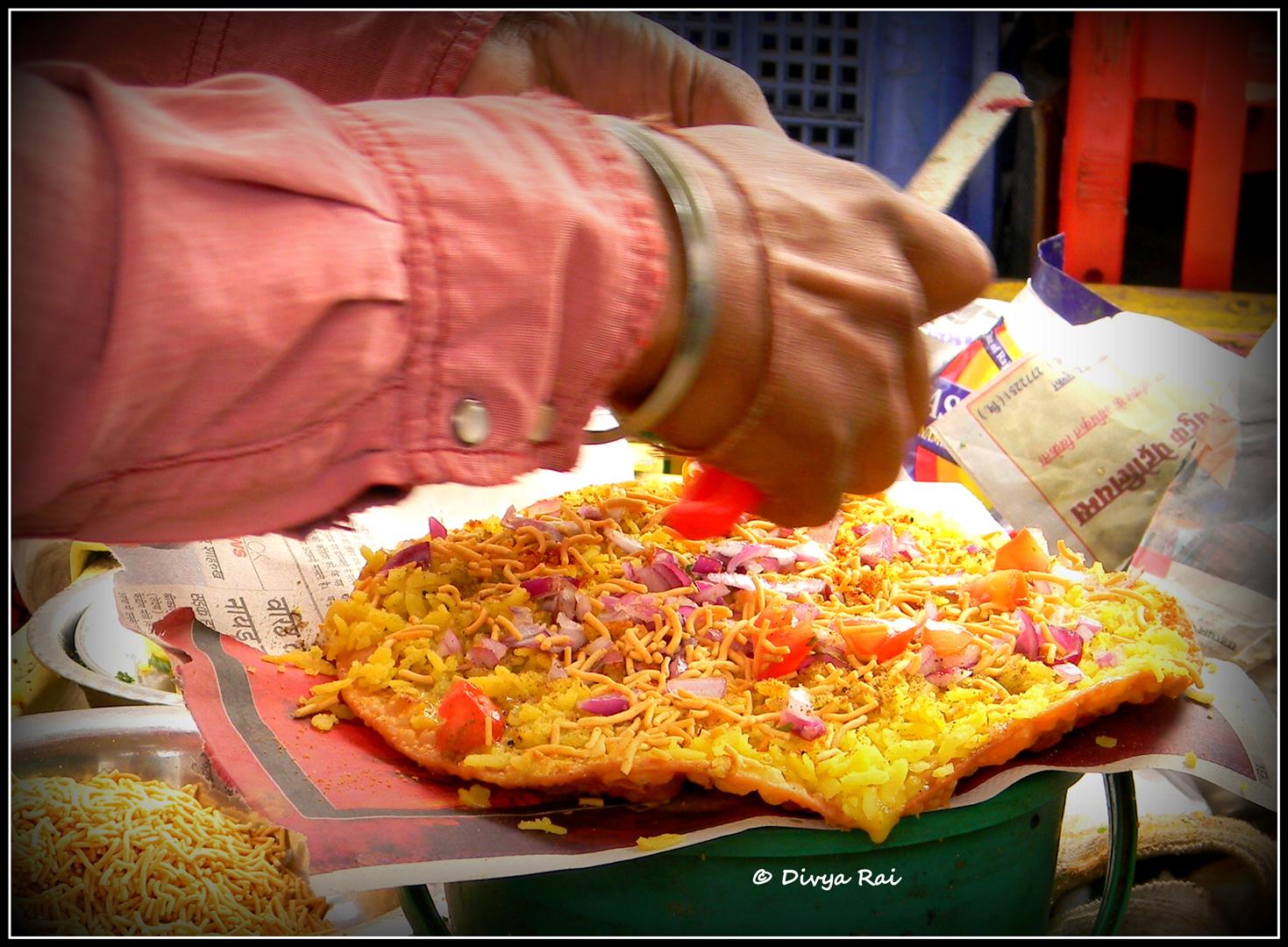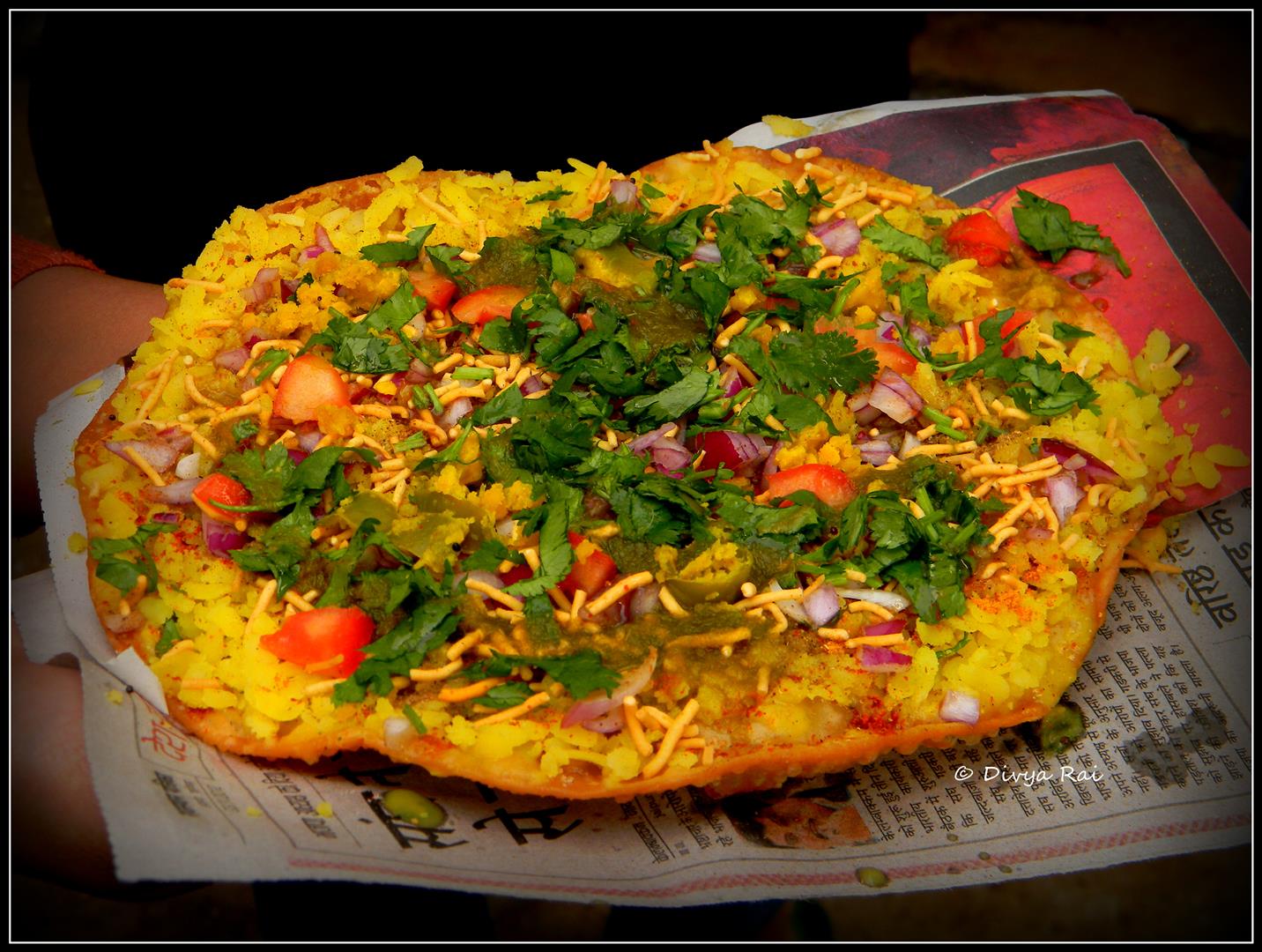 2) Mirchi vada-Kadhi:
Kadhi is an essential part of the Rajasthani and Gujrati cuisine. More so in Rajasthan, because the state lacks water-resources and hence, the cuisine cleverly weaves in other options like milk, curd, chaach (buttermilk) etc to make up for it. Kadhi uses either whipped curd or chaach (buttermilk) depending on the requirement and availability. The one with the buttermilk gives smoother texture than the one with the curd.
Mirchi-vada is essentially what is known as Mirch-key-pakodey in North India (basically chilly-cutlet). The pepper used for this purpose is mildly hot and the process of frying kills/reduces its intensity further.
Therefore, this street food is mirchi-vada served with a generous helping of kadhi. I am personally not a fan of kadhi, and that could be the reason that I did not like this preparation much, but you can give it a shot if you want.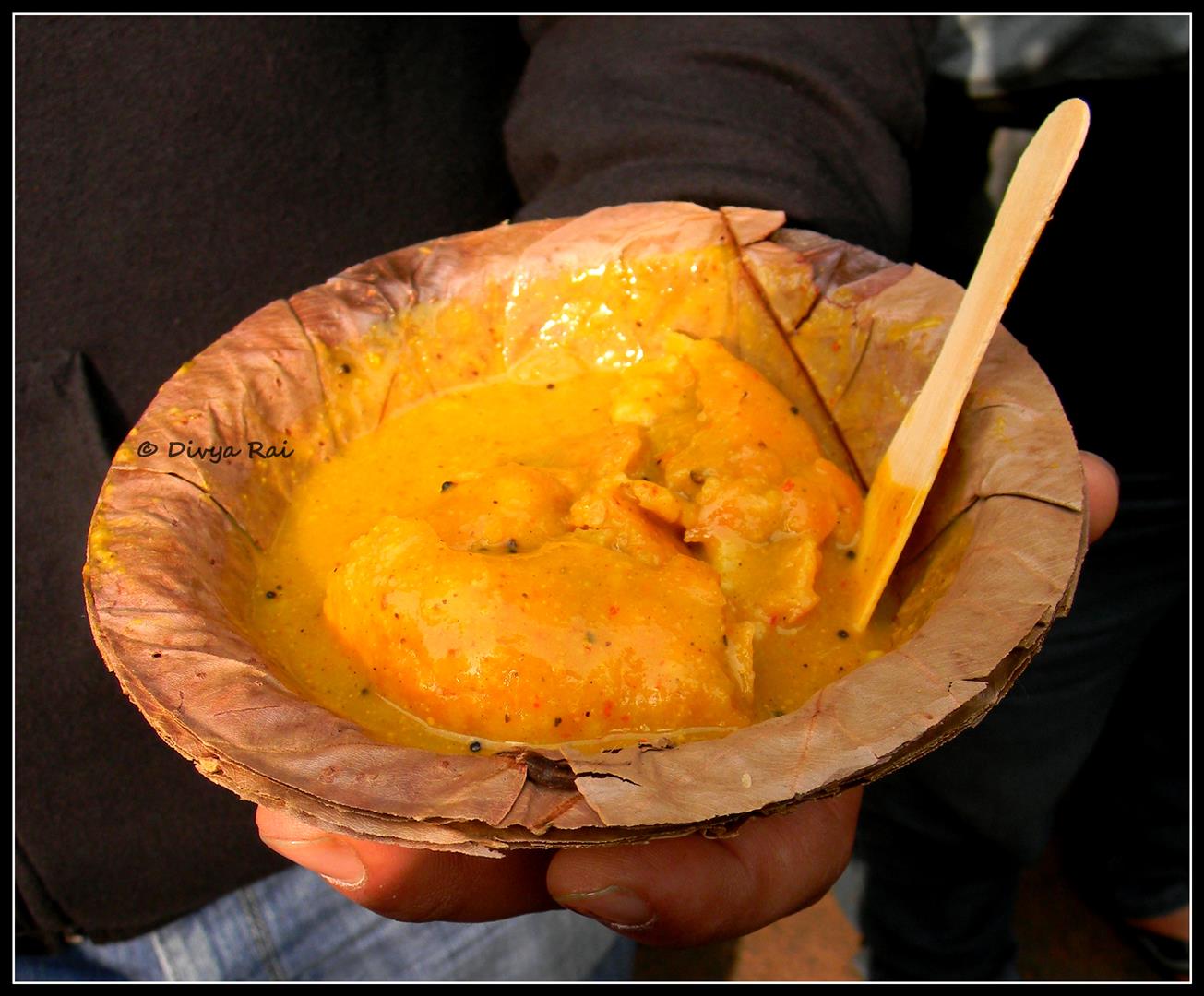 3) Poha: Poha is one of the most favorite beak-fast street-foods of Rajasthan. It is healthy, easy and quick to make (even at home). In some parts of Rajasthan, Poha-hand-carts start their day at around 7:00 am and are completely sold-out in two hours flat! The moistened flattened rice, once the preparation is ready, tastes mildly sweet, sour with a bit of crunch in the bite. It is comfortably spicy, easy on the palate and light on the tummy.
Do try this!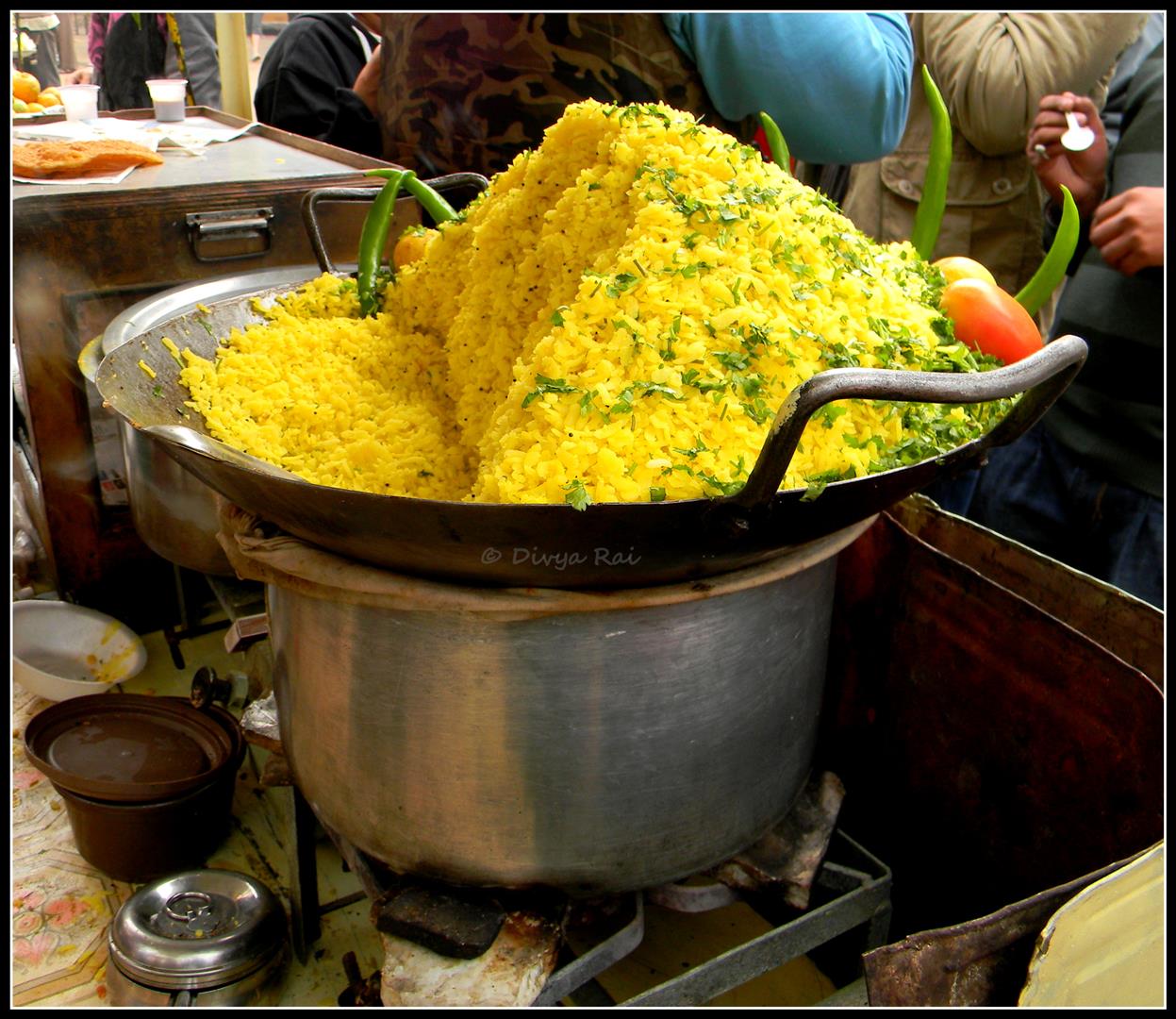 4) Falafal/laffa: This is a middle-eastern delicacy. It is a flat-bread, rolled in with various kinds of fillings. The picture below is a sample of filling options falafal has. I had falafal from Ganga restaurant, which is close to Narsingh ghat. It seemed to be a neat little food-shack with fairly clean set-up, with what seems to be the most interesting food in Pushkar.
Why is there no picture of this particular food item? Simply, because I could not wait to click picture.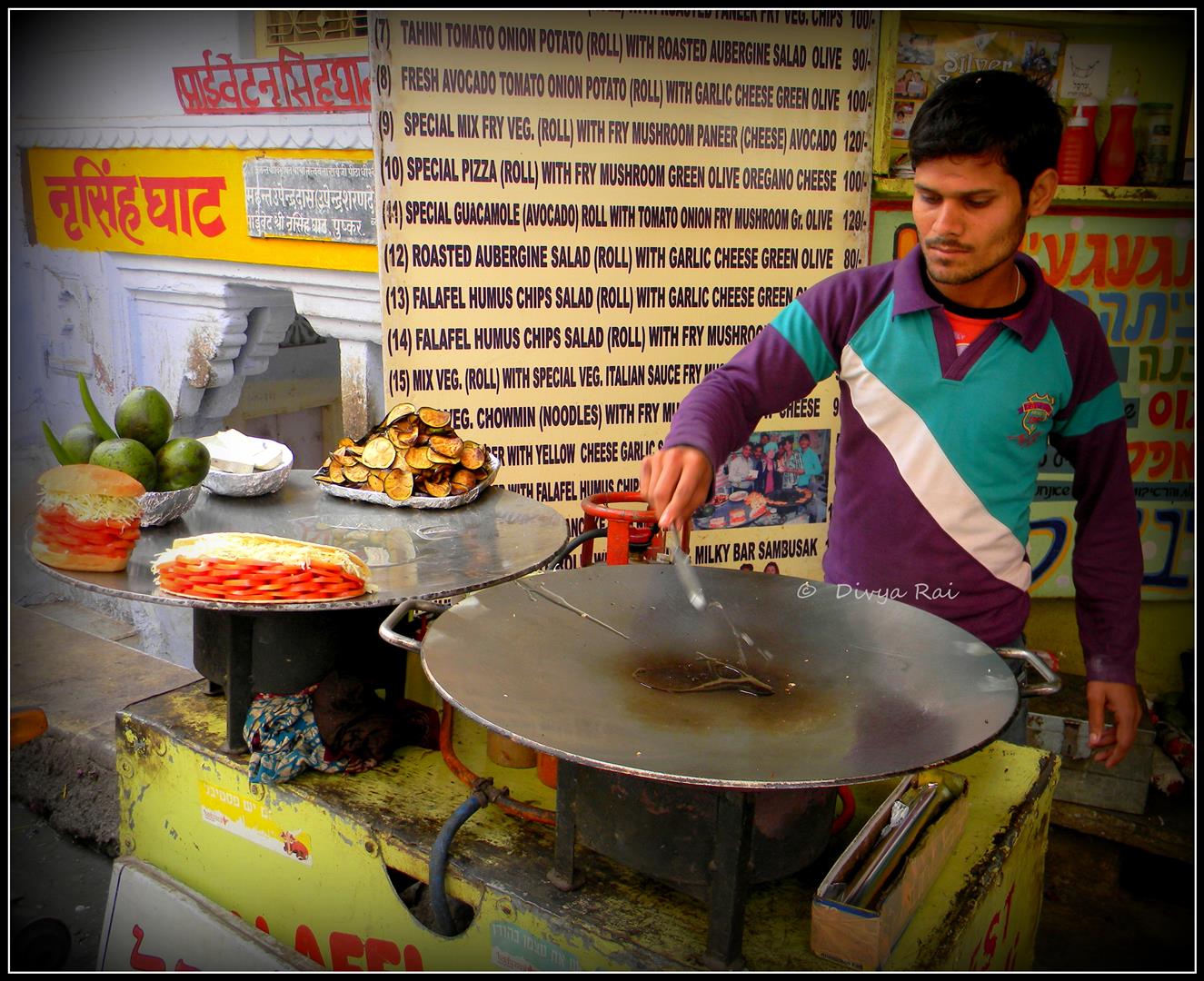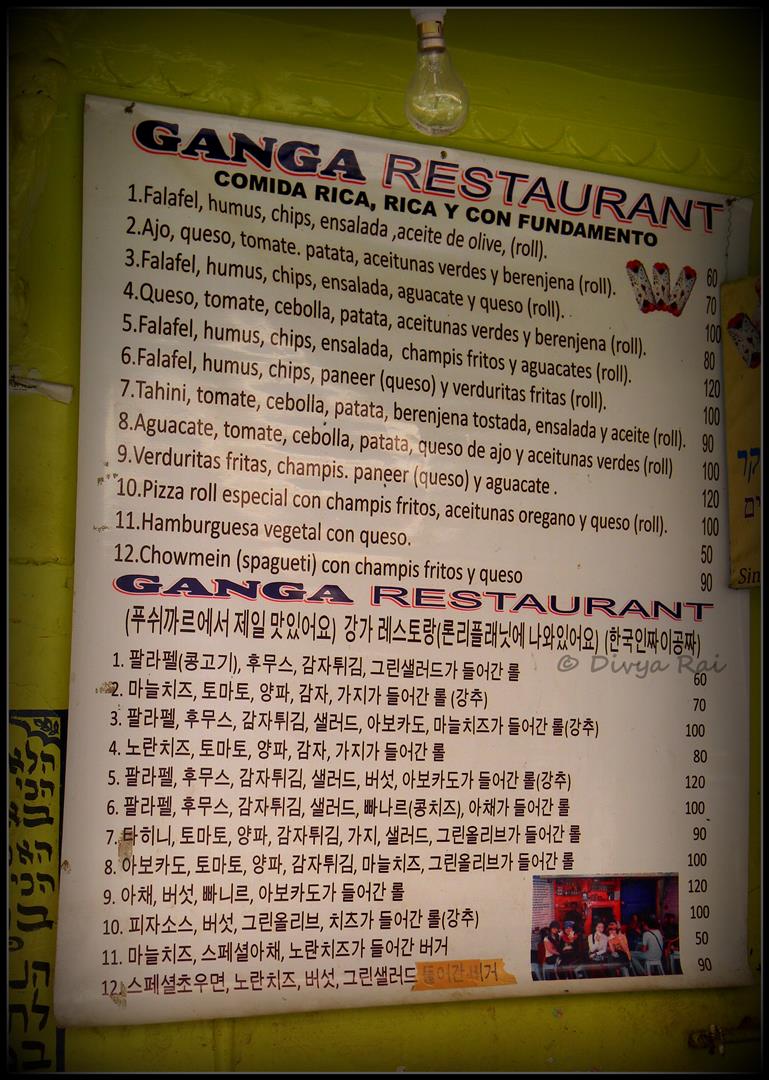 5) Malpuas: Have malpuas. By the truck-load, because this is the best you'll ever have. Period.
I used to detest malpua before this (and I doubt that I'll have it anywhere else) and took one bite out of politeness, on much insistence. And I do not regret my good manners in this case.  It converted me into a fan in just one bite. You have to taste this one to know what is being talked about. The one available outside the Brahma temple is amazing, and so was the lot I got packed for my mother, from Laxmi Mishthan Bhandar. She too said that those were the best she has ever had. For me, that is a certificate enough, because my mother has the sweet tooth that I seem to lack.
P.S. If you are watching your weight, it is advisable that you stay away. There is no concept of  'just-one-bite' in this case.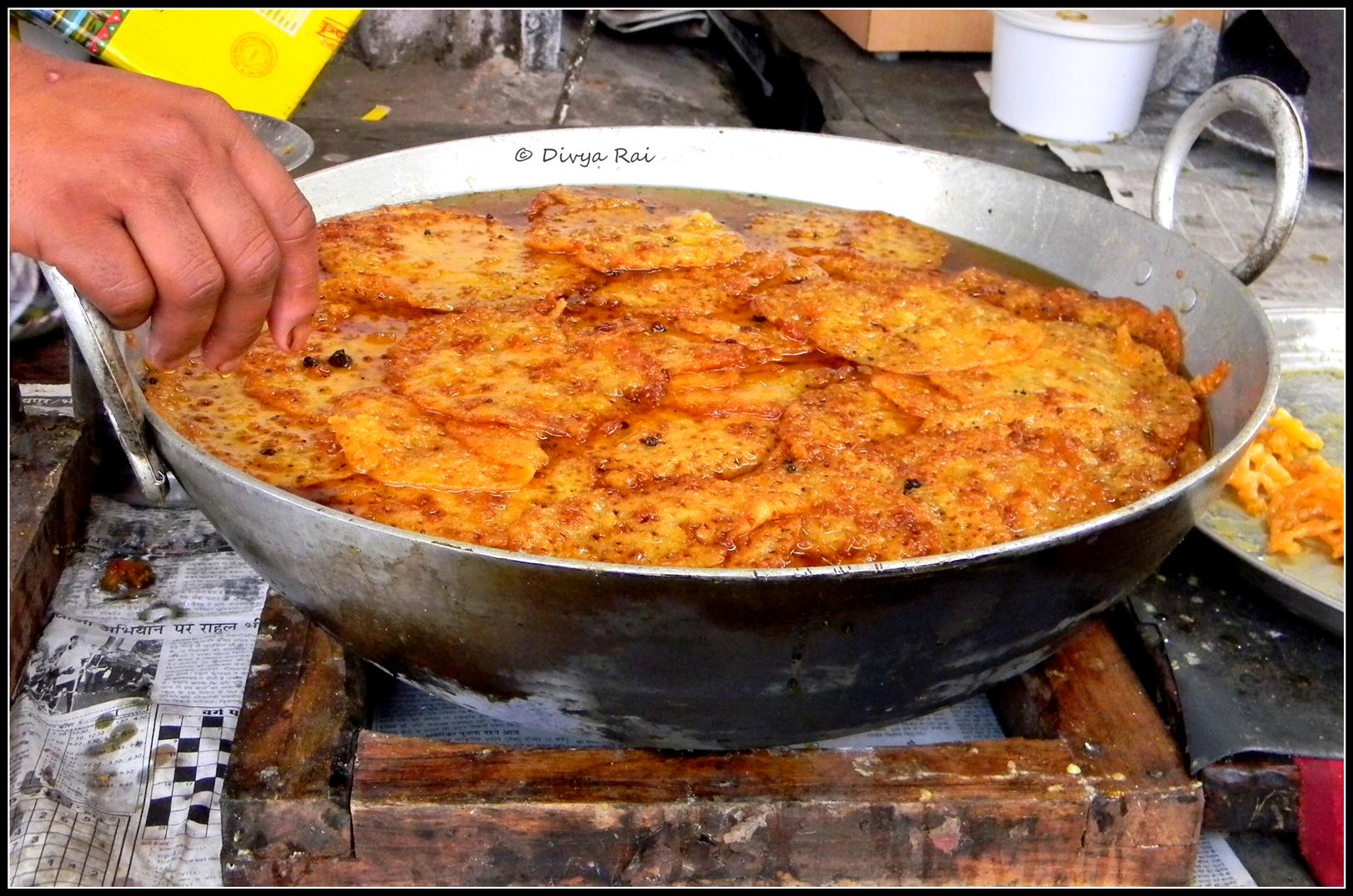 6) Fruit-salad and juices:

We had it at Sonu Juice shop. It is on the main lane leading towards the Brahma temple and is a small shack serving fruit-salads and juices. It had "Ashok is here" subtly written all over the place. Apparently, the guy has been written about quite a bit.
The salad we ordered for was fresh and well-made. They specialize in a combination of shakes and juices, some of which are pretty innovative.
P.S. : Direction cue: Ganga restaurant and Sonu Juice Center are bang opposite each other.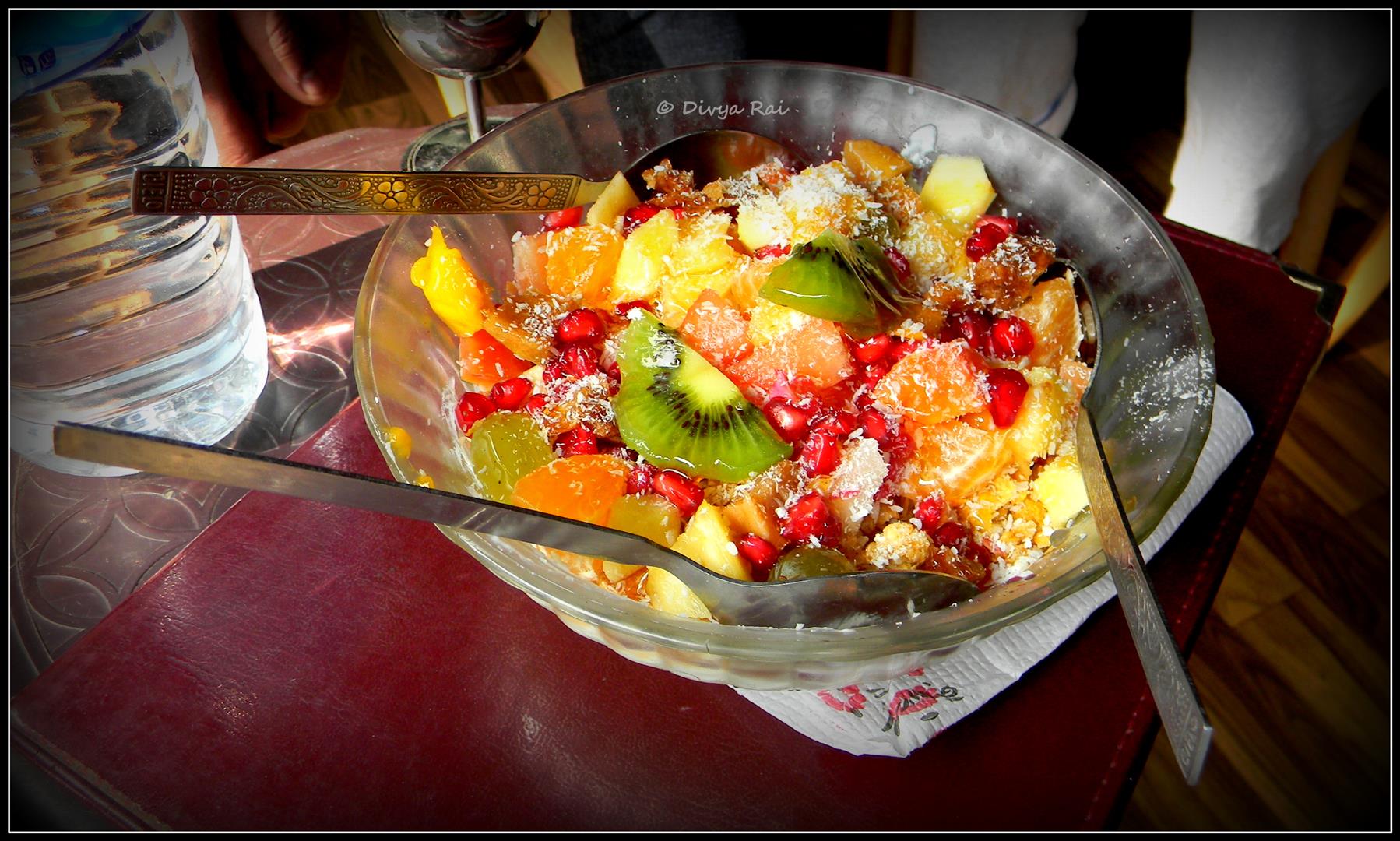 7) Normal Lassi:
Why do I say normal lassi? Because there is something called Special Lassi/Power Lassi, which is totally on the other end of the spectrum.
You can have normal lassi in the 'halwaai-gali'; probably the simplest food in Pushkar. Nothing special, but pure dairy product. Good to cool the tummy post some spicy-food. Awesomeness in a 'kulhad' for Rs.40/- .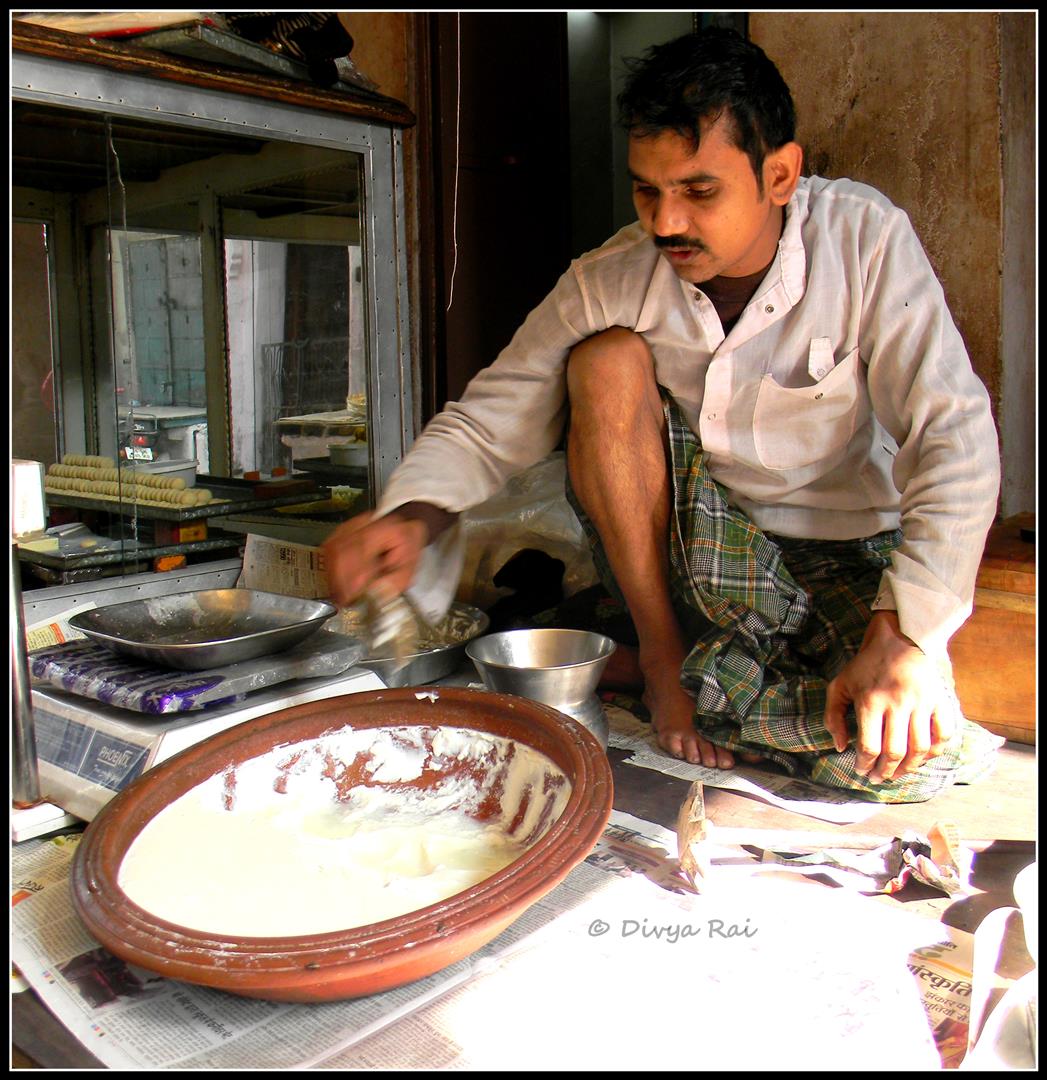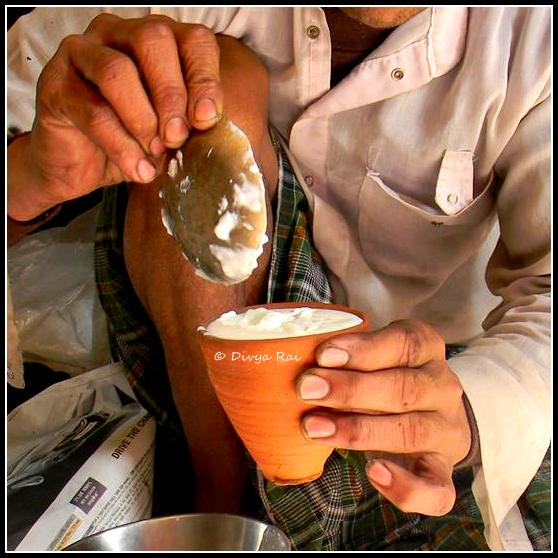 8) Cafe Out Of The Blue:
Cafe Out Of The Blue is a pleasant, happy, and colourful place to hangout for hours at a stretch. The restaurant interiors are based on the Persian theme. Food-wise, it does a potpourri of items. Pizza, pasta, pan-cake and the works. Food in Pushkar tends to be on a slightly experimental side. Almost everything is 'an inspiration' of the original. It is not a gourmet affair. So, please do not go with a rigid mind-set and a defined mental-image. That way, you'll enjoy much more.
P.S.: They also do Special lassi, which is laced with cannabis. We, however, had this lassi from the place across the Cafe Out Of The Blue.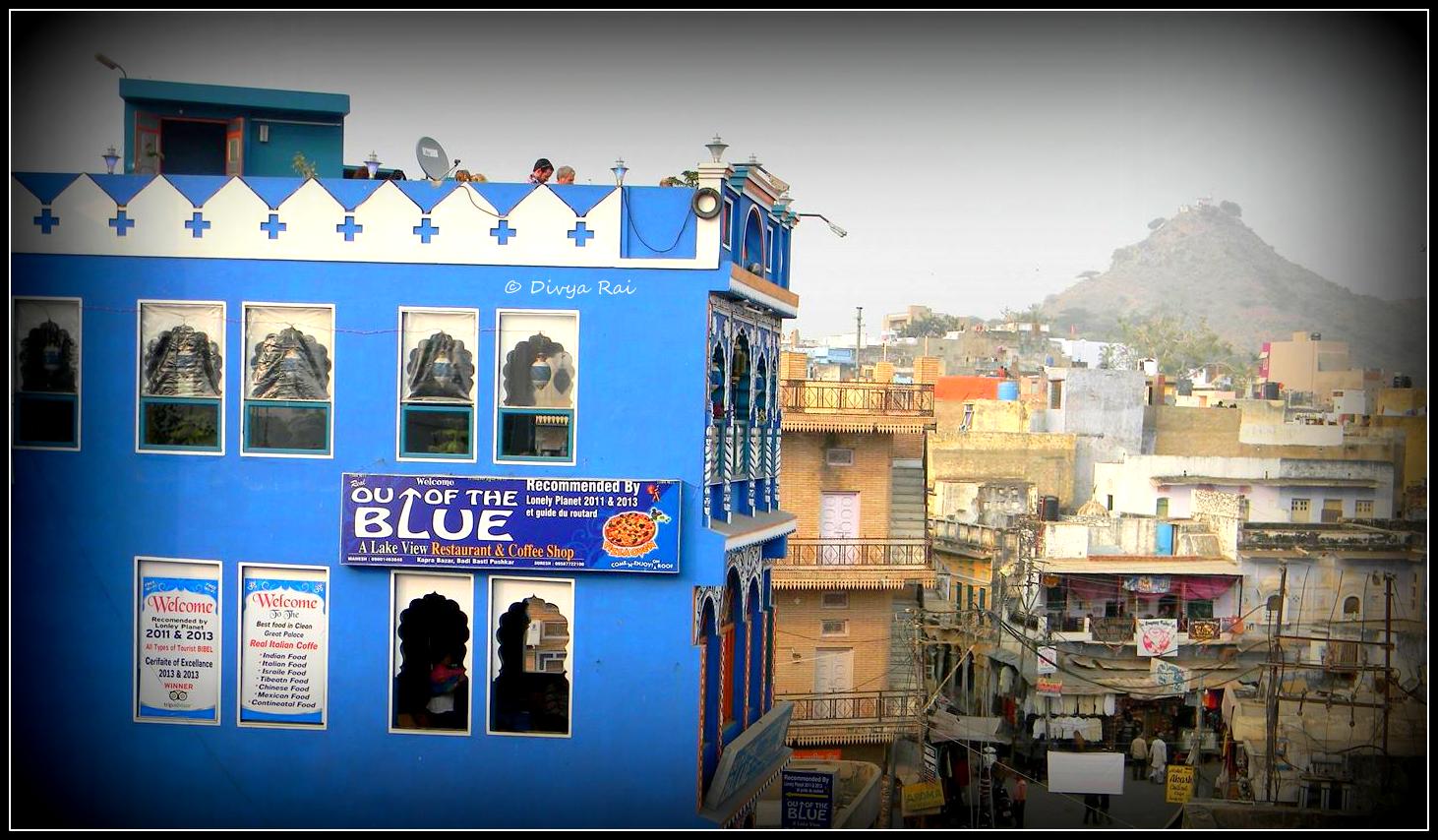 9) Pushkari Chai:
It is 'life-in-a-kulhad'; that is the best definition for 'pushkari chai'. It is mildly spiced and flavoured chai, served in a earthen-ware called 'kulhad' . Kulhad lends the rustic flavor to the beverage, thus adding soul to it. I will not waste more words on something that MUST be experienced.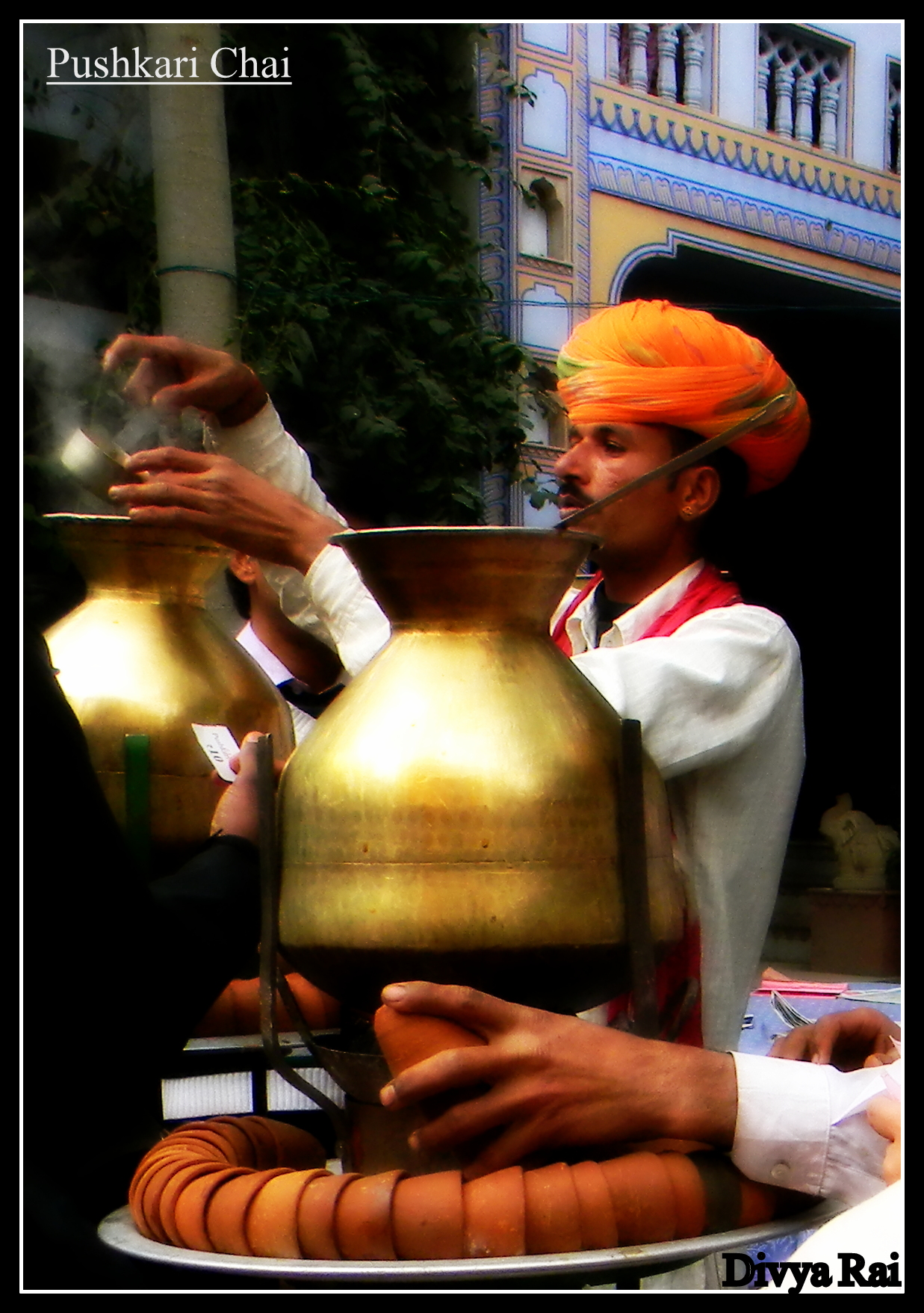 10) Special lassi: It is not a food item. It is an experience. Read about it here.
11) Dal-Bati-Churma:
I am saving the best bit for the last. The 'thaali'/platter below comprises of (clock-wise) Baati (dough-balls), salad, dal, some more dal, gattey kee sabzi and churma (sweet), and is the best food in Pushkar!
The center bowl consists of 'lehsun kee chutney'/garlic sauce. This platter is a mind-blowing fare. We had it at Mamta Restaurant, which is close to the Brahma temple. It is located at around the bend of the Brahma temple, at the corner. Ask a local person to direct you to this place. I am sure there must be a place or two better than this; do share your recommendation if you happen to come across. I would like to try more of this thing, on my next visit to the city.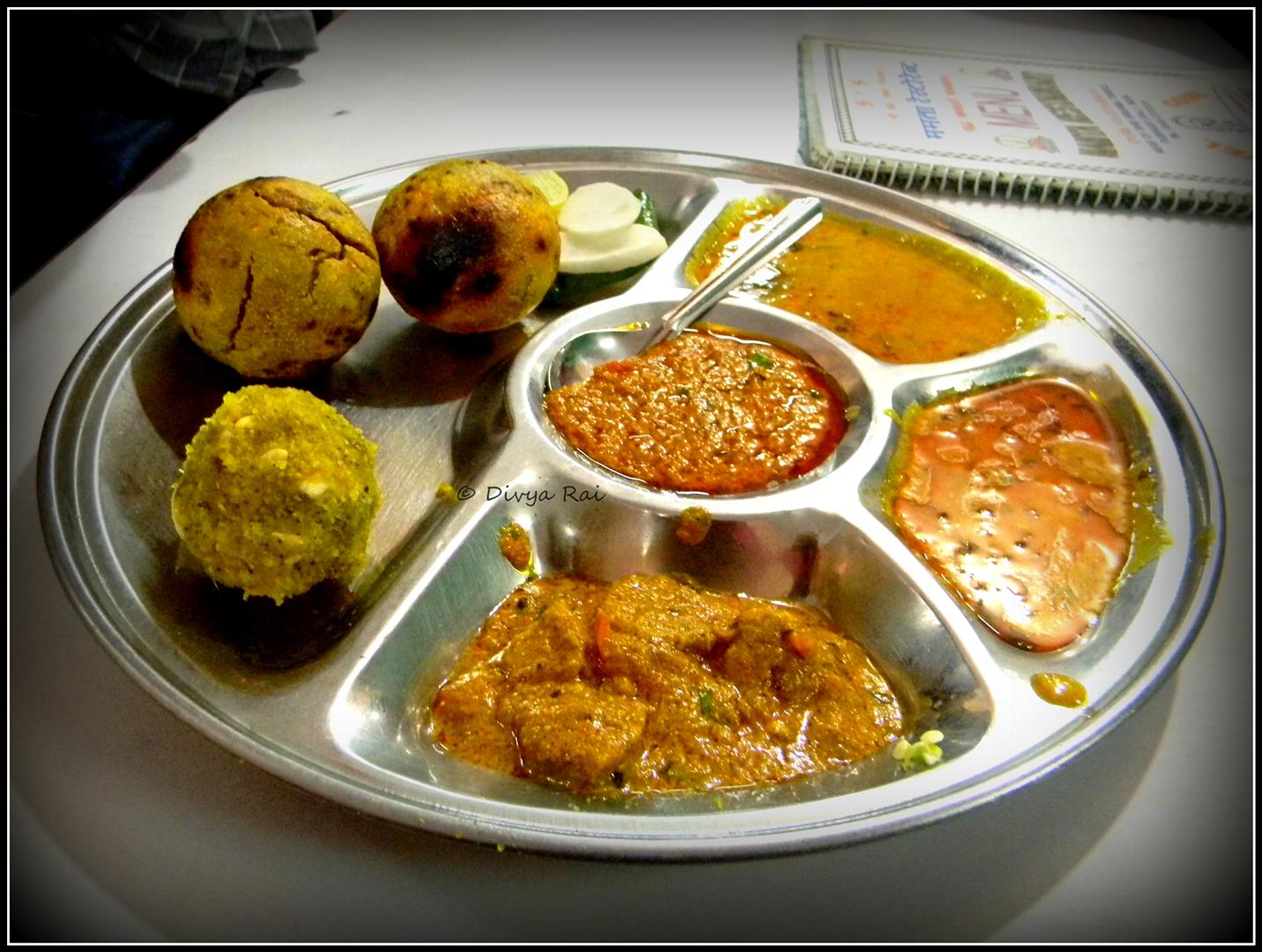 A word or two about the 'bati':
Bati is a dough-ball, meant to be had with dal. It is made on wood/charcoal fire, some-what like the bihari 'litti'. The difference between 'bati' and 'litti' is that 'bati' is not stuffed, while 'litti' is stuffed with 'sattu'. The roasting process remains the same in both the cases.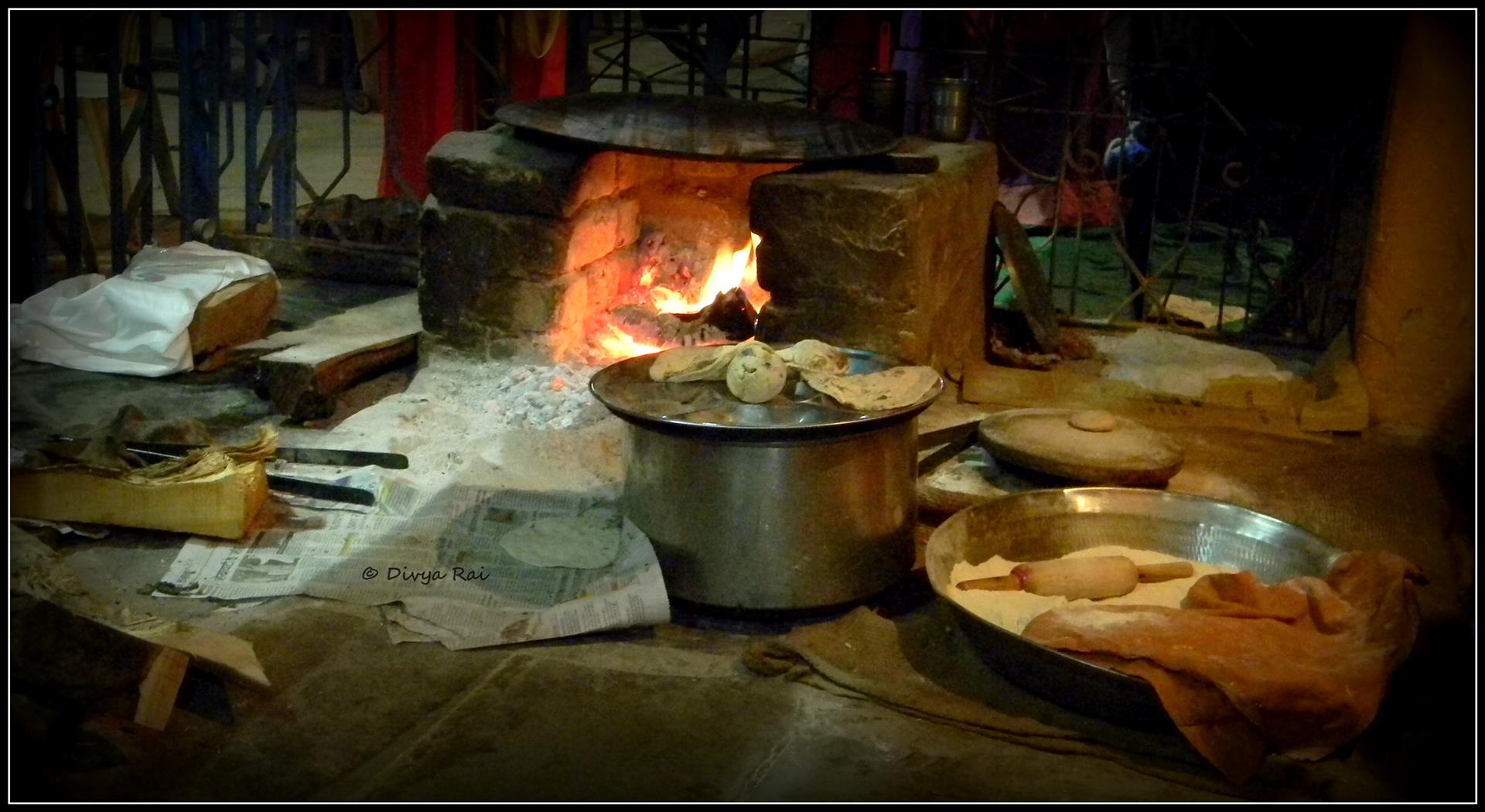 This is it for now. There is much more to be chanced upon, and I shall do it soon. The city, with its ethereal essence, is an experience that cannot be soaked in a hurry.
Dear Pushkar, I will be back, with more time in my boot.
Till then, adios beautiful place!