Read Day 2 here. The plan was to start from Tabo, visit Pin Valley, and stay at Demul village.
We all got up by 6:45 am. I wished the tea could materialize in my bed. I also negotiated with two other travel mates to see if they could get one cup for me as well when they go downstairs to get it for themselves. Turned out, everyone unanimously had decided to have the tea in the common area itself.
It meant getting out of bed.
It meant (horror of horrors) climbing down a flight of 20-odd steps. Climbing (up or down) anywhere was just not there on my agenda that day. I had done it enough with the Dhankar lake hike the day before.
That morning, it took every bit of my willpower to get out of bed and join everyone in the common area. Quite magically, two cups (of masala chai) later, I felt a lot better, though the fever from the night before persisted.
After the tea, we rushed back to our rooms to get ready.
Thankfully this guesthouse had solar geysers and we could get ready without last-minute surprises.
My roommate got ready first, while I packed my luggage.
The order of stacking the contents within the backpack had changed completely by now. I had packed pain-relief cream, woolen socks, and a torch in remote corners of the backpack. These things had sneakily found their way up for easy and frequent access.
The fact that the pain relief cream got promoted to my pocket sooner than I knew, should have warned me sufficiently about the days to come.
The list of 'currently defunct body parts' had new additions in the form of our neck, limbs, and joints every day.
All of us checked out of our respective rooms and just about managed to assemble for breakfast by 8:15 am.
Breakfast was fun, relaxed, and filled with hilarious moments.
Post-breakfast, (almost at 9:00 am) we loaded our luggage back onto our Tempo-Traveller. After that we headed for Tabo Monastery which was practically next door.
Tabo Monastery
Anjaan, our guide took us around the place and furnished us with details and history about the place. Personally, I am not a history buff and hence I would find the walk around the monasteries a bit boring, but Tabo Monastery is a piece of gem. It was founded in 996 AD, and is the world's oldest surviving monastery. 
Most of the old monasteries do not allow you to click pictures once you are inside (probably because of security reasons as many of them had religious scriptures stored inside). That was another reason that made the entire activity a bit too mundane for me.
Post the walk we took a photo break and went around clicking pictures.
Tabo Old Monastery also stocks photo postcards that one can buy as souvenirs/keepsakes. We bought many but our thrill lay in posting them from Hikkim, the highest post office in India, or probably the world. (We could not manage this, as our timings did not match with the post office's).
Tabo Monastery was probably the only monastery to have a proper souvenir shop outside the compound. If you want to buy gifts for friends and family back home, you can consider doing that here.
Off To Pin Valley
We left Tabo at about 11:00 am and it took us 1 hour and 45 minutes drive to reach Pin valley. The valley houses Pin Valley National Park. You can read about it here.
Pin Valley is situated at a height of 12000 ft. above sea level.
The way to the valley was still under construction when we were on the way. We reached Pin Valley monastery's compound, hung around to chit-chat with the Lamas, and learn about their life in the monastery.
Pin valley monastery is one of the modern ones. It has an old monastery too, but it is much smaller. We took a photo walk around the monastery and then had our tiffin lunch in the monastery compound itself.
Close to the monastery, in the mountains, are the establishments made in total seclusion and that is where the monks meditate for a long duration at a stretch.
We left Pin Valley at about 3:00 pm and proceeded towards Demul, which is located at a height of 14300 ft above sea level.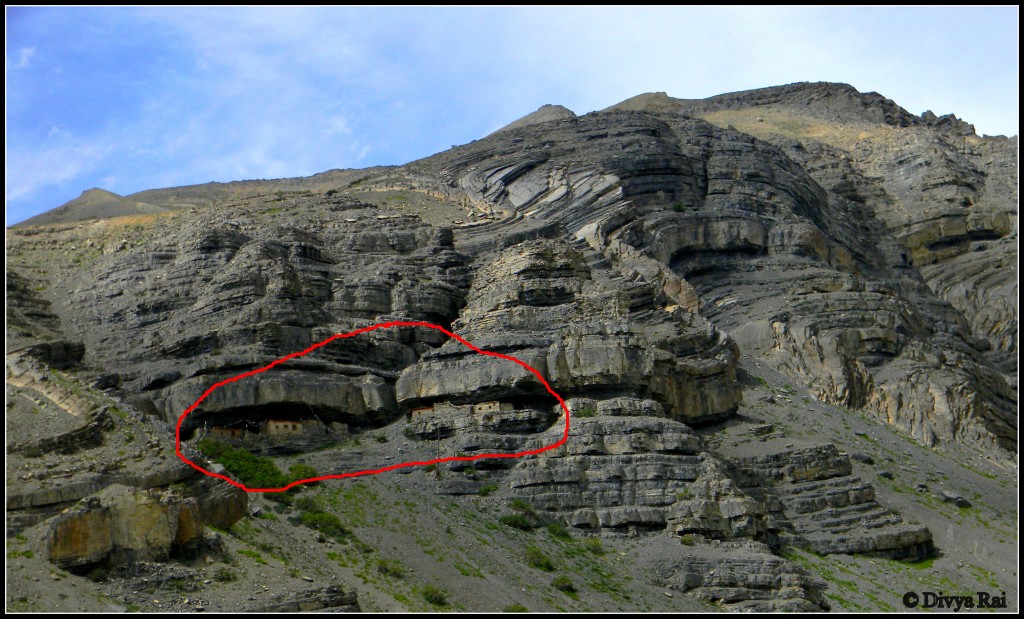 Finally, We Reached Demul Village…
Home-stay in a village like Demul was a new experience for each one of us without exception.
When we reached the village, our respective homestay host/hostess was there to receive us.
One look at the village and I mentally binned my resolution of refraining from any climbing/trekking for the day. I and my roommate accompanied our hostess to the house which was on the higher side of the village and the walkway seemed pretty steep visually. Once we started climbing it (coupled with our backpacks, which weighed 30-40 kgs on average), I immediately understood the reason for not being able to spot a single person who was obese.
Our hostess escorted us into our homestay and showed us our room. It was a basic, homely room with all the necessities and a window with an amazing view of the Himalayas. I fell in love with the view instantly.
She got us the much-needed evening tea. We requested her to join us so that we could get to know a bit better about each other
It was beginning to get cloudy and it looked like it would rain any minute now. My roommate and I decided to take a quick walk around the village and see which of our travel companions were housed where. The minute we stepped out of our house, it began to drizzle. We could barely manage to spot 4 of our companions in two of the neighboring houses so we decided to return to our place to avoid getting drenched in the rain.
Once back, we decided to help our hostess with the kitchen work. We did some chopping/cutting/peeling amidst laughter, conversations, and photography.
Came across this Chimney during the photo walk. Multiple tin canisters, placed one above the other, form this Chimney.
An Evening In Demul Village
Soon the rain stopped. We opened our windows to beautiful double rainbows and saw our other companions gearing up to go for a photo walk in the village. It was almost dusk and my roommate and I decided to accompany the four of our travel companions to the photo walk.
We took a quick 45-minute tour and I think by rural schedule it was time for the cattle to be herded home, hence there were animals all around us at every corner of the village.  The village had these strange alleys that meandered up and down the place. The snow-clad Himalayas and the clouds too made for an amazing backdrop. The entire place had a very rustic appeal to it. It had the essence of "making do with what is available" and doing a fabulous job of it kind of feel to it. I realized that lateral thinking can conjure extremely amazing results.
Dry Compost Toilet in Spiti
During the photo walk I had heard some of my travel-mates discuss the "dry-compost" Spitian toilet. As soon as we  returned to our homestay, I checked out the toilet everyone talked about It is one work of ingenious common sense. Spiti Valley, for almost half the year, is submerged in snow and water shortage during such times becomes quite acute. This toilet counters the problem posed by erratic weather that the valley faces. It also counters water scarcity and uses naturally available other abundant resources.
Post my toilet tour, my roommate and I decide to lie down to rest our backs for a while as the previous day's weariness hadn't completely left us.
It was 7:30 pm already. Our hostess informed us that she would be serving us dinner by 9:00 pm. It gave us a margin of one and a half hours before dinner time. We decided to rest for some time and then go and help our host- family with kitchen/household work.
We got up at 8:30 pm and went and hung around in the kitchen. At about the same time, our guide, Anjaan dropped in to ask about our well-being and brief us on the assembly point and time for the following day's safari from Demul to Komik.
Villages like Komik and Demul have "kutchcha" houses made of mud/thatched roofs etc. These houses are warm in winter and cool in summer.
Winter In Spiti Valley
In winter, the temperature in Spiti can dip as low as -35 degree Celsius. In the colder months, the entire family houses in the kitchen (which normally is one huge room). The kitchen used a corner for all washing purposes. This space doubles up as the bathing area when it is needed. And that is the reason we ruled out bathing from our routine during our stay in both Demul and Komik.
The kitchen is the warmest of the places because there is a continuous fire for cooking etc.
Family Life In Spitian Villages
The man of the family we stayed with, worked as a construction site laborer in the village. The family had 8 members to it. Farming is one of their sources of income. However, the snow completely submerges the fields for around half of the year and it is not possible to grow anything. For commercial use, the village folks grow peas and harvest them in August-September.
We got to know that on the days the power supply is regular, the entire family gathers to watch TV, which is placed in the kitchen. They took us by surprise when they said they loved an Indian sitcom/serial called "Baani". My jaws dropped at the information, but I soon recalled spotting the satellite antennae everywhere around the village (during our photo walk in the evening).
Dinner-Time In Demul Village
At around 8:30, it was completely dark outside. Inside, we were making do with solar lamps and torches. We helped our host cook something called Kew. It is a soupy dish with herbs/spices from the hills, some vegetables, and small dough balls. They put everything together in a pressure cooker, resulting in this fabulous dish. The entire family gathered around the kitchen fire to have dinner.
Either we were dead tired every day or this place had awesome food. Whatever it was, anything related to the local cuisine tasted simply divine.
As we progressed with the dinner, the family asked us about our lives and told us about theirs. We didn't realize how quickly we gulped down the food even while chit-chatting!
Home-made Liquor In Spiti Valley
The families here drink home-brewed liquors called 'Chhang' and 'Arrak'. (Don't confuse 'Arrak' with 'Urrack' from Goa.)
They make both liquors by fermenting barley in water but 'Chhang' happens to be the milder of the two. 'Arrak' is left to ferment for a longer duration of time as compared to 'Chhang' and that is what makes 'Arrak' relatively stronger a drink. In Spiti, usually women consume 'Chhang', while the men-folk enjoy 'Arrak'. I tasted both and concluded that 'Chhang' tasted like beer, while 'Arrak' tasted like vodka, albeit with a rustic flavor. Personally, 'Arrak' is more 'my kind of thing' as I dislike beer.
Good night from Demul!
Post dinner, we retired to our room at 9:30 pm. The window had an amazing view of the hill range lit up with a full moon. I was tempted to photograph the entire view but gave up the idea as the body longed for the bed. Dear roommate and I must have chatted for a while, but for sure had slept by 09:45 pm. The magical thing about this trip was that we would straight hit the non-REM (delta) stage of sleep within seconds of our head touching the pillow. For some reason, my roommate did not sleep well in Demul and I was on the other end of the spectrum. I think we alternated turns to not sleeping well. One of us would sleep like a log and the other one like an insomniac.
Read Day 4 here.
P.S:
Metrics:
Tabo to Pin Valley: 48 km
Pin Valley to Demul: 44 km