I am suggesting this list because these are the only things I did the activities I personally can vouch for as things to do in Old Manali. I could have asked you to visit the apple-orchards, but I will not, until I figure out something that you can do while visiting the apple-orchards, that makes you lose the track of time and the garb of sanity. If you want, you can visit the famed Rohatang pass, but given the crowd at that spot, you might have to weigh the possibility of bumping into your boss, or neighbors (whoever you detest more).
Meanwhile, try these:
1) Spend a lazy afternoon on the sun-deck, at Drifter's Inn playing Scotland yard and guzzling Breezer by liters. No, DI and Breezer India have not paid me to say this. If you see DI being mentioned again and again on my blog and want to know why, that means you haven't been to Old Manali ever. And you need to, fast! Period. [Read 'Edit' note at the bottom for this one.]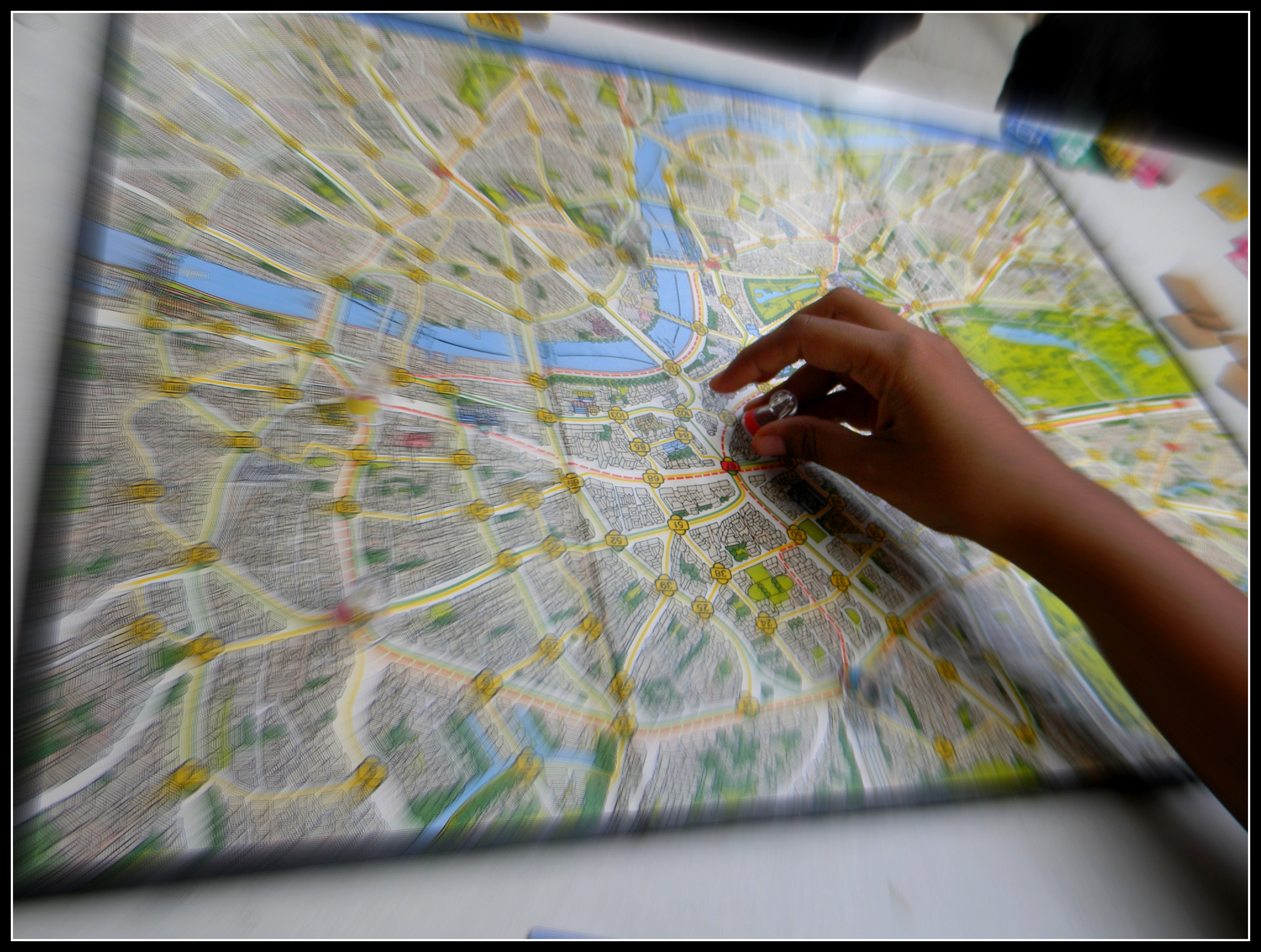 2) Take an Activa/Bullet on rent and explore the area. Try going up and down the steep hills several times, just for the sake of crazy fun!
3) Go for water-rappelling. Even if you have done it before. Not to experience the thrill of hanging mid-air without dying, but to experience the pain of a frozen-butt. And the fun of shrieking your lungs out!
4) Get dressed up and go to Casa Bella Vista for a formal dinner.
5) Get up early in the morning and take a photo-walk around the place. Get unobstructed view to just about anything. Click pictures of herds of decked-up yaks going down the hill. Click pictures of the rural local women returning from the farms, carrying the conical-wicker-basket-full of produce on their backs. Chat up the local people out for a morning walk. Observe them walk. They do not walk like it is up-hill or down-hill. They walk like it is all flat, like plains. Maybe, to them, it is.
End the walk with a steaming breakfast at the German Bakery that starts its kitchen at 6:00am.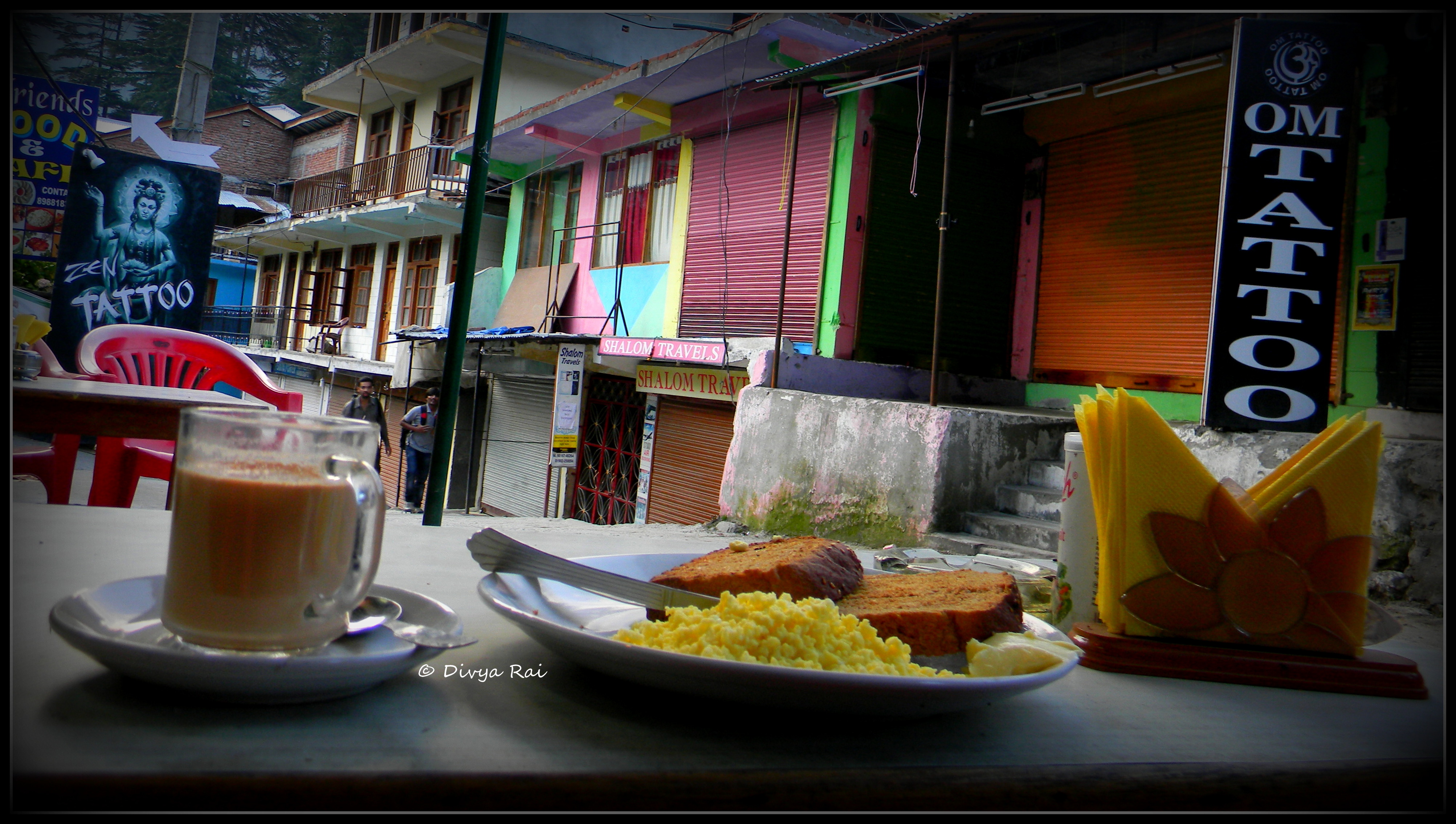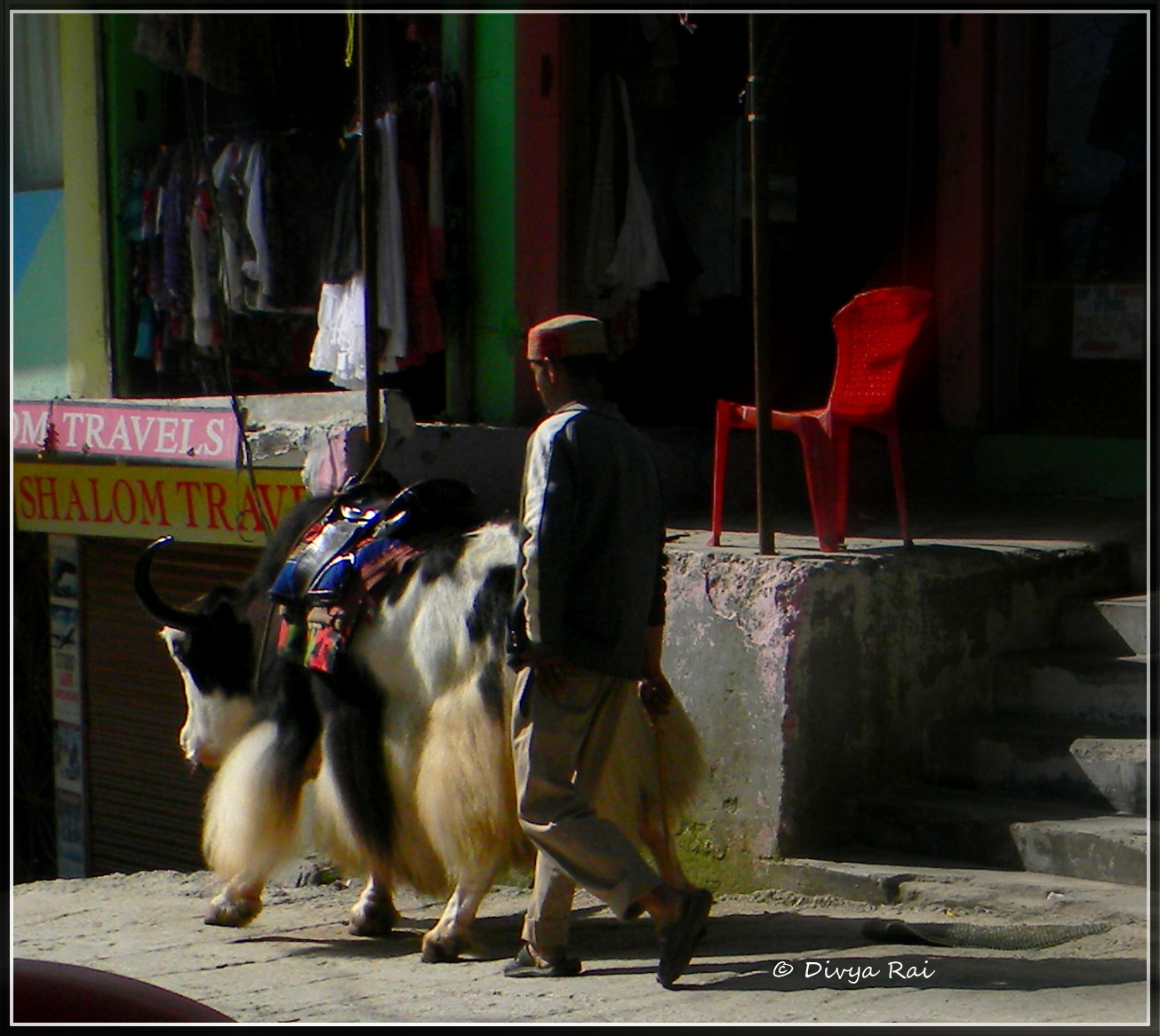 6) Buy super-funky caps from the shop just before the Bob Dylan Cafe (on your right, as you go up the hill).
7) Get yourself something funky tailored, just for souvenir-sake, albeit a customized one. The tailors here aren't like the mainstream straight-jacket urban tailors. They too, over the years, have soaked in all the hippy-ness possible. Put in all the madness you ever wanted, in designing your clothing and take home something that you'll cherish forever.

8) Catch one of the local masseurs, roaming around in the street and treat yourself to foot-massage. They carry a container with four pockets for four different kinds of oil. I think, they even come to your hotel room if you fix up a time with them. What could be better than snoring right after a fabulous foot massage?
9) On your way out from Manali, notice where the State Transport Buses stop for its passengers to shop for fruits. Buy cherries, by the kilos! They make for souvenirs that people can't stop talking about for the longest time!
10)If you are a wine enthusiast, then don't forget to buy fruit wines from Wonder Wynes.
If you have more non-touristy pursuits to suggest, please go ahead! 😀
If you want to know how I had spent my time in Manali, here you go.
But Where Will I Stay In Manali?
If you are travelling solo, or with a small group of friends, just close your eyes and book Backpacker Panda here, right way as you read this (before it gets sold out!)
If you are a certified backpacker with some experience, you can consider Zostel, and Hosteller.  You if you like your place of stay to be slightly off-beat, you can look at this one too.
Or, you can use this deals finder to finalize a place for yourself.


Wherever you go, try and book your accommodation through booking.com because the website does not charge for cancellations.
What is the difference between Old Manali and Manali?
Old Manali is the hippie-er of the two, while Manali is the shinier of the two.
If you are a low-budget traveller, or just someone who prefers to chill and not rush through holidays, Old Manali is where you go. You get good food, late night parties, enough strangers to befriend if you are travelling solo to Old Manali, and a great time! If you are looking for a less crowded area, you can also consider staying at Vashisht.
If you are a romantic couple, wanting to spend some me-time in peace, Manali is your place, but not the center of the town. Maybe higher up, with lesser crowd.
Edit: Apparently, Drifter's Inn is no longer in business and hence No.1 is not applicable.