Manali- A hill-station that I have carefully avoided all my life, even when almost the entire of Delhi treats it like its weekend-getaway. (Or maybe, because it is so). Until it was totally unavoidable; Old Manali was the group's stopover for our Spiti Trip.
For whatever reasons of its own, my mind had a lot many presumptions about the place. I always felt that Manali was a city where only touristy honeymooners hung out. Having grown-up on an over-dose of Nainital, I now, on purpose, steer clear of any such place. Even before going for a cycling event in Jibhi, I made sure to figure out how touristy/non-touristy the entire itinerary was. It, for sure, was fun! And non-touristy.
I booked myself for a trip to Spiti and was informed that the trip was scheduled to commence from Manali. While others from the travel-group reached Manali well in advance to explore the place, I reached with as less time at hand, as I could manage. While we were free to stay anywhere, for the sake of convenience, most of us stayed at Drifter's Inn. I finally finalized this place after much dilly-dallying on my part, more so, because it was 'highly recommended' by the company that I booked my trip through. How I am skeptical about anybody suggesting me anything on their own, is a story for another day. (I am working on this trait of mine, by the way).
Yeah! So, with the place I was going to stay at sorted out (sort of, I hadn't booked it or anything), I set on my journey from Delhi. Nishant Singh (the owner of Drifter's Inn) could have very well asked me to get lost since I hadn't made any bookings etc, but he was too kind to do that. And the group for the Spiti-tour was an equally chilled out bunch. They said "aaja aaja, dekh lenge", (come, we'll work out your stay somehow). Mind you, I hadn't met anyone of them ever in my life!
After starting at 8:30 pm from Himachal Bhawan in Delhi, my bus reached Manali bus-stand at 10:30am the day after. What surprised me was the fact that, it passed Punjab (the land of the best 'dhaabas' in the country) and chose to stop at the shittiest one known to mankind, for its mid-journey break.
Dear Himachal State Road Transport, are you listening? I hope you are!
Yeah, so at 10:30am, I got down from the bus, to a hoard of taxi and autorickshaw drivers crowding my way, sleepily collected my backpack ( by the way, THIS was the backpack this blog is named after ) and handbag and walked out of the premises as if I knew my way around.

Outside the bus-station, the demands were no different. They wanted anything between Rs.200-300 to take me to my hotel in Old Manali. (The bus-stand, by the way, was in Manali). After a bit of conversation (read haggling) with the autowalas, I gathered that there happens to be a bridge in Old Manali, which is a key-landmark for the place. And that Drifter's Inn happened to be on the other side of it. This info notched up my confidence level, and I conversed with the autowala I finally hired, like I belonged to Old Manali.
Note: It always makes sense to hail a running auto, rather than the ones that are waiting to get passengers. The ones who are waiting, at times, have astronomical demands in terms of money and they often wait to 'bait a prized catch'. The autorickshaw I finally hired took me to Old Manali for Rs.80.
Meandering through our way, we (the auto-walla and I) finally reached that part of the town which was a total contrast to Manali. 'Old Manali', or OM ( ever noticed, how all good things in life abbreviate to the same initials? Remember Old Monk-the rum brand?) had a soul (well, again like the rum).
I reached Drifter's Inn and was welcomed by a sign-board that said "no room". I pondered over the seriousness of the sign-board as I walked towards Nishant's office. Turned out, it was as serious as it could be. I thanked my stars as Nishant had already worked out the room bit for me (thanks to the Spiti-gang)!
I gave him the details that were needed for check-in and went to introduce myself to the people I were to call family for next 7 days (who, by the way, were hanging out at the Drifter's Cafe). The place had a positive feel to it. In fact, I think, the entire of old Manali has a positive feel to it.
So after getting ready and grabbing a bite, we headed out to explore the place. Our first stop was the Manu Temple, dedicated to sage Manu. The town was named after him only, we were told.
The inner architecture of the temple was all done in wood and it surprised me as to how it sustained the process of weathering and had retained its character.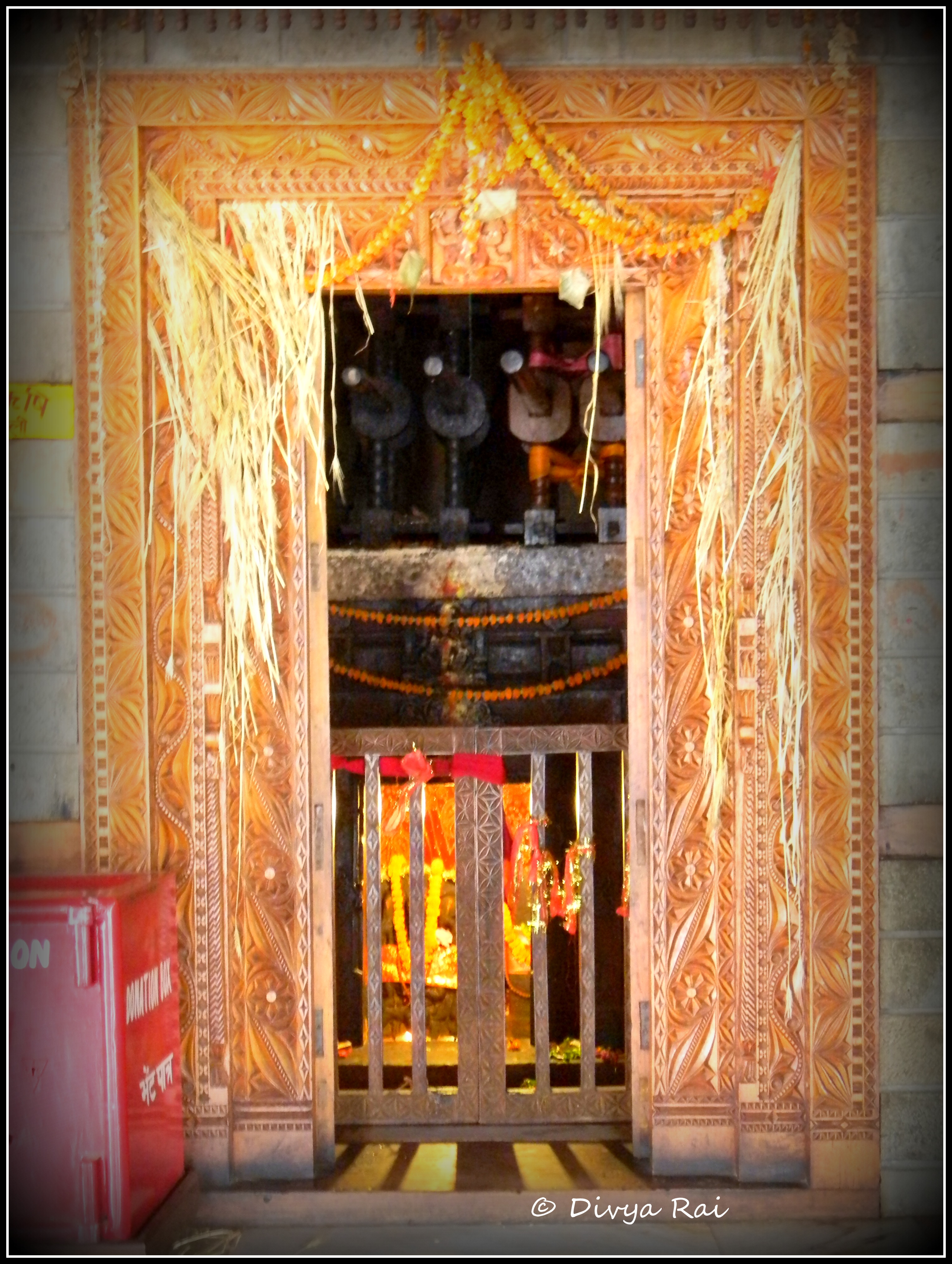 Post the temple, we went in search of a cafe where we could 'chill out' a bit and have lunch. Most of the places were closed for the afternoon. This came as a surprise to us, but we were later told that OM is more of an evening/late night kind of place. It has a raging river flowing through it and has eateries/stores on either side of it with a "river-view". Correct me if I am wrong, but I think the river is called Beas.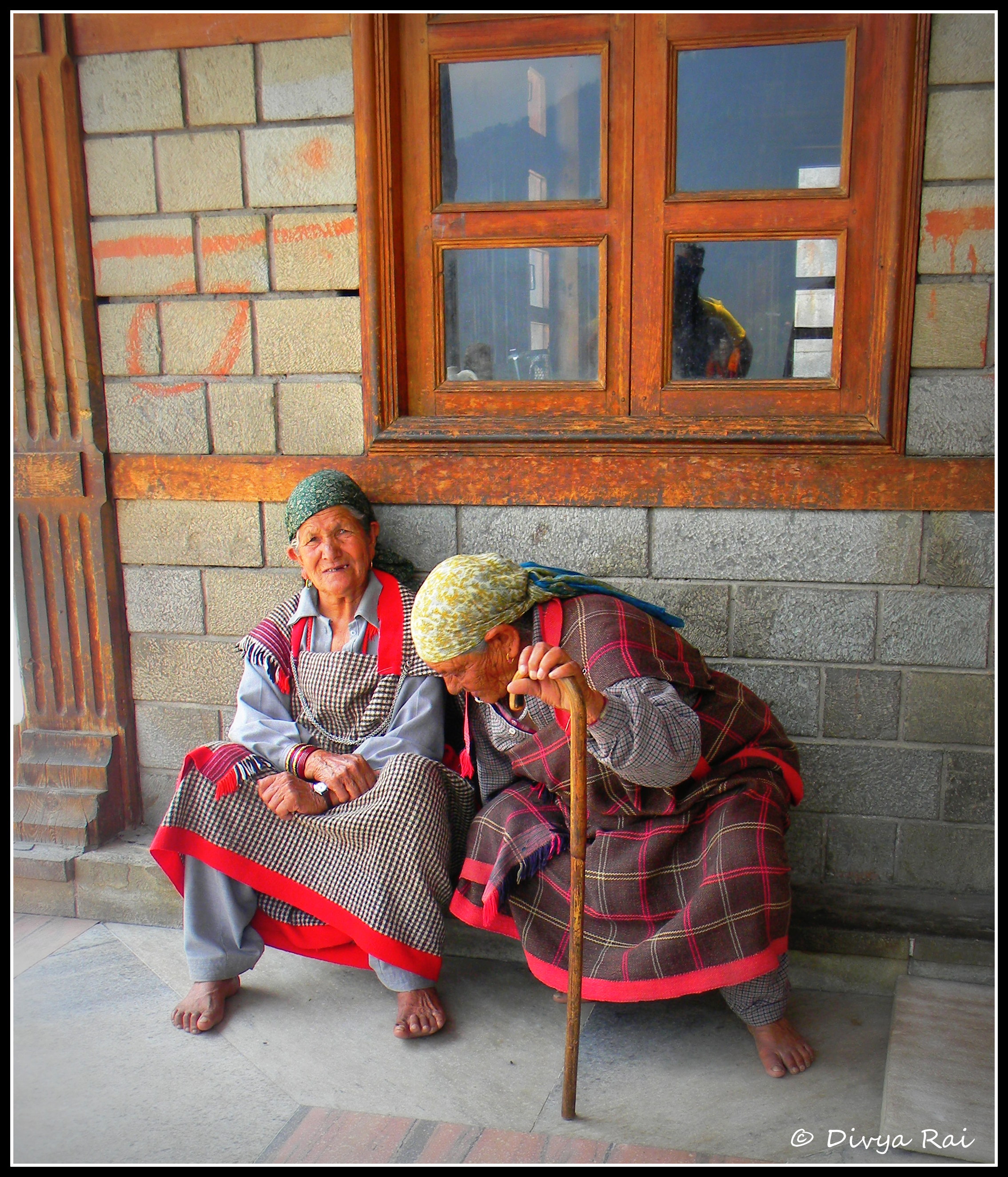 So, after a bit of a stroll, we chose Cafe 1947 for our lunch. The name sounded funky enough. We hoped that the food matched the expectations.
We plonked ourselves in a cozy corner and hoped to be attended soon whenever the person manning the counter deemed it necessary. Turned out, he had no clue that 6 people had sauntered in and made themselves comfortable in the most prominent corner. Poor service! We somehow managed to grab his attention and place an order. It took a while, but whatever reached our table was fresh. And tasted fairly OK. Drinks did disappoint us. For example, I have no idea how can someone mess up with lemon-soda? It is so simple to make! But they managed to.
After one round of drinks and food, we decided to try some other place, more so to give a break to our respective tummies. 😀 A bit of a walk on the road going towards the bridge and we could hear some crazy shrieks and screams coming from somewhere. We headed in that direction, to be greeted by an adventure sport called 'water rappelling'.
It took us a while to figure out whether the ones undertaking it were screaming with happiness + excitement or complete horror. Turned out, it was former and with that, we decided to try it ourselves too.
Adventure it turned out to be for sure, in heaps! God forbid, if your bum touches the water, it'll end up de-sensitizing you below your butt for next 30 minutes. Add 30 more minutes to the result, if it is breezy with cold mountain winds.
However, we were lucky. We got drenched in the ice-cold water below our waist + icy cold winds + it began to rain. I don't think any of us had run like headless chickens ever before, but at that moment, we did. 😆
In the process, we chanced upon River Music Cafe and decided to have coffee/chai so that senses return to the frozen body and soul. Chocolate Cookies and Coffee have an awesome way of healing your mind, body, and soul. At all times. And it did, this time too.
As the senses returned, we realised that the journey that we were to undertake the day after, did not have many stop-overs during its 12 hours drive to Kaza. And with this thought, we requested The River Music Cafe guy to pack sandwiches for us, to be carried along for the journey.
Once done from there, everybody else headed to Drifter's, as it was Saturday evening, the day for a Karaoke gig at their in-house cafe.
I headed to Casa Bella Vista. Couldn't have missed this one as it was very high on my list of recommendations (No, I wasn't skeptical for these recommendations as these came from a category of people I like to term as 'Manali-enthusiasts', and we have a fair number of them here in Delhi).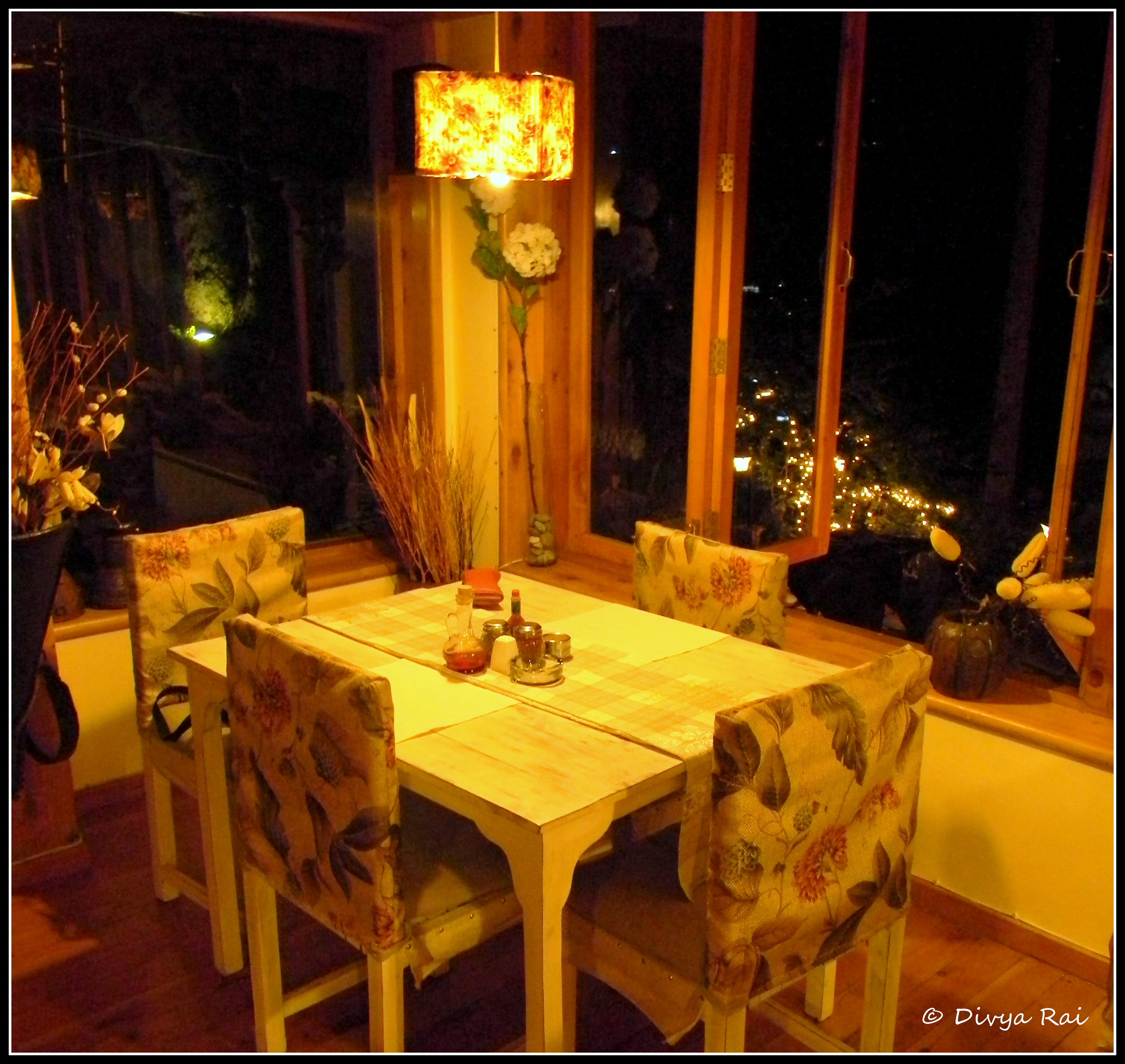 Casa Bella Vista is a little eatery with indoor and outdoor seating. Since it had rained an hour ago, I chose to sit inside. The place is perched higher up on the hills than the rest of the OM, hence it has a fabulous view to the entire valley. It also has a section selling clothes and some jewellery, but totally below average fare. CBV does wood-fire oven pizzas and it happens to be one of their core-competencies. The food is cooked with lots of love and it is evident the minute it is placed on your table. 🙂 I was not feeling too bad to have missed the Karaoke evening now. I spent some time with myself and the lovely ambiance.
Visit to any city is not complete unless you have spent some time with yourself and conversed with your soul, even if it is for 5 minutes. Mountains, for sure, have a way of talking you out of your shell.
At around 9:30, I decided to head back as the way to Drifter's was slightly uphill and needed time (the way up is dotted with trinket outlets, hippie-garment-shops, tattoo studios, hukka bars). My phone battery had died and I wanted to communicate it to my fellows at Drifter's that I am safe and on my way. At around 10:30pm, the streets were abuzz with people, music, smoke from hukka-bars. There were all kinds of hippies around. Israelis, mostly. Once in a while, a Royal Enfield would thump past lazily, along the narrow alleys.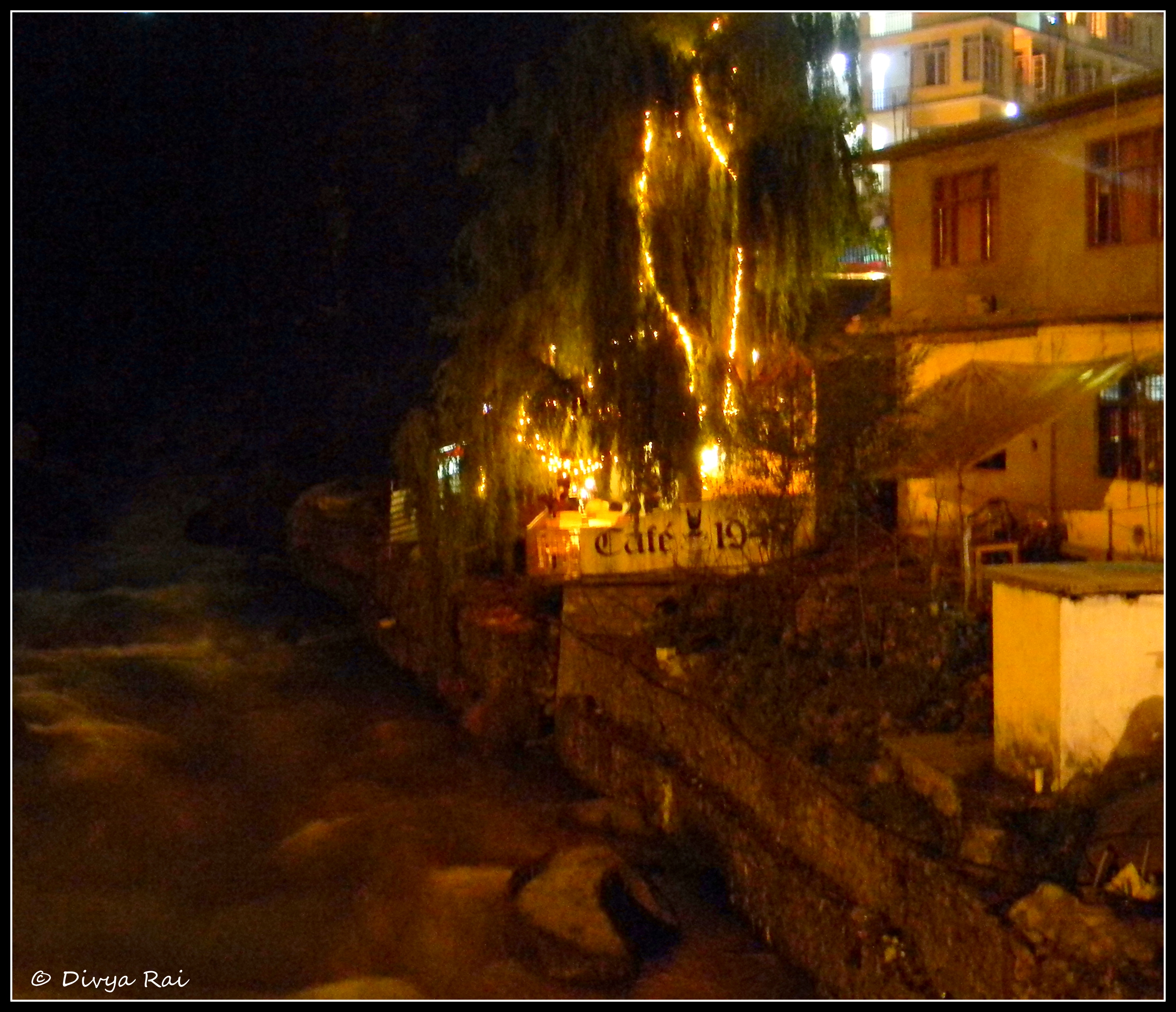 Closer to the hotel, I stopped to do some last minute grocery and medicine shopping. As I came to pay at the counter, I spotted a bundle of thin strips, meant for selling, stacked neatly on the counter. "What would someone use these paper-strips for?" I wondered aloud, half to myself and half to the shop-keeper. It baffled him. As the strips did to me.
He tried to shrug my question off. At the same time, he also tried to judge, that, of the innocence that I was portraying, how much of it was for real. He took a while before answering, "it is for rolling joints". Aaah! OK! It amused me. 😀 "And where do people get the material to roll-in from?". He blinked at me. Again undecided and skeptical. Meanwhile, I diverted my attention to some chocolates on the counter. I could sense him sneakily studying me. I gave him enough time to do so and get convinced. As I paid for the chocolates and was about to leave, he mumbled to me "the source". Without much exchange of words and thoughts, I walked ahead with my purchase.
It was 11:15pm already and no time to "roll-joints", as the bus for Spiti was scheduled to pick us up at 4:45am the following day. We barely had a few hours to catch up on sleep and sanity. Plus, I had these 4-ish hours only, to tend to the pile of dirty laundry I was carrying as clothes.
Maybe, on the way back, we manage enough time to "roll-joints"! We thankfully had an equal amount of stop-over time when the journey ended in Manali, a week later.
Looking for a place to crash?
If you are a backpacker, you can consider Zostel, and Hosteller.  You if you like your place of stay to be slightly off-beat, you can look at this one too.
Or, you can use this deals finder to finalize a place for yourself.